Wally Kurth And Judi Evans Were Actually Drunk In This Boozy Days Of Our Lives Scene
Justin Kiriakis (Wally Kurth) and Adrienne Johnson (Judi Evans) were one of the most popular couples on "Days of Our Lives," earning them a loyal fan base. In the classic rags-to-riches storyline, Adrienne fell in love with Justin one year after arriving in Salem in 1986 and was quickly absorbed into the upper-class world of the Kiriakis family. Despite the disapproval of his uncle Victor Kirakis (John Aniston), Justin proposed to Adrienne, and the couple planned to marry, jetting off to Greece for a lavish wedding.
Even though most of the scenes of the actual wedding were filmed in Los Angeles like the rest of the soap, the shots of the happy couple outside of the church were actually filmed in Greece. While filming on-location is mostly unheard of on "Days" now, the actors were thrilled to be able to travel for this special moment in Justin and Adrienne's relationship. On top of seeing the sights, Kurth and Evans immersed themselves in Greek culture — so much so that they ended up tipsy after indulging during the wedding.
Evans and Kurth imbibed a bit too much during the wedding
As is traditional for most weddings, celebrations commenced after Justin Kiriakis and Adrienne Johnson were finally married. They had endured a lot as a couple and deserved to celebrate their happiness. Since they were in Greece, the Kiriakis' home country, ouzo (a traditional Greek liquor) was served during the reception. Little did fans know, the drink in the glasses was actually alcohol. Judi Evans recounted the experience in a post on X, formerly Twitter, when a fan tagged her in a video of the wedding.
"The ouzo was real," she remembered. "It was like 9am. By 9:30am, I was done in lol."
Wally Kurth responded to Evans' memories, recalling, "Indeed it was. That was an amazing week in Greece. We worked so hard and really had little time to sightsee. But we did it anyway." From what we can tell, filming on location in Greece was a fun-filled time for both Evans and Kurth, even if it surely ended with a little too much to drink.
John Aniston also had a crazy time in Greece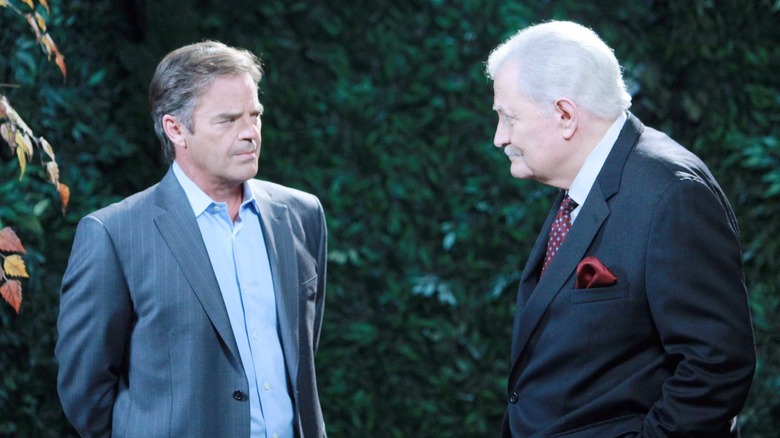 Howard Wise/jpistudios.com
While Victor Kiriakis was not thrilled to attend Justin Kiriakis and Adrienne Johnson's Greek wedding, his portrayer, the late John Aniston, was thrilled to be filming in the country where his family was from. However, that didn't mean the trip was easy. Aniston has his own share of stories from the on-location shoot, and it was one mishap after another. In an interview with Glamour, Aniston explained what went on behind the scenes in Greece.
"It was my wife's first trip to Greece, I think. The first day we were there, we had the day off, so we went to Delphi and stopped in this little village," he told the interviewer. "My wife drank some water from this water fountain that featured a lion spitting water. Big mistake. She got horribly sick."
Aniston also remembered that after his wife recovered, he got sick from the ice they were served during one of their meals. Since his wife was feeling better, she was left to navigate their living arrangements by herself in a place she had never visited before. Despite all the confusion, Aniston still looked back on it fondly, saying, "It was not a wonderful trip, but it was still a good trip. I enjoyed it."