Mary Lou Retton & DWTS Partner Sasha Farber Have Remained Close Since Her Time On The Show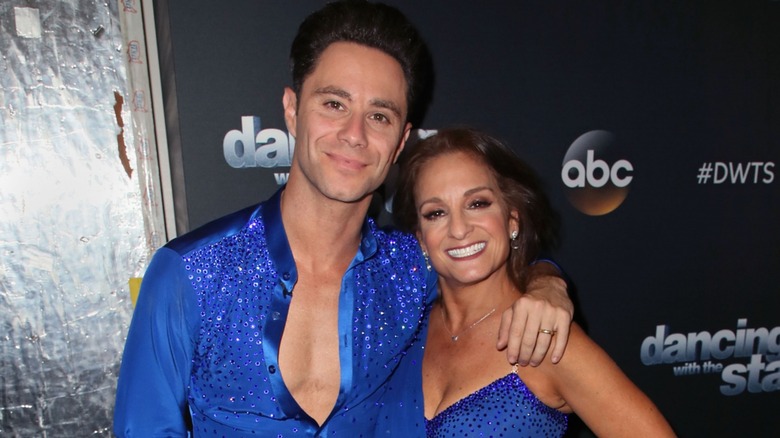 David Livingston/Getty
In October 2023, former Olympic gymnast Mary Lou Retton was hospitalized in an intensive care unit with "a very rare form of pneumonia," according to one of her daughters, McKenna Kelley (via Entertainment Tonight). Kelley shared a post on her Instagram Story announcing Retton's condition and asking for donations to help pay for the medical bills. Among the Olympian's supporters during this troubling time in her life was Sasha Farber, Retton's former "Dancing With the Stars" partner from Season 27.
Farber has remained close with the famous gymnast since they competed together back in 2018. While she was hospitalized, he spoke with Entertainment Tonight about the situation. "I've been talking to her today," Farber confirmed, "and she's, she's fighting. She kind of wants to give up. I'm sending her videos of her dancing and I'm telling her, 'There's only one Mary Lou Retton. You've got this!'" Farber also disclosed that Retton had asked to visit with him a few weeks prior, but the pro dancer was unable to because of rehearsals. 
He encouraged fans to stay in touch with people they care about. "I know her very well, and she's like family to me. And she's a fighter," Farber gushed. The "DWTS" fan favorite also told People about his correspondence with Retton during her hospitalization. Farber texted and "sent her pictures from our season and she said this made her smile."
Farber and Retton had a great time together on DWTS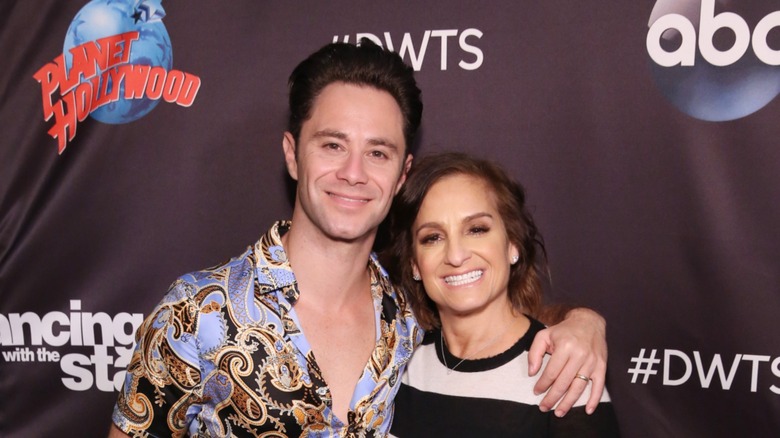 Robin Marchant/Getty
The stunning Mary Lou Retton and professional dancer Sasha Farber made a great team on "Dancing With the Stars," and they clearly had a lot of fun together during their stint too. In a behind-the-scenes video introducing Retton and Farber as a dancing duo, they laughed a lot, and one thing that made them chuckle, in particular, was their height difference. Farber, who is only around 5'6" himself, noticeably towered over Retton. She joked, "I make him feel so tall. 4'9" baby, all of it!" (via YouTube). 
They also both claimed the other danced like a flamingo and that they were having a great time practicing iconic moves such as flossing and voguing. Being on "DWTS" even helped Retton out of her post-divorce funk. After she was eliminated, the Olympian took to Instagram to share a photo of her and Farber. "Gosh I miss dancing," Retton captioned it, "especially with this prankster." She added a winking-face emoji and a heart and mentioned that fans should expect them to return for the Season 27 finale. 
Farber had nothing but good things to say about Retton during their season together too. He often took to Instagram to praise Retton's performances in the different dancing styles.
Farber spoke very highly of Retton during their season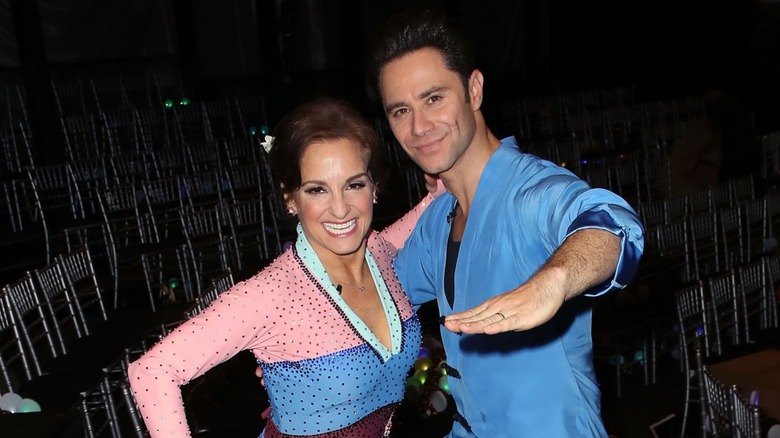 David Livingston/Getty
Sasha Farber often complimented Mary Lou Retton on social media during their time dancing together. In the caption of a rehearsal photo, he wrote, "Once again @marylouretton you have shown me so much drive, power, dedication and most importantly confidence of what a powerful woman you are on and off the dance floor." In another post, Farber shared a video of one of their routines and commended Retton for dancing despite sustaining a rib injury.
Farber's post when Retton got eliminated from the show was arguably the sweetest of all, though. In the caption, Farber argued that although they weren't winning their season, they won in another way: "We created a friendship!" He also praised Retton for her successes and strength, writing, "Thank you for being my partner, you have taught me so much and it is truly an honor to teach such a strong and powerful woman!" 
Retton is indeed a pillar of strength and perseverance. After fans received updates from Retton's daughters on her health, Retton herself shared a message on Instagram at the end of October 2023. She thanked those who were there for her during this scary time and clarified, "I'm with family continuing to slowly recover and staying very positive as I know this recovery is a long and slow process." The legendary gymnast also confirmed that, at a later date, she would give more insight into what she'd been going through.