Gracie Hunt Lives An Extremely Lavish Life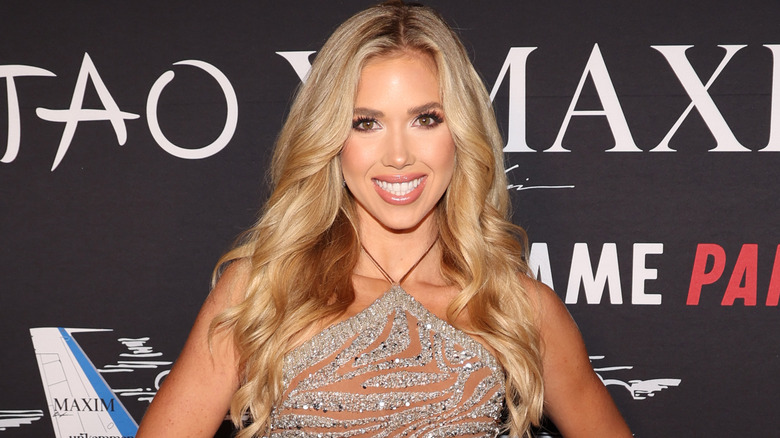 Jerritt Clark/Getty Images
Gracelyn "Gracie" Hunt is leaving no stone unturned regarding cashing in the extraordinarily opulent benefits of being a National Football League heiress. Her family has owned the Kansas City Chiefs since the NFL team was founded in 1959 by Lamar Hunt, Gracie's grandfather. When the patriarch died in 2006, his son Clark — Gracie's father — became the Chiefs' co-owner and CEO. And even before the family dynasty expanded into leading a Super Bowl-winning football team, the Hunts began amassing their nearly $16 billion net worth when the late Haroldson Lafayette Hunt — Gracie's great-grandfather — became one of the foremost oil tycoons in America with Hunt Oil Company, founded in 1936. Suffice it to say, Gracie has been living in the lap of luxury her entire life.
The Kansas City Chiefs heiress certainly inherited her forefathers' penchant for savvy business endeavors — Gracie has wielded her family's name and resources to assert herself as one of the most glamorous women on the sidelines of the football field today. With over 400,000 followers on Instagram, the eldest child of Clark and Tavia Hunt shares her designer style, opulent vacations, star-studded events, high-profile photoshoots, glitzy pageantry moments, and more on social media. In addition to being a jet-setter, influencer, and pageant queen, Gracie also runs a blog and has a working role within the Chiefs' public relations team. Living lavishly is truly part of her brand — and it's a magical life most people can only dream of.
Gracie Hunt enjoys VIP treatment on football Sundays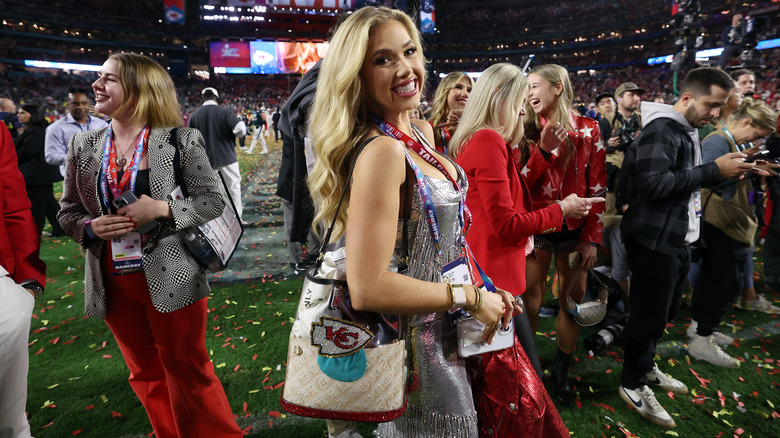 Gregory Shamus/Getty Images
In September 2023, Gracie Hunt treated her Instagram followers to a behind-the-scenes glimpse of the Kansas City Chiefs' opening football game, which looked like a jaw-droppingly luxurious experience. The NFL heiress was decked out in designer drip — namely, a matching two-piece leopard skirt and bandeau set from Dolce & Gabbana and a beige Yves Saint Laurent handbag — as well as a Chiefs crop top and studded platform heels. Hunt also wore an assortment of icy jewelry, including what looked like the Cheifs' massive Super Bowl 2023 ring. Team spirit, but make it diamonds and designer, you know?
The former pageant queen strutted around the stadium with the football team, cheerleaders, and marching band, recording scenes of the players warming up on the field and huddling before kickoff. Hunt also shared Instagram Stories documenting herself chatting with stars, including Keegan-Michael Key, attending a pre-game party hosted by Two Friends, and taking advantage of exclusive access to a selection of EA Sports video games reserved for the team and their family members. And, of course, the heiress enjoyed a sideline view of the game alongside her parents. The perks are aplenty when you're the owner's daughter!
Lavish safaris are her version of therapy
When Gracie Hunt feels overwhelmed by life, she doesn't appear to go to traditional therapy — she flies across the globe for a bit of rest and relaxation instead. For example, in June 2023, the NFL heiress embarked on a luxurious African vacation and safari, and she shared the entire trip with her social media followers. "Into the wild I go to lose my worries and find my soul," she captioned one post documenting breathtaking wildlife sightings, gourmet meal spreads, a dreamy glimpse at her accommodations, and photos of her safari style. Who needs actual therapy when you can experience a once-in-a-lifetime retreat that replenishes the spirit, makes you feel connected to Mother Earth, and includes every lavish amenity you could ever wish for? Not, it seems, Gracie Hunt!
The former Miss Kansas USA posted several carousels with photos and videos from the magnificent trip, including countless close-up shots of various animals, nearly the same amount of pictures of herself posing in and alongside safari vehicles, moments from a visit to a Zambian orphanage, scenes from a magical waterfall hike, footage from a sunset train ride across Africa's terrain, and more. Hunt even got to feed elephants — think of any item you could put on an African safari bucket list, and the Chiefs heiress likely checked off the activity in the grandest way possible.
Dancing with world-famous rappers is a pretty standard evening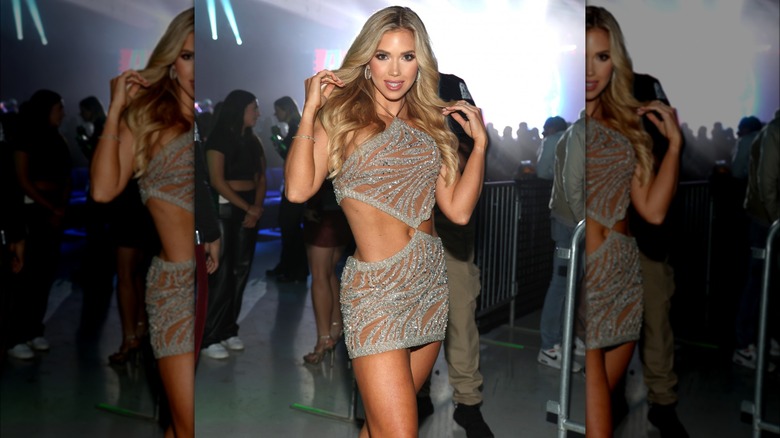 Jerritt Clark/Getty Images
Just before her sumptuous trip to Africa in June 2023, Gracie Hunt attended the Kansas City Chiefs Super Bowl Ring Gala alongside her parents, the football team's star players, and many other esteemed guests. The influencer, of course, documented the special event for her social media followers, sharing a Reel of the celebratory evening that showed off her glamourous gown, the opulent venue, and various behind-the-scenes moments.
The pageant queen wore a shimmering red gown with a sheath silhouette and halter neckline. The beaded crimson material hugged Hunt's figure and featured a plunging slit down the center of the bodice. She accessorized with a gold baguette clutch and diamond jewelry, embracing the team's red and gold colors. The young heiress captured video of the venue decorated with towering floral arrangements, billowing drapery, an enormous gold chandelier, and elaborate tablescapes.
Hunt also taped her mom opening a guest goodie box that appeared to be housing a silver watch, and she included footage of herself, football players, and other guests dancing on stage while Flo Rida performed. Tight end Travis Kelce also made a special appearance, taking over the microphone at some point in the evening to treat the party to an impromptu concert of his own. "Last night was Epic," Hunt captioned her post. She added, "Watch to the end to see me dance with @official_flo and @killatrav get a hold of the mic."
Other sporting categories are eager to host her at their events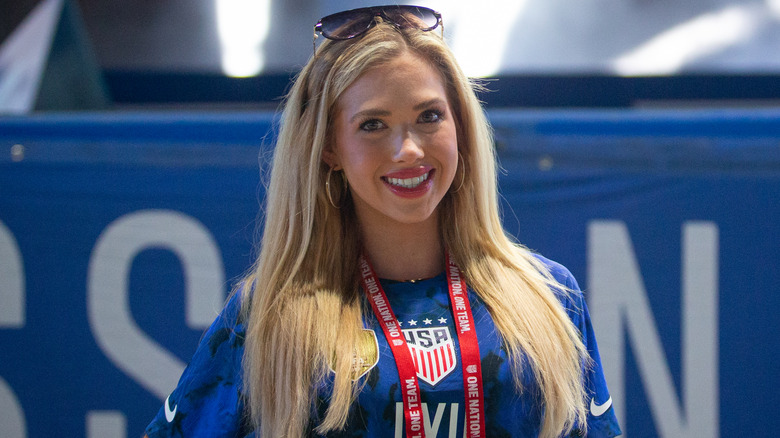 Erin Chang/isi Photos/Getty Images
Gracie Hunt isn't just influencing within the NFL — she's a sought-after VIP guest for sporting events of all kinds. The Kansas City Chiefs heiress grew up playing soccer, aspiring to compete at a collegiate and professional level before enduring too many concussions to continue safely participating in the sport. While Hunt can't play on the pitch, she frequently attends soccer matches as a guest. In fact, her father, Clark Hunt, is part of the founding investor group behind Major League Soccer, and he owns the FC Dallas team. Gracie is no stranger to documenting her support of the Hunt-owned organization. She's also attended other esteemed events in professional soccer, including the February 2023 SheBelieves Cup title match as a guest of the United States Women's National Soccer Team and several annual National Soccer Hall of Fame induction weekends.
Beyond soccer, the pageant queen has also been hosted at many Dallas Stars hockey games on behalf of the NHL team's energy drink sponsor, Celsius. Additionally, Gracie attended the Dallas Mavericks versus Charlotte Hornets NBA game in December 2021, and she supported the Texas team again in May 2022 during their game against the Phoenix Suns. And she, of course, posted on social media about every one of the sporting events (and a long list of others), sharing posed photos and behind-the-scenes moments for her mass of followers.
She's a regular VIP during Formula 1 grand prix weekends
Gracie Hunt isn't just a VIP guest at American sporting events — she's also been seen at various Formula 1 grand prix weekends. Since the Europe-based motorsport category gained an influx of American fans after the hit "Drive to Survive" Netflix docuseries, Hunt has gotten in on the exhilarating rocket-paced action at a few North American race circuits. The influencer and her dad headed to Canada for F1's Montreal Grand Prix in June 2023, where they were hosted by 8-time Constructors World Championship-winning team Mercedes-AMG Petronas. Hunt documented bits of their exclusive paddock, pit lane, and garage access on Instagram, writing, "Father's Day Pit Stop @f1 ... Thank you @mercedesamgf1 @mercedesbenz @petronas for your incredible hospitality!"
Additionally, she showed off her luxurious access to the elite racing world in May 2023 when F1 traveled to the United States for the Miami Grand Prix. Hunt again captured photos and videos of her exclusive trackside privileges, access to lavish areas within the paddock, premium seats with a view of the starting grid and turn one, and footage from the race from just beyond the track barriers.
Her luxury vacations are the trips of most peoples' wildest dreams
If you thought Gracie Hunt's lavish African safari was the pinnacle of her extraordinary travels, think again. Thanks to her family's multi-billion dollar fortune, the NFL heiress has been able to experience many international excursions that sit atop most people's bucket lists. And Hunt has not only been privileged enough to travel to many dreamy destinations — she's also enjoyed the finest accommodations, every must-do activity you could think of, and incredible food fit for royalty.
Another of the pageant queen's most opulent trips was to Egypt in June 2022. Hunt rode camels, visited legendary landmarks, including the Great Pyramids and Great Sphinx of Giza, took a boat ride on the Nile River, and more. Her foray in Egypt came off the back of a stint in Israel, and just a few weeks before that, she enjoyed a picturesque getaway to Mexico. Other vacation destinations and bucket list activities Hunt has experienced include skydiving in Hawaii, skiing in Aspen, practicing oceanside yoga in Cabo, visiting the Château de Versailles and Eiffel Tower in Paris, witnessing the Aurora Borealis in Iceland, and more.
A regular month includes jet-setting, multiple star-studded parties, and extravagant dinners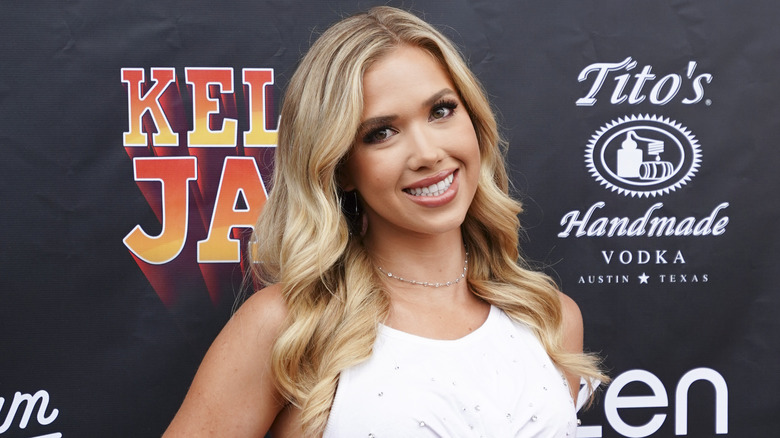 Kyle Rivas/Getty Images
Every month in Gracie Hunt's life seems to have a packed calendar with events, trips, exclusive engagements, and other extravagant activities filling most days. The young heiress shared an Instagram Reel highlighting some of the things she did in March 2023 alone — footage included beachside scenery, yachting, paddleboarding in the ocean, sunset from an airplane window, multiple NFL events, goat yoga, a celebratory dinner in Hunt's honor, and more.
The former Miss Kansas USA shared a similar Reel recapping the highlights of her life in October 2023. The video included recordings from a fashion show, music festival, Halloween party, Habitat for Humanity house build, two more plane rides, a soccer match, and several Kansas City Chiefs football games. All in a single month! Most people would consider half of those activities to constitute a busy 30 days. Then again, many people's work and life responsibilities require them to stay close to home rather than trekking across the globe. Ah, to be a billionaire.
She's regularly decked out in designer clothing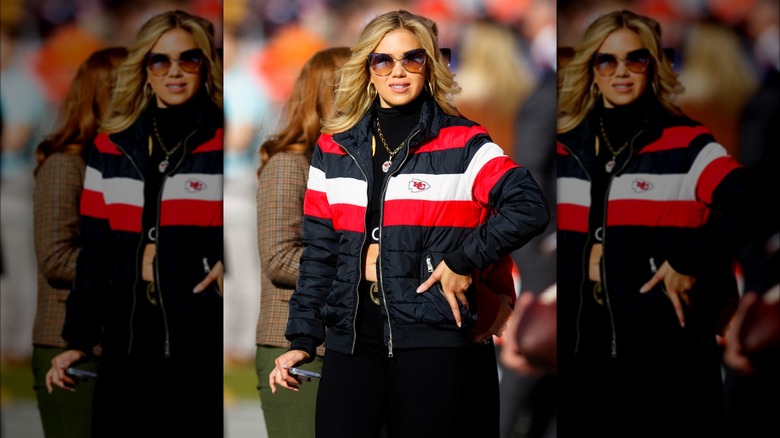 Justin Edmonds/Getty Images
Designer gear is a must for Gracie Hunt. Much of her influencer brand includes documenting her sideline style and other outfits for her followers, letting people know which labels she's wearing and where the pieces can be snagged. On NFL game days, Hunt is sure to be spotted sporting luxury brands while she's strutting up and down the field. In December 2022, she wore a black Dolce & Gabbana crop top with a mock neck beneath a vintage-style Chiefs windbreaker. And even when she's off the turf, busy jet-setting and attending star-studded events, Hunt is still on top of her luxury fashion game. In January 2023, the former soccer player shared a glimpse of her snowy getaway to Aspen, where she wore a gray jacquard Louis Vuitton skirt with oversized white LV logos covering the luxe garment.
Later in the year, the pageant queen donned a black faux leather Tom Ford skirt at a September 2023 football game. The high-waisted piece featured ruching throughout the material, which gathered at a seam running down the center of the skirt. In October 2023, Hunt cheered on the Chiefs while wearing a red Balmain crewneck crop top, and in November 2023, she attended a Sports Illustrated event in Frankfurt, Germany, in a little black dress by Versace. Every day is a fashion slay in the life of this heiress.
Access to exclusive fashion events isn't hard to come by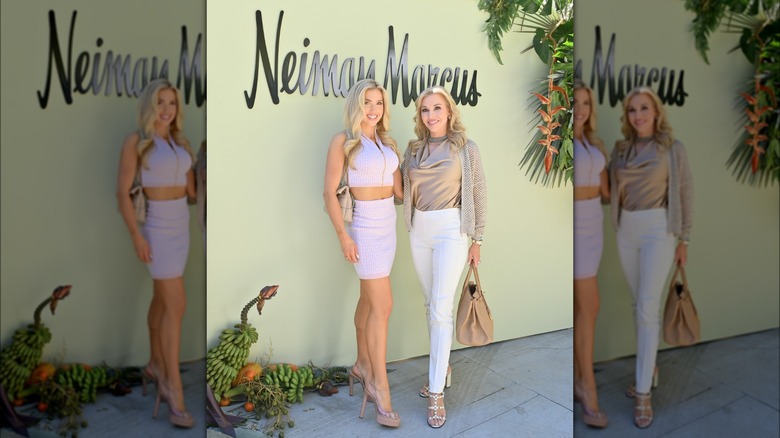 Stefanie Keenan/Getty Images
As a fashion influencer, Gracie Hunt regularly attends high-profile industry events. In January 2022, the pageant queen went to Neiman Marcus' celebration of a collaboration between Balmain and Barbie. Hunt stepped out in her Barbiecore best, choosing a hot pink '80s-style mini dress by Balmain for the occasion. The long-sleeve garment featured a mock neck and layers of draping fabric running from the left shoulder to the right hip. Two small cutouts in the bodice gave a peek at Hunt's décolletage, and another larger cutout revealed part of her midriff. The neon pink dress also featured severe shoulder pads that reached a point and arced upward, giving the garment a distinctly retro vibe. Hunt accompanied her mom to another Neiman Marcus event in Los Angeles a month later, where the influencer wore a two-piece Balmain set. The skirt and cropped sleeveless jacket featured the brand's iconic labyrinth print in a cream and oatmeal color combination, which Hunt expertly paired with beige pumps and a matching shoulder bag.
The NFL heiress also hosted a fashion event of her own in October 2023. Alongside her mom, younger sister, and others, Hunt held the Chiefs Style Lounge, which combined elements of runway shows and high fashion to model elevated Kansas City Chiefs team wear. For the football-themed style soiree, Hunt donned a black sequined mini skirt with a black tank top featuring graffiti-style font spelling "Kansas City."
She works out at the Chiefs' state-of-the-art training facility
In addition to fashion and travel content, Gracie Hunt shares a lot of fitness and wellness posts on her social media and blog. As the Kansas City Chiefs heiress, the influencer gets exclusive access to the football team's state-of-the-art training facility. From lifting Chiefs-branded dumbells to posing on red- and yellow-painted weight machines, Hunt lets her massive social media following know precisely where she likes to get active. 
In addition to working out at the NFL team's facility, Hunt frequently shares fitness content recorded in her sprawling home gym. She's posted ads for NordicTrack that show her rowing in front of glass walls with a breathtaking view of an outdoor pool, home-based circuits in a glamorous mirrored studio, fitness tips and exercise tutorials in the same space, and more. When she's not working out at home or the Chiefs training center, Hunt takes her exercise outdoors with scenic hiking, yoga, paddle boarding, and running.
She travels so often that she once wrote 'Jet lag is for amateurs'
The child of a billionaire who hailed from a billionaire who hailed from a millionaire — gotta love that generational wealth — Gracie Hunt has the resources she needs to maintain her jet-setting lifestyle. In fact, she has become something of a self-professed pro at traveling. While visiting New York City in December 2022, the pageant queen shared a series of photos on Instagram of herself lounging in a hotel bed while wearing a robe and snacking on a fruit tray. The caption of the carousel read, "Hello New York...I've missed you. (Jet lag is for amateurs)." Hunt playfully added a painting nails and wink emoji.
Lots of people would love to experience jet lag as a novelty of traveling the world; still, international trips — or even cross-country vacations — are a luxury many average-income individuals can't afford. Though Hunt wasn't being malicious, the comment drives home just how lavish her lifestyle is. While visiting multiple locales every month, she has undoubtedly picked up a trick or two for dealing with long flights and time zone changes.
Tiaras and crowns are regular accessories in her wardrobe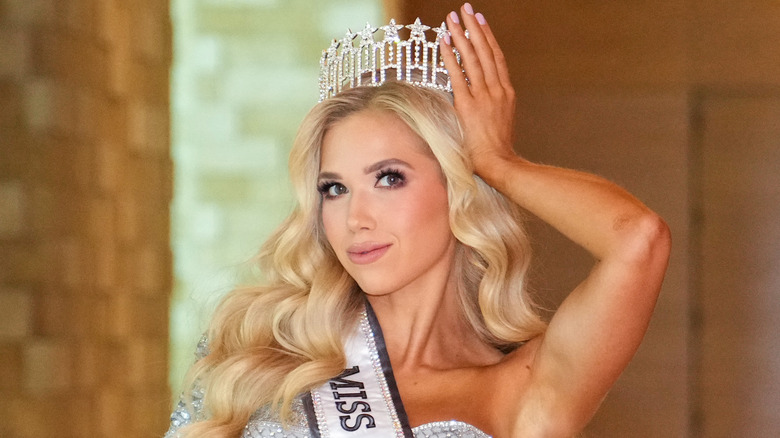 Mark Brown/Getty Images
Glitz and glamour define Gracie Hunt's personality, style, and aesthetic traits. After the NFL heiress' aspirations for a career in professional soccer were dashed by her multiple head injuries, she decided to follow in her mom's footsteps by competing in beauty pageants. Tavia Hunt was crowned Miss Kansas USA in 1993, and nearly three decades later, Gracie won the title in 2021. Tavia and Gracie followed their state-wide pageant victories with the Miss USA competition, where Tavia placed second runner-up and Gracie in the Top 16.
Though the pageant chapter of her life seems over, Gracie's Instagram feed is full of memories from her competition days. Many posts capture her with sparkling tiaras and elaborate crowns atop her head, and in September 2023, Gracie celebrated the 2nd anniversary of her victory. Sharing a carousel of photos from her time in the pageant, the title holder wrote, "Reflecting on an unforgettable journey: celebrating my Miss USA anniversary competing as Miss Kansas 2021."
She scored a Maxim magazine cover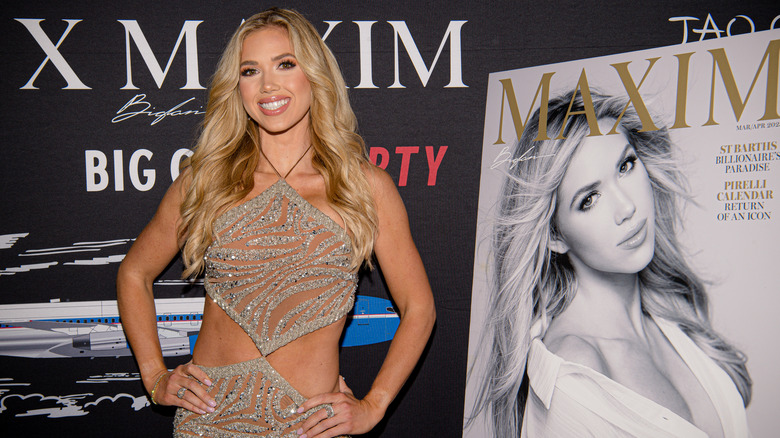 Marcus Ingram/Getty Images
In March 2023, Gracie Hunt landed the magazine cover in a spring issue of Maxim. The Kansas City Chiefs heiress announced the news on her Instagram, sharing a series of shots from the spread and a screenshot of her interview. "I've always admired the many strong, smart, successful women featured in Maxim," Hunt wrote in her caption. "They have inspired me in the fearless pursuit of their careers & dreams which makes this cover so meaningful to me. It still feels surreal!" she admitted.
Her cover shot was a classic black and white portrait, in which her long hair is blown back from her face, and she's wearing a gauzy button-up shirt. Additional photos accompanying Hunt's cover story included a sultry shot of her wearing nothing but a cropped, marching band-style utility jacket and a pair of high-waisted panties, a playful spread of the heiress in a girly-punk ensemble, and a photo of her in a hot pink pencil skirt and a matching lacy bra.
Red carpet events are routine occurences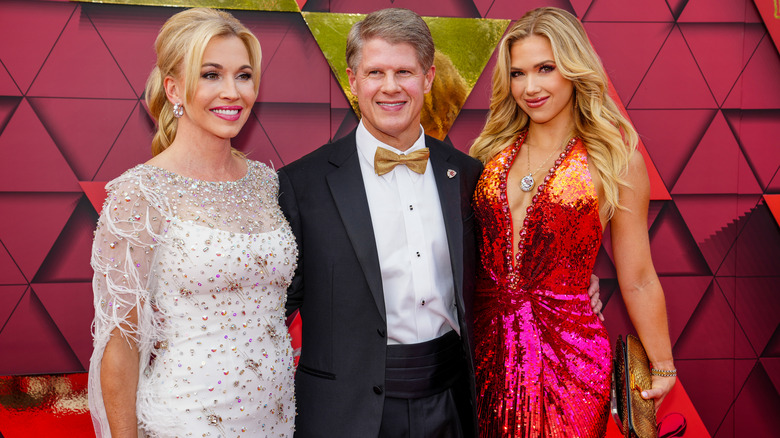 Jason Hanna/Getty Images
When your family owns a Super Bowl-winning NFL team with some of the highest-ranking football players in the league, you attend a lot of red-carpet events — see Gracie Hunt's social media for proof. In 2023 alone, the Kansas City Chiefs heiress was a guest at the team's lavish Super Bowl ring gala, as well as the NFL draft, Kelce Jam, a Maxim party in honor of her magazine cover, and the Season 3 "Outer Banks" premiere. 
Hunt has also attended the NFL Honors and the National Soccer Hall Of Fame Induction Ceremony for the past several years, and she made an appearance at the MaximBet Music at the Market event in February 2022. The former Miss Kansas USA seems to be in demand more than ever — Hunt's presence at star-studded events is sure to expand to even more red-carpet engagements considering her continued social media growth and foray into modeling with her magazine cover.