Why David Beckham's Alleged Mistress Wasn't Happy With His Netflix Doc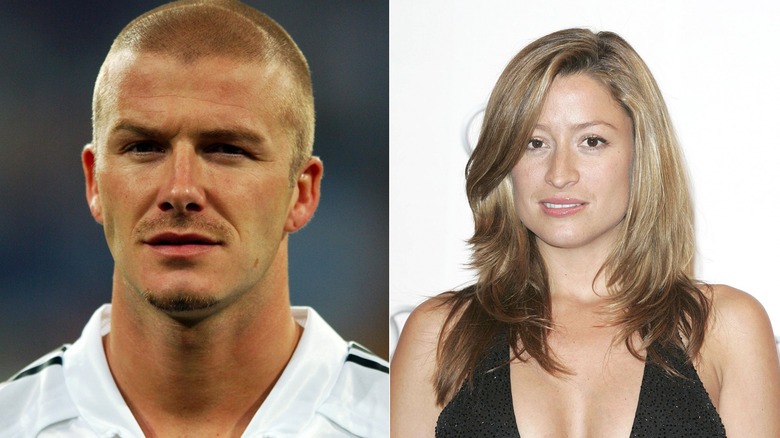 Fred Duval/Getty & Etsuo Hara/Getty Images
Soccer star David Beckham and Spice Girl Victoria Beckham were the celebrity couple to watch in the late 1990s in the United Kingdom. David and Victoria Beckham's marriage started with their wedding in 1999 in an elaborate event at a castle in Ireland that featured Victoria in a custom Vera Wang gown with a 20-foot-train and thrones for the newlyweds to sit in at the reception. Despite the seemingly idyllic marriage and four kids between two beautiful people with lives full of fame and fortune, affair rumors almost tore David and Victoria apart...and the alleged mistress is speaking out once again. 
The scandal comes up in "Beckham" — Netflix's four-episode docuseries about David's rise into stardom. And the woman at the center of it was Rebecca Loos, who had been David's personal secretary when he first moved to Spain. In 2004, Loos talked to the media, saying that she'd had a four-month affair with David in 2003 after he was transferred to Real Madrid, and the whole messy situation is briefly brought up in the 2023 Netflix docuseries.
It turned out that after Loos watched the series, she wasn't happy with how David presented himself when it came to what happened between them. "He is portraying himself as the victim," Loos told the Daily Mail, "and he's making me look like a liar."
The Beckham docuseries doesn't mention Rebecca Loos by name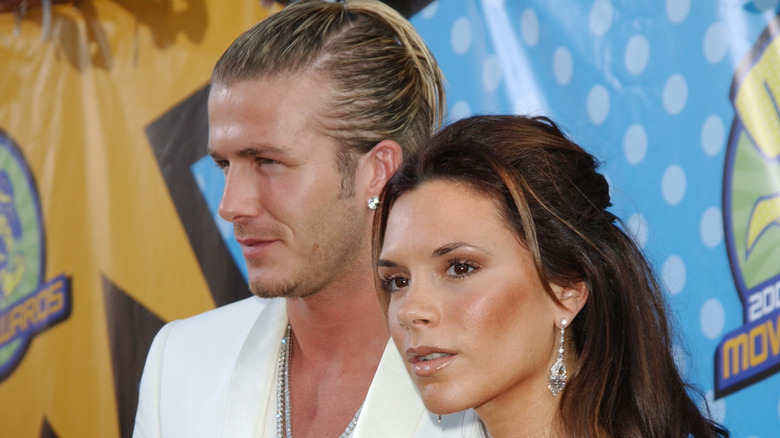 Jon Kopaloff/Getty Images
It's important to look into how the alleged affair was addressed in "Beckham" to see just why Rebecca Loos — who now lives in Norway with her husband and their kids — was so annoyed about it all. The third episode ends with footage of some of the headlines about the affair, and the fourth and final episode starts with some of David Beckham's Real Madrid teammates talking about going out after a win during Beckham's first year with the team, and there were a number of pictures of them partying at clubs. And though this wasn't mentioned in the documentary, that short glimpse of the party culture on the team was notable since it was at a club in Spain that David was seen getting cozy with a woman who wasn't his wife.
The docuseries goes into the intense scrutiny that came along with the cheating scandal that was making headlines for days on end. However, at no point do either David or Victoria Beckham mention Loos by name or go into the details of the scandal that was being reported on at the time. Instead, Victoria called that time the hardest part of their marriage. "It felt like the world was against us ... we were against each other," she said in the series (via Buzzfeed). That was about as close as they got to acknowledging any truth to the affair rumors.
David Beckham didn't confirm or deny any cheating allegations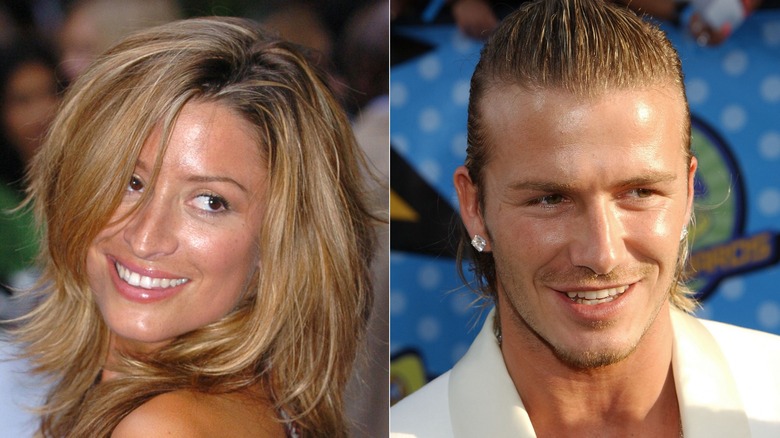 David Lodge/Getty & Gregg Deguire/Getty Images
As for David Beckham, it seemed that the closest he got to acknowledging that he'd had an affair was when he talked in the docuseries about feeling alone while away from his family and his home football team when he first came to Spain in June 2003. He didn't confirm or deny any of the cheating allegations, but instead, the focus was on how the reporting was upsetting to him and his wife, Victoria Beckham. "Victoria's everything to me," David explained (per E! News). "To see her hurt is incredibly difficult. But we're fighters. And at that time, we needed to fight for each other."
In her conversation with the Daily Mail after watching the Netflix docuseries "Beckham," Rebecca Loos talked about disliking how David talked about how upset he was at how the headlines were making Victoria feel, but he didn't talk about having done anything wrong. "That bothered me. Because he's the one that's caused the suffering," Loos said. "He could have simply said that this was a tough time and I don't want to talk about it."
Despite the problems that they went through nearly 20 years ago, Posh and Becks still seem to be going strong. Fisher Stevens, the director for their docuseries, marveled at their partnership, telling Variety, "Frankly, I was quite moved by their relationship at the end of the day, and — after all they've been through — how much they love each other, and how close they are."