It's Official: Travis Kelce Has Completely Won Over Taylor Swift's Dad, Scott (& We Have Video Proof)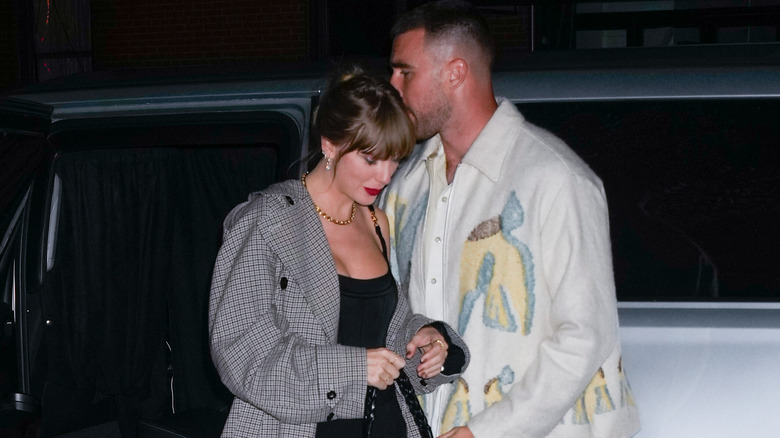 Gotham/Getty Images
Swifties in Argentina didn't have to be disappointed for long after Taylor Swift cancelled her originally scheduled concert on Friday night, November 10, in Buenos Aires. After the rain died down, the "1989" chart-topper rescheduled the stop on "The Eras Tour" for Sunday night. Good thing, too, since her football-playing boyfriend had already flown in to support his lady love. And also? Swift's dad Scott was on hand for the concert.
While we've seen plenty of interaction between Swift and her boyfriend's mom, Donna, thanks to the women cheering on their mutual interest's football team, the Kansas City Chiefs, we haven't seen much of Kelce hanging out with the singer's father. That all changed, though, on Sunday night.
Kelce and Scott were in a VIP area of the concert, and a video showed the men enjoying her music. Standing side by side, just the two of them, the duo was calmly listening to the "Midnights" album singer croon out one of the hits from her record, "Karma." It was clear the dad and the boyfriend were comfortable with each other, and it became even more apparent that they actually like each other, as Swift got into the lyrics for "Karma."  
📹| Travis Kelce and Scott Swift's reaction to the lyric change "Karma is the guy on the chiefs coming straight home to me" by Taylor #BuenosAiresTSTheErasTour pic.twitter.com/AqdnshNArr

— Taylor Swift Updates 🩵 (@swifferupdates) November 12, 2023
Karma is when your dad likes your boyfriend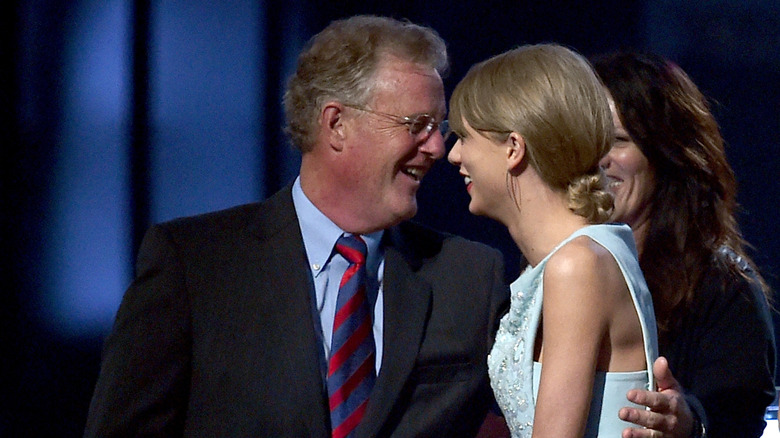 Ethan Miller/Getty Images
As Travis Kelce and Taylor Swift's dad, Scott, tuned in to Swift on stage, the two were vibing, but looking as if they were waiting for something. It's possible the singer gave them a heads-up to listen carefully when she sang "Karma," because her father and boyfriend went still, focused on Swift's voice. 
The 12-time Grammy winner slid into the lyrics for "Karma," singing out, "Sweet like justice / Karma is a queen / Karma takes all my friends to the summit / Karma is the guy on the screen / Coming straight home to me." But. Wait. Did you see what she did there? Instead of singing about the screen, Swift changed the words to "Karma is the guy on the Chiefs," a direct pass straight to the Kansas City Chief's tight end, aka her boyfriend.
When Kelce heard this, he put his hands over his face, and then revealed a big grin. Meanwhile, Scott slapped his daughter's love on the shoulder, raised his hands in glee, and then started applauding the NFL player. The duo then started bouncing in sync with the music and with each other, both looking incredibly pleased with the twist of words. Dad approval confirmed.