It Definitely Wasn't Love At First Sight For Jill & Joe Biden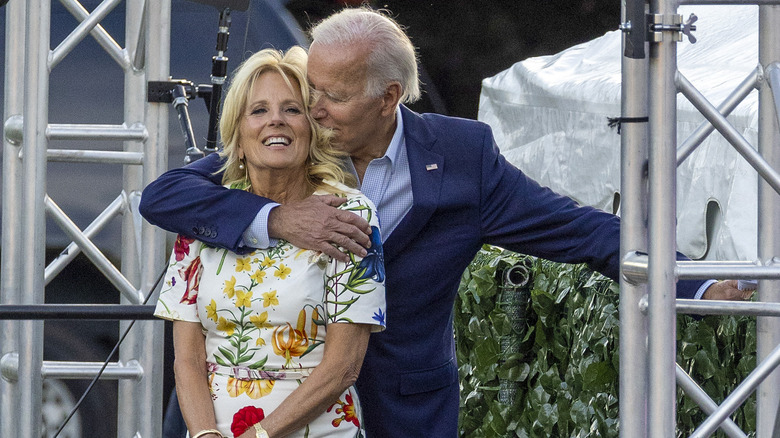 Tasos Katopodis/Getty Images
It's not unusual to see the President of the United States holding hands with his wife, First Lady Dr. Jill Biden. You can also see them hugging, kissing, and generally showing affection for each other on a regular basis. Married for over 45 years, their relationship shows all the signs of being solid and going strong.
But their romance isn't exactly the stuff of fairy tales. While they have a happy ending in progress, the couple has openly admitted the beginning of their coupledom was a little on the rocky side.
During a speech at a fundraiser in New York, as reported by Page Six, Jill remembered her first impression of Joe. She set the scene by saying it was the '70s, filled with bell-bottoms and clogs, and she was used to dating guys with hair as long as hers. When Joe showed up at her door for their date, "I took one look at his perfect suit and his leather loafers and I thought, 'Thank God it's only one date!'" 
First date doubts ran amuck
"How did you get this number?" Not the most encouraging phrase a woman can say to a man when he calls for a date, right? Nevertheless, that's exactly what FLOTUS Jill Biden said to POTUS Joe Biden. "Those were the first words I spoke to Joe when he called me out of the blue on a Saturday in 1975," she recalled in an Instagram post. Joe's youngest brother was the culprit, passing along Jill's number so the two could go on a blind date. 
Joe was 33, a senator, and a widowed father of two. His first wife, Neilia, and his daughter, 13-month-old Naomi, had died in a car accident three years earlier, leaving Joe a single dad to Beau and Hunter. Jill was 24 and a senior in college; she too had been married once before and was divorced. 
Jill agreed to one date with Joe. When the senator arrived on her doorstep, she assessed his conservative look, age, and status as the father of two young kids. She told Vogue she had instant doubts about whether or not there would be a second date. "I thought, 'God, this is never going to work, not in a million years.'"
The First Lady was happy to be wrong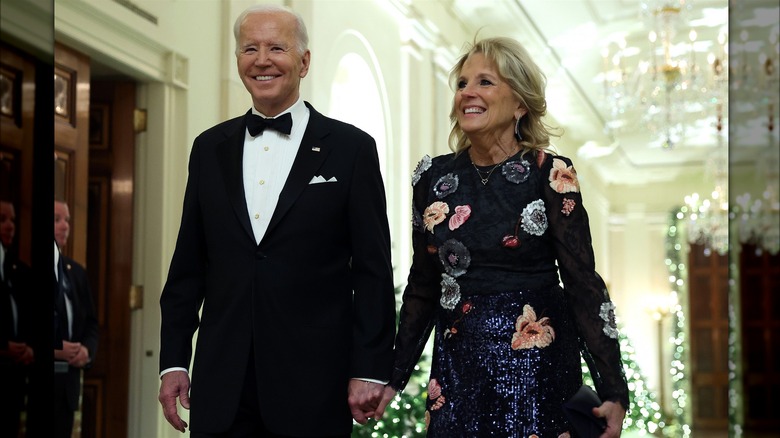 Kevin Dietsch/Getty Images
Joe Biden took Jill Biden to see the movie "A Man and a Woman" on their first date. Despite Jill's initial impression, it turned out she had a great time with her suitor. At the end of the night, he left her with a handshake and a good impression. "I went upstairs and called my mother at 1:00 a.m. and said, 'Mom, I finally met a gentleman,'" she admitted to Vogue. 
As for Joe, there was absolutely no hesitation. While the First Lady may not have been struck with love at first sight, the President admitted he was instantly smitten. "When I went out with her for the first time, I knew this was the woman. I really did," he said during an appearance on "The Drew Barrymore Show." 
Two years later, the couple were married — but it did take five proposals before Jill finally said yes. She explained she wanted to make absolutely sure it was the real deal, since Joe's two kids, Beau, 8, and Hunter, 7, were involved, and had already experienced so much loss. When she eventually agreed, the couple were married in 1977, and in 1980, welcomed daughter Ashley to the family. "She's my best friend," Joe told "The Drew Barrymore Show" about his wife. "I can tell her anything." In an essay for Time, Jill confessed she now sees their differences as a plus. "He tends to pull me out of my shell, and I help keep him grounded."