The Special Role Matthew Perry Hoped Zac Efron Would Play One Day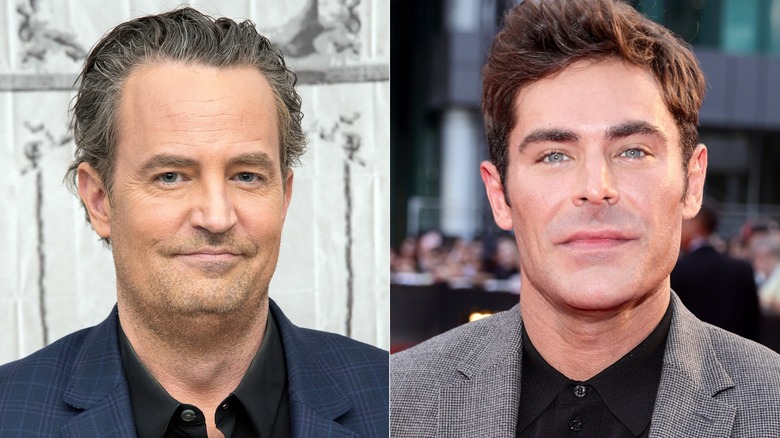 Matt Winkelmeyer/Getty & Mike Pont/Getty Images
We may receive a commission on purchases made from links.
Matthew Perry, the late '90s A-list actor celebrated for his role as the sarcastic Chandler Bing in the iconic NBC sitcom "Friends," captivated audiences with his vulnerable humor and relatable personal woes. Despite the challenge of finding a comparable persona, casting directors for the 2009 movie "17 Again" made a surprising choice in selecting Zac Efron, known for his role in the "High School Musical" franchise, to portray the younger version of Perry's character, Mike O'Donnell. In the movie, the teenage Mike (played by Efron) attempts to rectify the mistakes made by the older Mike (Perry) and lead him toward a more desirable life trajectory.
Despite not being twins appearance-wise, Perry commended Efron for seamlessly delivering the younger version of O'Donnell. The star was so impressed with Efron's performance that, in a SiriusXM interview, he revealed he wanted Efron to play him in a biopic based on Perry's 2022 memoir, "Friends, Lovers, and the Big Terrible Thing."
Although the biographical picture did not materialize initially, Perry never abandoned the idea. Years later, the project still remains in pre-production, but Efron seems to have honorably embraced the idea of fulfilling Perry's desire.
Zac Efron initially declined the role in Matthew Perry's biopic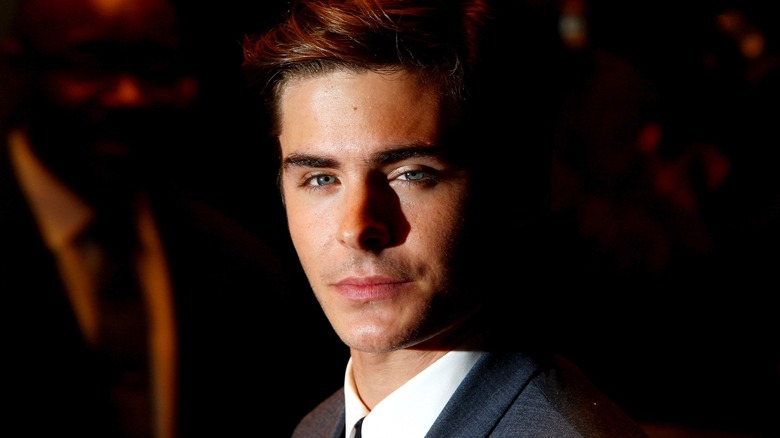 Gareth Cattermole/Getty Images
According to information from Matthew Perry's friend and entertainment reporter, Athenna Crosby, who was the last person photographed with the actor, the "Friends" star was very adamant about wanting Zac Efron to play him in a biopic. As Crosby shared with People, Perry "wanted Zac Efron, who's played him already, to play him again because he said he did such a good job."
In the 2022 SiriusXM interview, the late actor opened up about his vision for the biopic, mentioning that he had written the screenplay on his own and was seeking a leading man to portray a younger version of himself. When asked about his ideal choice for the role, Perry initially mentioned Efron but revealed that he had turned down the opportunity at that time. "So, we've got to find somebody who says yes," Perry noted. In addition to writing the screenplay, Perry also intended to direct the movie and play a small part in it.
The hope remains that the star's envisioned biopic will come to fruition despite Perry's untimely death. Interestingly, in spite of already declining, Efron has now expressed interest in the role.
Perry's wish might be fulfilled after all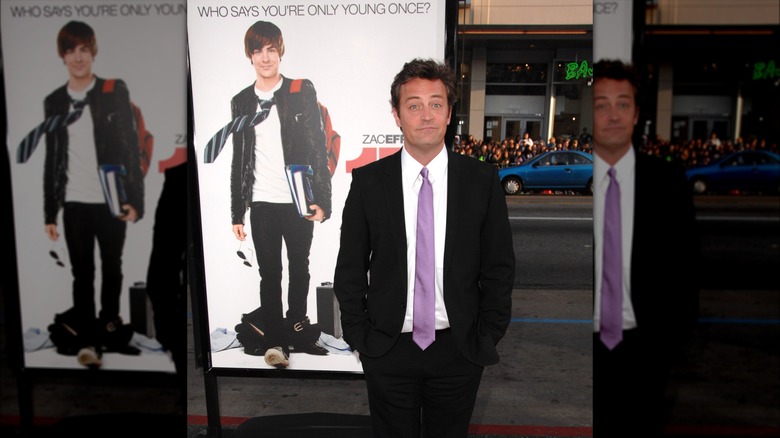 Steve Granitz/Getty Images
During the Dallas premiere of his 2023 film, "The Iron Claw," Zac Efron was reminded of Matthew Perry's biographical project, which he had already been approached to do. Expressing his gratitude for being considered to play the legendary actor, Efron told a People reporter, "We'll see. I'd be honored to do it." Reflecting on their past collaboration in "17 Again," Efron spoke fondly of the experience and credited Perry as his comedic teacher. "I looked up to him; I learned comedic timing from that guy," Efron explained.
In a 2009 talk with The Hollywood Reporter, Perry and Efron delved into the details of their "17 Again" filming experience. Perry revealed that Efron would regularly consult with him to refine his impressions, a talent Perry commended. In Efron's interview segment, he admitted that a significant portion of his dialogue in the film was directly influenced by Perry's words, emphasizing their collaborative effort to deliver the older and younger versions of Mike O'Donnell. Although Efron missed the chance to work closely with Perry again, we remain hopeful that he can channel his mentor's influence if he ever decides to take on the role in Perry's biopic.