What You Need To Know About Athenna Crosby, The Last Person Photographed With Matthew Perry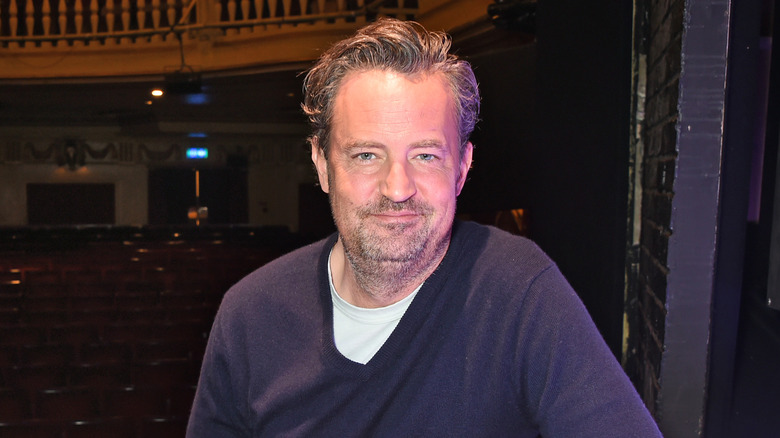 David M. Benett/Getty Images
The world is mourning the loss of Matthew Perry, a sobriety advocate, and iconic "Friends" star, who was found unresponsive in his Los Angeles home on October 28, 2023. While Matthew Perry's toxicology report answered big questions about his death, we've gradually been able to delve deeper into his final hours too. An image from TMZ revealed the actor dining with a woman at the Hotel Bel-Air on Friday, just a day before his untimely passing. This image sparked widespread curiosity about the mystery woman's identity.
In an Instagram reel obtained by TMZ, model and TV host Athenna Crosby confirmed that she was the woman in the photograph with Perry. Addressing the recent speculation about her identity, she wrote, "Yes, that is me with him this past Friday." Crosby also acknowledged that she was heartbroken by his passing and had initially chosen not to speak on it as she believed "the attention should not be on me but rather on him and his legacy."
The model felt compelled to clarify certain aspects of their relationship too, due to the surrounding chatter. In her reel, she remarked, "I wasn't going to speak about this, but what I will say is I had the honor of knowing Matthew personally." She gave some further insight into Perry's nature, adding, "He was an extremely private person, and I always respected that."
Crosby and Perry were good friends
The relaxed postures of Athenna Crosby and Matthew Perry in the viral photo shared by TMZ made it clear that this wasn't their first meeting; they appeared quite comfortable with each other. This prompted questions about whether Perry was on a date. Moreover, Crosby's reel included a photo of what we presume is Perry's memoir, "Friends, Lovers, and the Big Terrible Thing" with a note: "Theens, A number one New York Times Best Seller. For the number 1 girl. Matty."
Despite the buzz about their relationship, the model clarified that there was nothing romantic going on. She emphasized in her reel, "We were indeed friends, and I was one of the last people to see and speak to him before he passed." Crosby also confirmed with TMZ that their relationship wasn't romantic and they'd met through mutual friends. Despite the somber mood surrounding Perry's death, the model remembered their last meeting fondly. 
"I want to emphasize that Matthew was in extremely good spirits and talked to me enthusiastically about the things that he had coming up in his life. He was so happy and vibrant," she noted. Crosby also told ET that he planned to have Zac Efron play him in his biopic. In a plea to fans and the media, she requested, "Please refrain from any speculation surrounding his death and know that the man was on a comeback and truly deserved more time on this earth." 
Who is Athenna Crosby?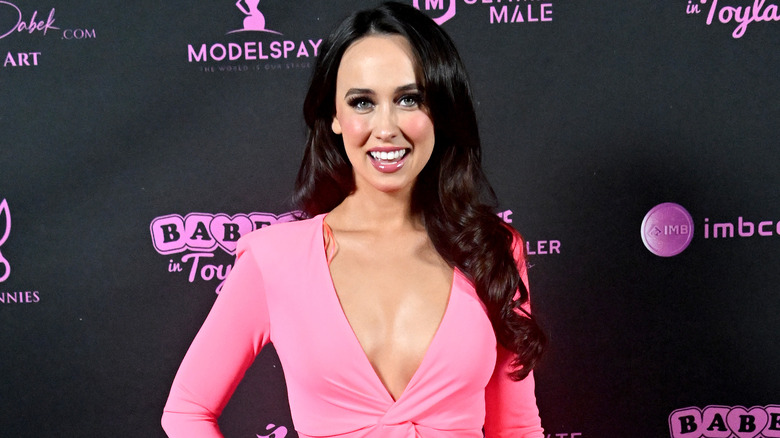 Albert L. Ortega/Getty Images
Athenna Crosby is a Venezuelan-American model, TV host, and journalist. In 2016, the San Jose native was crowned Miss California Teen USA. Crosby then represented her home state in the Miss Teen USA 2016 pageant and placed sixth out of the 51 contestants. She was also the fourth runner-up in Miss California USA 2022 and third in 2023. In October 2023, the same month as Matthew Perry's passing, Crosby competed in the Miss World America pageant and was the first runner-up. She also secured the coveted Beauty With a Purpose Ambassador title.
The veteran pageant queen, whose younger brother is on the autism spectrum, is a strong and vocal advocate for disability inclusion and awareness. She embarked on her advocacy journey at age 12, collaborating with organizations like Autism Speaks, Morgan Autism Center, and Parents Helping Parents. Undoubtedly, Crosby's enthusiasm for inclusion is rooted in the challenges her brother encountered.
For instance, she shared that he was arrested at age 13 after the school reported him for vandalism when he wrote his name on the sidewalk. While Matthew Perry's tragic life continues to devastate his millions of fans all over the world, it's comforting knowing that his last months included friendships with compassionate individuals like Crosby.