Tisha Campbell Was Nearly Penniless After Her Messy Split From Duane Martin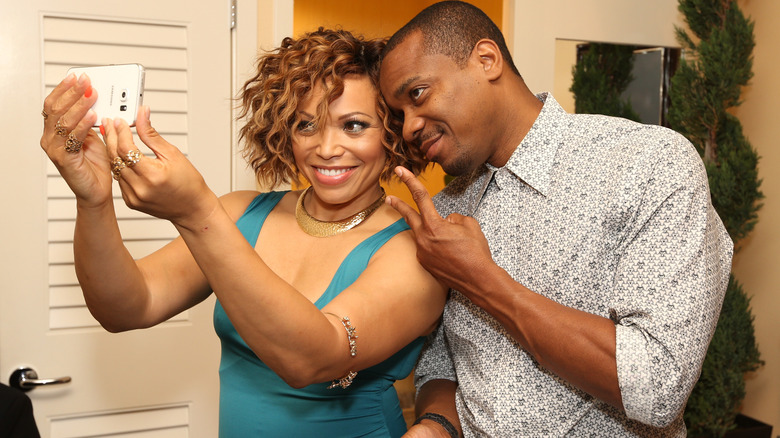 Jesse Grant/Getty Images
When Tisha Campbell married fellow actor Duane Martin in 1996, her career was going well. She'd appeared in several films, such as "Little Shop of Horrors," "House Party" alongside the popular hip-hop duo Kid 'N Play, and "School Daze," to name a few. However, she was most famously known as Gina from the hit series "Martin," which Campbell appeared in from 1992 until its end in 1997. Sadly, her personal life was not the greatest. 
According to Campbell, Martin began physically abusing her just months after they walked down the aisle. She hid the violence from her loved ones and, instead, chose to put her marriage front and center. After "Martin" finished, Campbell went on to star in several productions, such as the 1997 film, "Sprung," and the TV series, "My Wife & Kids," from 2001 to 2005. 
Martin also had several notable gigs of his own, including "Scream 2" and a recurring role on "All Of Us" from 2003 to 2007. Their artistic endeavors weren't enough to keep the couple afloat financially, however, with Campbell and Martin forced to declare bankruptcy in January 2016, followed by Campbell's divorce filing two years later. And, once the smoke cleared, she was left in financial ruin. 
Duane Martin allegedly hid over $1 million in assets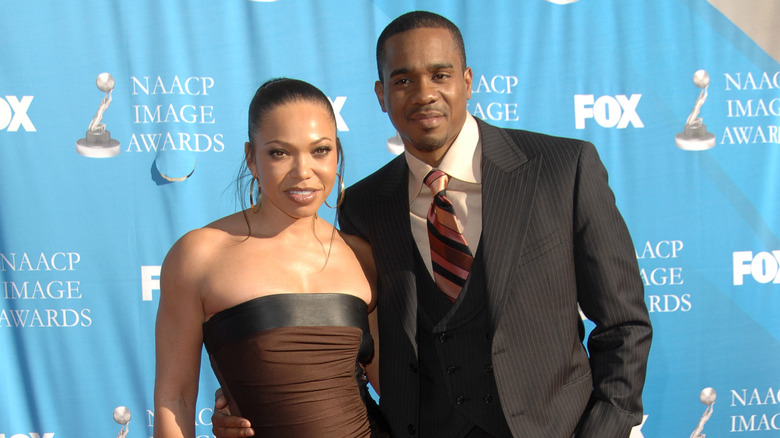 Jon Kopaloff/Getty Images
Tisha Campbell's money woes came to light before her 2018 split from Duane Martin. In their Chapter 7 bankruptcy documents, it was revealed that they had accrued over $15 million in debt, as the Daily Mail reported at the time. By that time, their roles in "My Wife & Kids" and "All Of Us" had long ended. The couple's combined monthly income was reported to be just $7,655, with only $200 in cash and $173 stashed in a bank account. Yet, they owed $455,000 to City National Bank and $39,000 to American Express and other creditors. 
However, after Campbell filed for divorce from Martin, she accused him of concealing money despite their severe financial issues. Martin received a $1.4 million loan from his friends, Will Smith and Jada Pinkett Smith. The funds were meant to save Martin and Campbell's home from foreclosure. However, Martin did not list the property in the bankruptcy filing. He also allegedly hid over $2 million in assets through his company, Roxe LLC.
Since a judge had already ruled to eliminate most of their debts in the original 2016 ruling, Martin was sued by the bankruptcy trustee, demanding that their previous debt relief be revoked. In 2019, the suit was settled with the family house home for $2.45 million to a private buyer. Of the proceeds, $1.5 million went back to Smith, $485k went to the bankruptcy estate, and just $170,560 went to Martin's company. Throughout this process, Campbell moved forward with her divorce from Martin, even demanding spousal support.
Campbell was left with just $7 following the divorce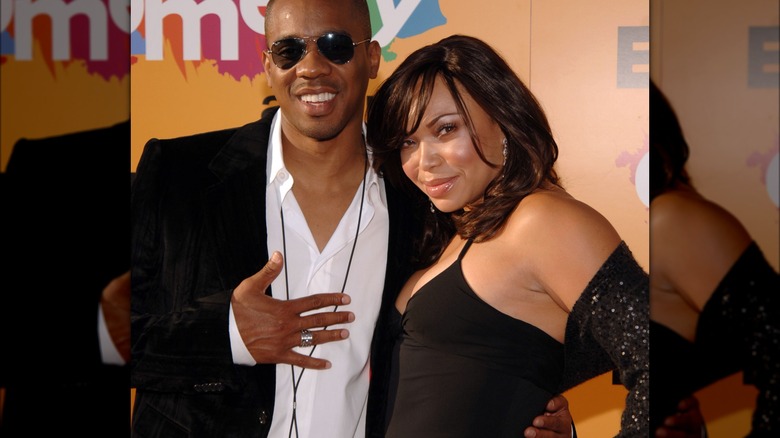 John Sciulli/Getty Images
By 2020, Tisha Campbell's divorce from Duane Martin was finally settled. Ultimately, neither party received either spousal or child support, and split custody of their youngest son, Ezekiel. Their eldest, Xen, was an adult by this time. While Martin still walked away with some profits from the sale of their home, Campbell was left empty-handed. "Nothing in the bank. Nothing. I had maybe $7 to my name, and I was scared. It was like I was starting all over," she admitted to Entertainment Tonight in December.
Thankfully, the beloved actor landed back on her feet thanks to several career highs. Campbell, alongside best friend and "Martin" co-star Tichina Arnold, began hosting the Soul Train Awards in 2018. Campbell also appeared in the Netflix series, "Uncoupled," and is currently the star of a new sitcom, "Act Your Age," on Bounce TV, at the time of writing. Campbell also confirmed to ET that she wasn't dating, nor was she interested in doing so. The actor is likely still scarred from her own "uncoupling" experience. 
If you or someone you know is dealing with domestic abuse, you can call the National Domestic Violence Hotline at 1−800−799−7233. You can also find more information, resources, and support at their website.