When Simone Biles' Husband Jonathan Owens Knew He Loved Her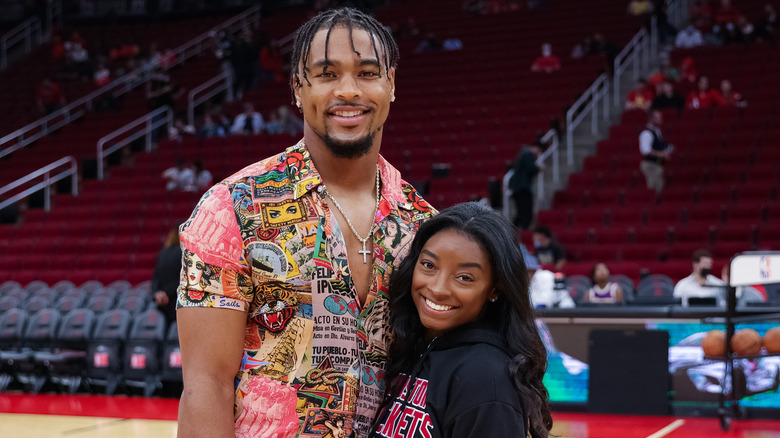 Carmen Mandato/Getty Images
In addition to success as a famed 7x Olympic gymnast, Simone Biles has also scored big when it comes to love with Green Bay Packers safety Jonathan Owens. Meet-cutes look a bit different in today's day and age, and it's much more likely for people to meet their one true love online. This was the case for Simone Biles and Jonathan Owens, who met each other as many young people do nowadays: on social media. They first started talking to each other on Instagram at the start of the COVID-19 pandemic in 2020.
Owens told Texas Monthly that he and Biles hit it off immediately — even though he had no idea who the gymnastics world champion was. Apparently, Biles liked that Owens had to get to know her from the ground up, and it wasn't long before they formed an unshakeable bond.
"It was one of the few times in her life where everything was just shut off, and she couldn't do anything," Owens told Texas Monthly. "So we used it to get to know each other — really get to know each other. It created our bond and made it stronger. " While there's plenty to love about Biles, Owens said there was one telltale sign that Biles was the one for him: His dog loved her too. 
Simone and Jonathan met at an unexpected time
Jonathan Owens revealed that his dog, Zeus, reacted strongly to his then-girlfriend Biles — most notably, her absence. "My dog really loved her," he told Today. "I could kind of see his face like whenever I would pick my bookbag up in my apartment, he would think we're leaving to go to her place, so he would sprint to the front door. And I'd be like, 'Huh, you really like her!"'
Since they began dating during lockdown, the couple shared that not spending every moment together these days can feel jarring. "We're with each other 24/7, so I feel like now when we're not with each other it's almost weird," Biles explained to Today. "We're always texting or calling each other. It's kind of gross in a way." Biles was actually reluctant to message Owens, but her sister Adria helped the sparks fly. Biles told the Wall Street Journal that Adria hatched a plan for Owens to visit her lake house, and the rest was history. 
Now, it seems that Biles has figured out how she wants to spend her post-Olympics life: as a wife. Owens and Biles got engaged on Valentine's Day in 2022. They both shared heartfelt snaps of the moment on Instagram: "The easiest yes ... you're everything I've ever dreamed of and more," Biles posted to her 7 million followers. "Let's get married, fiancé." The couple tied the knot in April 2023 at a destination wedding in Cabo.
Simone and Jonathan bonded over being pro athletes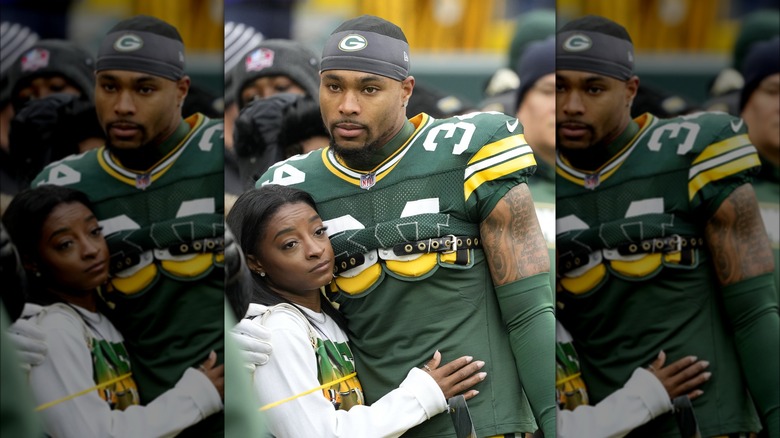 Patrick Mcdermott/Getty Images
While they often say that opposites attract, for Simone Biles and Jonathan Owens, their similar careers proved to be beneficial. Professional athletes are often subject to strict training schedules and intense travel, which could no doubt be strenuous in a relationship. But for Biles and Owens, this creates a mutual understanding.
"Our personalities match right up. We have the same sense of humor," Biles told The Today Show's Hoda Kotb. "He's an athlete too, so we really understand each other and I think that's why our relationship has been seamless." Biles is the most awarded gymnast in history, holding 26 worldwide championship titles (per Sports Illustrated). Her flawless routines have captivated audiences across the planet who watched her journey from a newbie Olympian to a global icon. Meanwhile, Owens is a professional football player for the Green Bay Packers.
Biles has been vocal about the complexities of being a professional athlete, including her own mental health struggles due to pressure. She famously exited Team USA during the 2020 Olympics to prioritize her mental well-being, much to the dismay of fans. "We have to protect our minds and our bodies and not just go out and do what the world wants us to do," Biles responded to critics (per Reuters). "We're not just athletes, we're people at the end of the day and sometimes you just have to step back."