Speech Expert Tells Us Donald Trump Jr.'s Fast Talk In Court Is Sign Of Nerves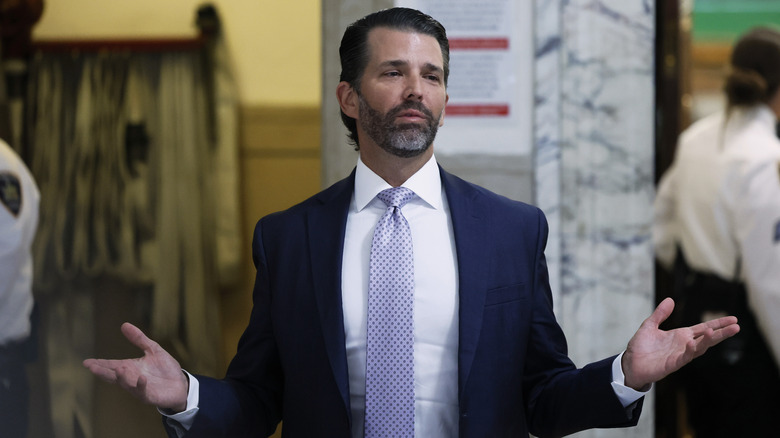 Michael M. Santiago/Getty Images
Donald Trump Jr. took the stand for a second time for the New York civil trial against him, his father, his brother Eric Trump, and the Trump Organization. Letitia James, New York Attorney General, filed a lawsuit alleging that the Trumps had fraudulently misrepresented the value of their properties to get favorable insurance and loan rates. Judge Arthur Engoron has already ruled that fraud did take place, and what is being decided in the trial now is if the Trump Organization can operate in New York and how much, if any, money they should pay for their misdeeds.
Trump Jr.'s fraud trial testimony in his first appearance on the stand as the prosecution made their case included him repeatedly saying that he knew nothing about the financial statements, even though there was evidence to the contrary. His second appearance on November 13, 2023, was for the defense, and at one point, Judge Engoron told Trump Jr. to slow down as he answered, saying, "We like the enthusiasm but try to eliminate the speed," according to The New York Times. He was asked to slow down during his first round of testimony as well; clearly he didn't take that to heart the first time. The List got exclusive commentary from Jess Ponce III, body language expert, communication coach, and author of "A.W.E.S.O.M.E.: Seven Keys to Unlocking the Speaker Within," on what Trump Jr.'s rapid-fire speech revealed about his mental state — turns out, it likely signals that he was nervous.
Donald Trump Jr. seemed eager to extol his father's virtues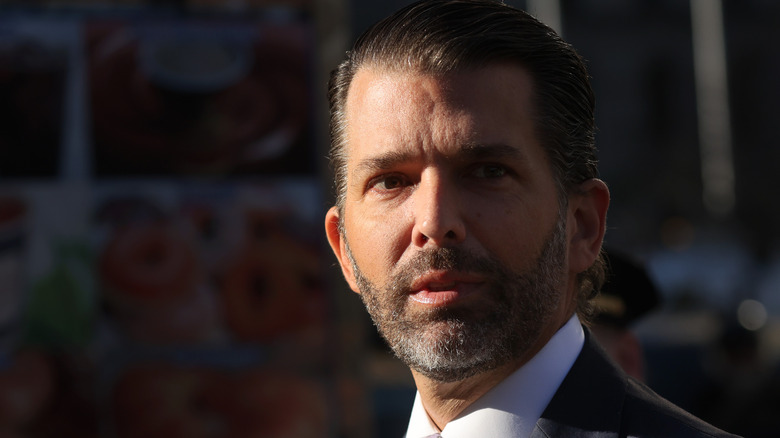 Spencer Platt/Getty Images
Jess Ponce III said that when it came to Donald Trump Jr.'s fast talking in the New York courtroom, it could have been a combination of two things: "People speak quickly when they are excited or nervous. In the case of Donald Jr., he may have been experiencing both feelings." A large part of Trump's testimony definitely involved him speaking excitedly about the Trump properties, and the questions from the defense attorneys set him up to rave about the Trump real estate portfolio.
For Ponce III, that showed that Trump, "was excited to validate his father's accomplishments. He spoke quickly to make the list of properties feel extensive and impressive." There was even a PowerPoint slide that was used to accompany his testimony — it was titled "The Trump Story" and involved Donald Trump Jr. taking the court through a version of the Trump family history, starting with his great-grandfather. It then went through various Trump properties and their features.
But there was also another motive, though perhaps a subconscious one, for Trump's delivery. "By listing the items quickly, it exhausts the listener," Ponce III explained. "In many ways it is a tactic to overwhelm the receiver. In this instance, his list is overwhelming in size and therefore impressive."
By speaking quickly, Donald Trump Jr. may have been trying to impress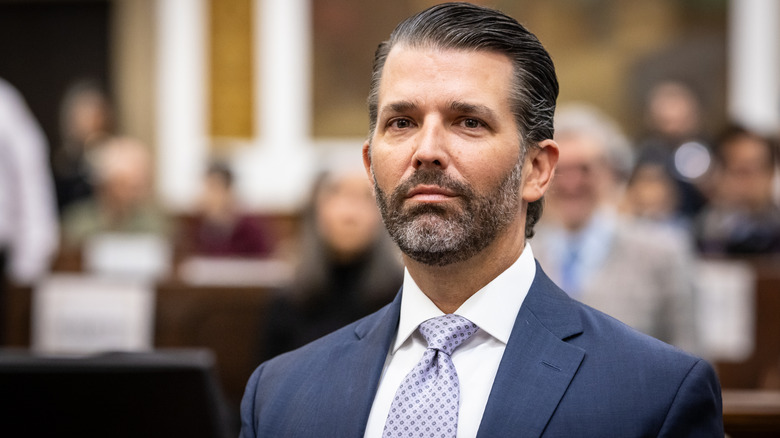 Bloomberg/Getty Images
Donald Trump Jr.'s quick talking on the stand in New York seemed to be a tactic of sorts. "Where Donald Jr. may have been nervous is in his need to try overwhelm the judge to begin with — if he felt more confident then this theatrical technique may have not been needed," said Ponce III. But Donald Trump Jr. inherited more than just his name from his dad. "Much like his father, he is fond of theatrics," Ponce III noted, "and doesn't shy away from making memorable public moments."
We will get a chance to see more courtroom theatrics from Donald Trump — Trump lost his cool in the courtroom during his first round of testimony — and he's set to appear again as a witness for the defense. As there is no jury in the New York trial, the judge is the one who will be deciding the fate of the case. After this civil case finishes, Trump will be in court again for criminal charges in four separate indictments.