Steve Harvey And Marjorie Harvey First Faced Divorce Rumors In 2019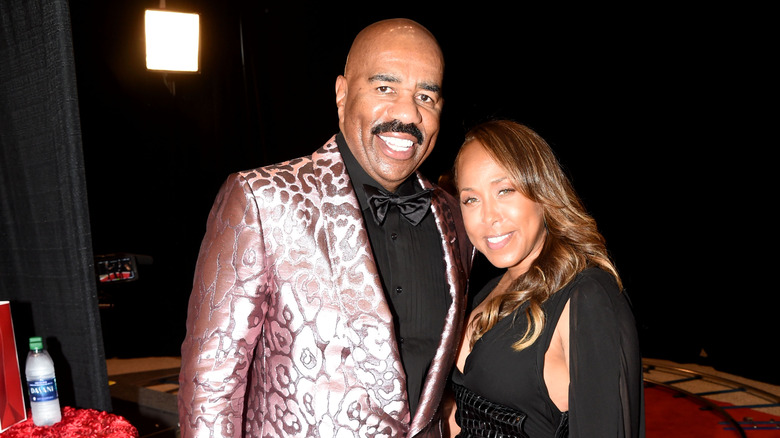 Stephen J. Cohen/Getty Images
Steve Harvey and his wife, Marjorie Harvey, have been the subject of relentless rumors throughout their marriage, many of which first came back to light back in 2019. The couple wed in 2007 and have been accused of being together while Steve was still with his previous wife, Mary Harvey. Many believed Marjorie ruined this relationship, which is something the radio host has vehemently denied. Instead, Steve has always maintained that Marjorie was with him during a time when he was at a low point following his divorce, having lost a serious chunk of his money.
Still, in 2019, multiple reports surfaced pointing to Steve and Marjorie being in trouble. Some of the stories stemmed from NBCUniversal parting ways with the "Family Feud" host and his daytime talk show. Other reports accused Marjorie of only being after Steve's money, thus suggesting she may be dissatisfied with his income suddenly being jeopardized. This was another falsehood that Steve quickly shut down, yet such stories about their relationship continued to surface. 
Steve Harvey reportedly started selling his properties ahead of the divorce battle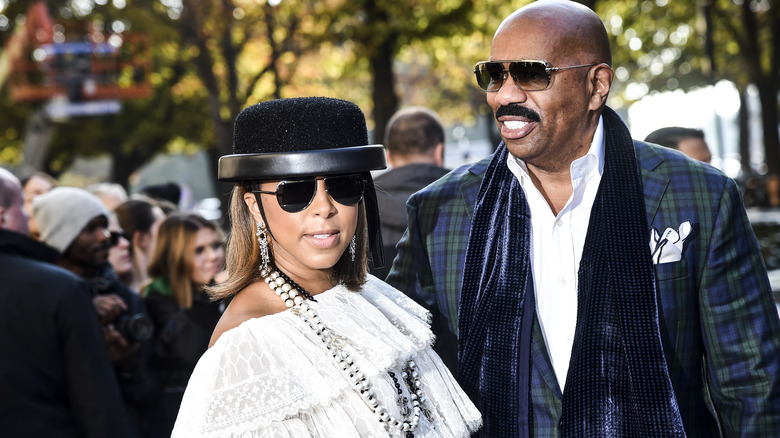 Jacopo Raule/Getty Images
In May 2019, Radar Online published an explosive report proclaiming that comedian Steve Harvey was quietly scaling down his real estate portfolio in preparation for a bitter divorce battle with Marjorie Harvey. Insiders also declared that Marjorie had one foot out the door due to his alleged financial issues, asserting, "When the money's gone — she's gone, too!" 
The TV host learned a hard lesson during his split from Mary Harvey. In her divorce settlement, she was awarded three of the media personality's prized properties and $40,000 a month until 2009. Mary was then subsequently given a lump sum of $1.9 million. This information was troubling, but the same month it came to light, Steve and Marjorie addressed it. 
In a now-deleted Instagram video shared by Marjorie and obtained by "Dish Nation," Broderick Harvey, Jr., whom Steve shares with his first wife, Marcia Harvey, jokingly tells his dad and stepmom that he heard they were splitting up (presumably due to money problems). The two share a look, completely puzzled by the news, seemingly dismissing the speculation.
Rumors have swirled about both Steve and Marjorie being unfaithful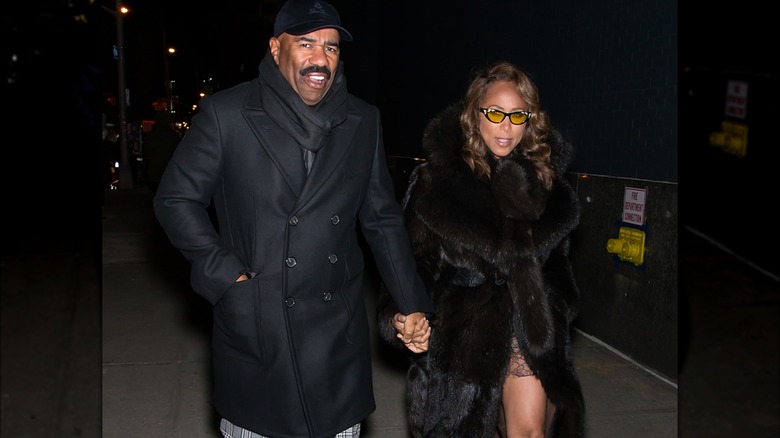 Gilbert Carrasquillo/Getty Images
On top of the separation rumors, the Harveys have been bombarded with accusations that they've cheated on one another. Part of what fueled the 2019 divorce chatter was an outlandish tale about Harvey secretly having an affair with Kris Jenner in 2018. That same year, sources told Radar Online that Steve and the Kardashian-Jenner matriarch were getting a bit too close for comfort during supposed business meetings. Allegedly, Marjorie Harvey confronted him over his budding fling, which led to her threatening to exit their marriage. 
In an October 2018 interview with AJC, the "Family Feud" host was noticeably annoyed about having to discuss the unfounded claims. "I'm sick of it. They act like I don't have family. They act like my kids can't read. They don't care. They just go out to destroy people with no facts behind it," he raged. Marjorie was also slammed for seeing someone close to Steve. His bodyguard, William "Big Boom" Freeman, assisted in bringing them together, but that didn't stop the rumor mill from churning with hearsay that the pair were sleeping together in August 2023. 
This time, Marjorie herself directly refuted the allegations with an Instagram post that read, in part, "My husband and I don't usually stop to address all the foolishness and lies that have been spread about us. However, to whom much is given, much is required." Thankfully, none of the headlines have swayed the Harveys, who continue to display a united front.