How Steve Harvey's Bodyguard Brought Him And Wife Marjorie Harvey Together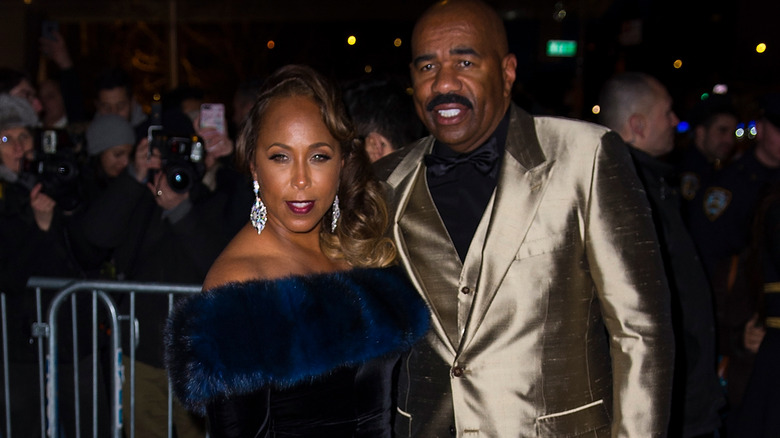 Gotham/Getty Images
Steve Harvey may be worth $200 Million today, thanks to multiple media endeavors, including his "Family Feud" hosting gig and "The Steve Harvey Morning Show." However, life was not always good for the comedian. During his first marriage to Marcia Harvey, he was an insurance salesman while trying to make a name for himself in comedy clubs.  That relationship ended in 1994, and by the time he married Mary Shackelford in 1996, he'd been in a comfortable position hosting "Showtime at the Apollo," though their relationship nor his money would last forever. Even after massive success with his sitcom and stand-up special, "Kings of Comedy," Harvey went broke after losing $30 million in his divorce from Shackelford in 2005. It was around this time that he and Marjorie Harvey reconnected after dating briefly in 1990. 
Harvey has admitted that he wasn't exactly in the right place to pursue Marjorie when they first met in the '90s. However, after reuniting in 2005, he was once again not completely confident in dating Marjorie, considering he was newly single and in financial ruin. Though Harvey wanted to run for the hills for the second time, it was his bodyguard and friend, William "Big Boom" Freeman, that motivated him to stick with Marjorie. 
William 'Big Boom' Freeman saw how happy Marjorie Harvey made Steve Harvey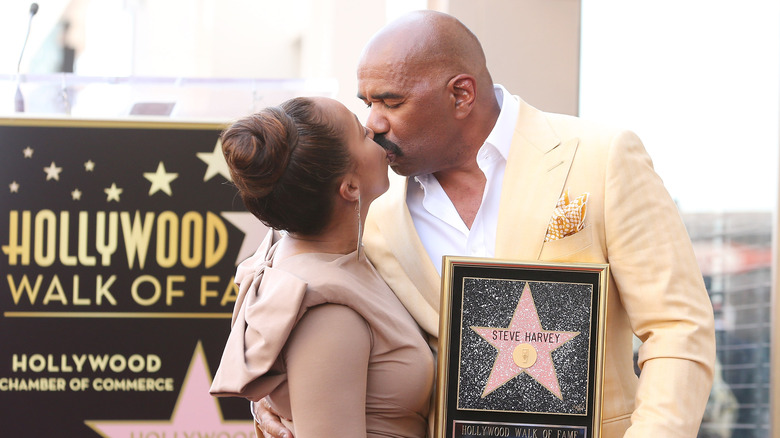 Michael Tran/Getty Images
Though it's not immediately known when the two met, William "Big Boom" Freeman has been in Steve Harvey's life for many years. As his longtime bodyguard, Freeman has seen Harvey through many stages. Therefore, when Harvey first began dating the woman who would be his future wife, Marjorie Harvey, Freeman knew she was the perfect woman for his friend.
"He told me, 'Look, the only time I've ever seen you happy was when you were with that woman Marjorie. Now, before you go and do something stupid and marry another woman, I'm calling her,'" recalled Freeman during a May 2016 interview with People.
It's clear that Freeman was correct about the couple. Marjorie and Steve Harvey remained together even during his money troubles, which included a corrupt accountant who stole many of his tax payments. Gladly, his hard times did not last long. In 2009, he penned his New York Times bestselling relationship book, "Act Like a Lady, Think Like a Man," which was adapted into a movie in 2012. He was hired in 2010 to host "Family Feud," a position he still holds today, in addition to his popular "Steve Harvey Morning Show."
William 'Big Boom' Freeman and Marjorie Harvey were at the center of salacious rumors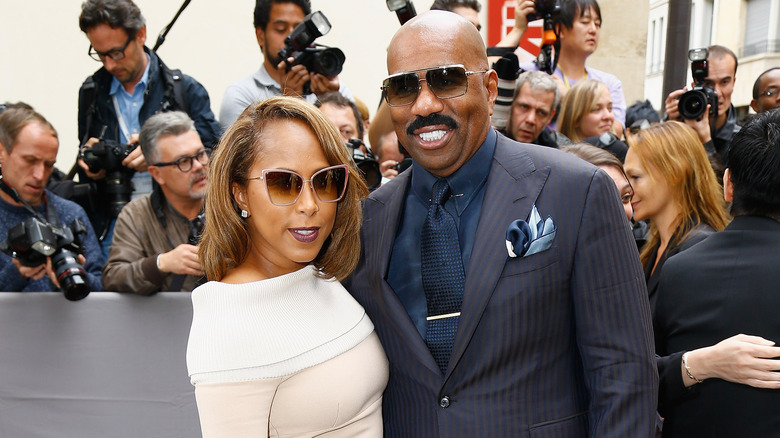 Julien Hekimian/Getty Images
Despite William "Big Boom" Freeman's crucial role in reuniting Steve and Marjorie Harvey, nasty rumors regarding him and his boss' wife surfaced. In August 2023, stories swirled that Marjorie was cheating on Steve with Freeman. In an August 27 Instagram post, Marjorie spoke out about the salacious chatter. She shared a screenshot of a Bible verse about being lied about and wrote in the post, "My husband and I don't usually stop to address all the foolishness and lies that have been spread about us. However, to whom much is given, much is required." The following day, a TikTok surfaced online of Harvey's speaking engagement at Invest Fest, where he also shot down any gossip regarding Marjorie while on stage, telling the crowd, "We're fine. I don't know what y'all doing, but find something else to do because we're fine," Steve assured the crowd.
It doesn't seem that Freeman has commented on the allegations. However, there have been other whispers surrounding the Harveys. In September 2023, recorded phone calls between Steve's radio co-host, Shirley Strawberry, and her incarcerated husband, Ernest Williams, leaked. On that recording, Strawberry says Marjorie treated her husband's co-workers like "the help" and alluded to Steve being afraid of her. Strawberry has since apologized on air, and it seems all has been forgiven. As for Steve and Marjorie, they appear still happy in love, partially thanks to William "Big Boom" Freeman.