The Celeb Who Warned Cheryl Hines Not To Date RFK Jr.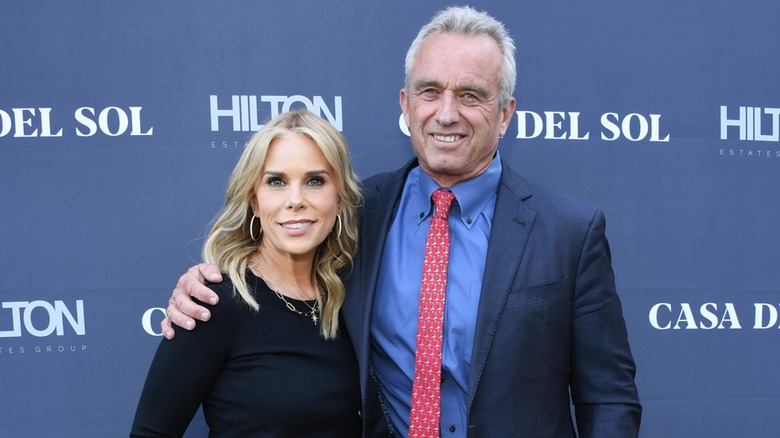 Jon Kopaloff/Getty Images
Actor Cheryl Hines came under the media spotlight more than ever after her husband, Robert F. Kennedy Jr., announced his candidacy for the 2024 United States presidential election. While Kennedy's presidential bid most likely wasn't on the itinerary when he started dating Hines in 2011, the actor was immediately warned not to get involved with the controversial Kennedy, and the advice came from none other than Larry David, the celeb who introduced them.
Hines and David, known for their roles as a married couple on HBO's "Curb Your Enthusiasm," maintained a strong real-life friendship despite their on-screen divorce. In an interview with Access Hollywood, Hines mentioned that they stay in regular contact and have enjoyed reuniting for the revived seasons of the iconic mockumentary-style series.
Given their close bond, it's not surprising that David played a significant role in Hines' relationship with Kennedy. However, the comedian openly came to regret his matchmaking skills, which didn't stop Kennedy and Hines from tying the knot in 2014, just over two years after hitting it off romantically.
Larry David introduced RFK Jr. and Cheryl Hines twice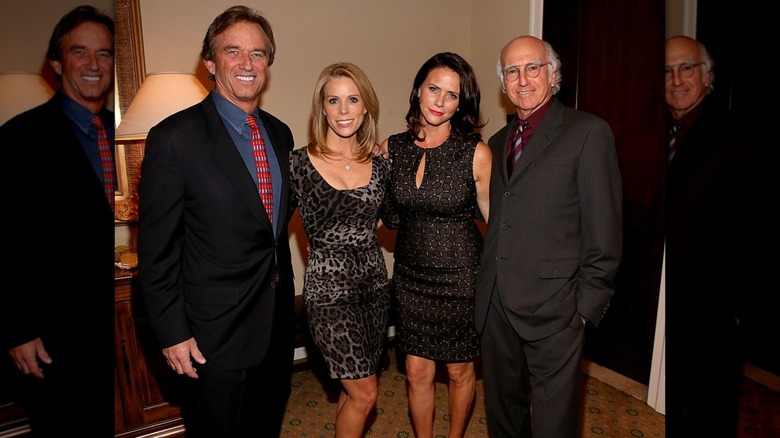 Christopher Polk/Getty Images
In a joint interview with The New York Times, Cheryl Hines and Robert F. Kennedy Jr. shared that they crossed paths twice before their romantic connection started evolving. Interestingly, their mutual friend, comedian Larry David, orchestrated both encounters. Their initial meeting took place at a ski resort in Alberta, followed by another introduction at a different winter resort in Utah. The third serendipitous encounter, sans David, occurred at yet another skiing destination, this time in Aspen. "I was separated at the time, and Cheryl was still married," Kennedy explained.
Hines recalled that she was drawn to Kennedy's unexpected sense of humor, while Kennedy admired Hines' selflessness. After Hines' divorce was finalized, their relationship quickly became serious, prompting Kennedy to seek advice from David. Despite David describing Hines as a universally loved and unshakeable person, he didn't share the same enthusiasm about Hines getting involved with Kennedy.
During an appearance on Alec Baldwin's "Here's the Thing" podcast in 2022, Hines disclosed that David strongly disapproved of her relationship with Kennedy. According to Hines, David expressed, "That's a terrible idea. No, no, no, don't get involved. That's a terrible idea." Despite David's reservations, Hines' marriage to Kennedy has thrived for nearly a decade, and they appear to be going strong, even in the face of Kennedy's questionable campaign decisions.
The comedian wants nothing to do with RFK Jr.'s political agenda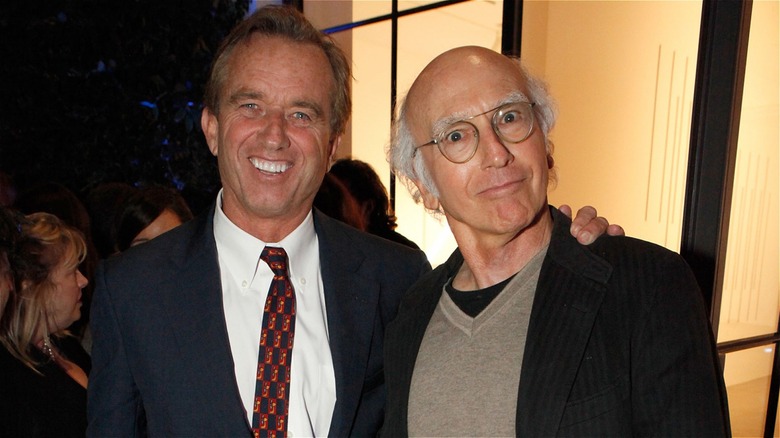 Ari Perilstein/Getty Images
Larry David's warning to Cheryl Hines about dating Robert F. Kennedy Jr. seems to have no evident cause, but it may be rooted in the comedian's clear disapproval of Kennedy's political views.
Kennedy, who initially ran for president as a Democrat but later switched to an independent affiliation, has garnered attention for controversial stances, such as comparing the COVID-19 vaccine to the Holocaust. This has led even Hines to seemingly distance herself from him as he navigates the presidential race. Despite claiming she would support him from afar in an interview with The New York Times, citing her busy career, Hines has publicly endorsed her husband on multiple occasions. When Kennedy switched affiliations, Hines issued a statement to People: "He is a fearless leader who understands the needs of the American people and has devoted his life [to] fighting for democracy."
In contrast, David appears uninterested in being associated with his friend's presidential journey. In the Times profile of Hines, when questioned about receiving backing from Hines' friends, namely David, Kennedy asserted that David supported him. However, the comedian promptly clarified the statement via text to The New York Times, noting, "Yes, love and support, but I'm not 'supporting' him." Ouch. It appears David might not be so fond of RFK Jr. after all.