Why Priscilla Presley Never Got Married Again After Divorcing Elvis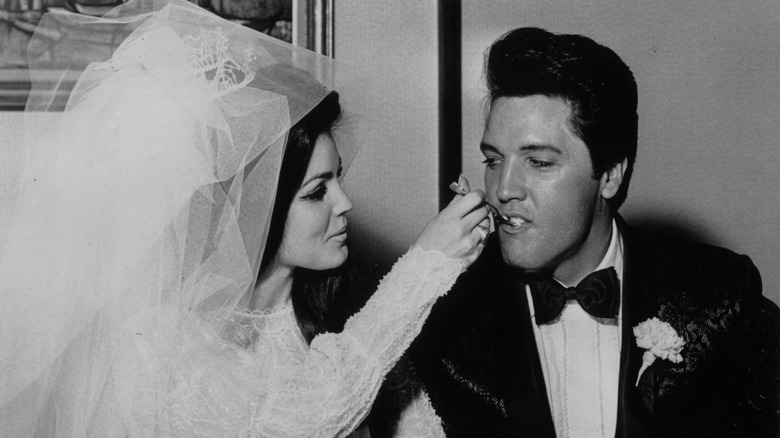 Keystone/Getty Images
Elvis and Priscilla Presley's romance has remained a constant in pop culture, and became even more of a fascination recently thanks to films such as Sofia Coppola's "Priscilla." After marrying in 1967, the couple welcomed their only daughter, Lisa Marie Presley. Elvis and Priscilla divorced shortly after, but still remained friendly, as Lisa Marie split her time with both of them. The late songstress was even present for her father's final days.
After Elvis' untimely death at 42 years old, his ex-wife had no intentions of marrying ever again. At an event in Las Vegas, Priscilla told the audience that moving on never crossed her mind. She admitted that part of it had to do with Elvis' own attachment to her when he was still alive. "I just don't think that he could handle that," Priscilla explained (per People).
Elvis and Priscilla first met in 1959, while the famous singer was stationed in Germany during his service in the U.S. Army. The "Jailhouse Rock" singer captured the hearts of young girls across the world, and Priscilla was no exception. "He didn't have to try to be strong and decisive or sexy; he wasn't afraid to show his warmth or vulnerability," she recalled fondly of her late ex-husband to the Orlando Sentinel. "He didn't have to act the part of Elvis Presley, superstar. He was just a man, my husband."
Priscilla dated around, but no one could live up to Elvis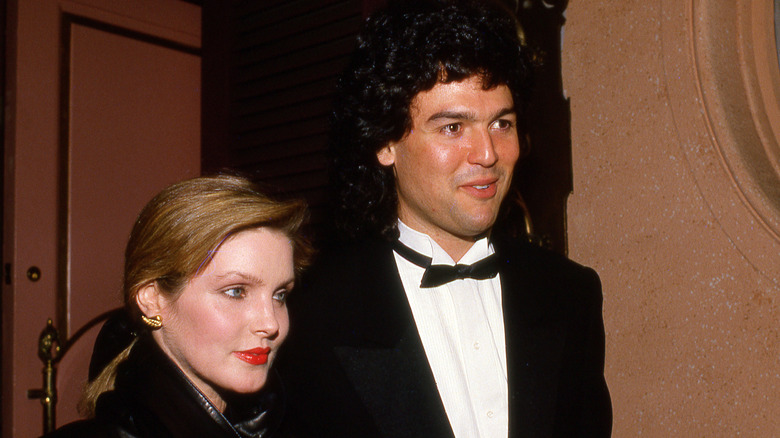 Mediapunch/Getty Images
Despite her consistent admiration for her late ex-husband, Priscilla Presley has an extensive dating history. Her first relationship post-Elvis Presley was with Michael Stone, who was also rumored to have been part of the reason for their divorce. Stone was Elvis' former martial arts instructor, and it was reported that Priscilla began seeing him to get back at her then-husband for his own infidelity (per The Daily Mail).
Some of Priscilla's other flings included Robert Kardashian Sr. — yes, the late ex-husband of momager Kris Jenner and the father of Kim, Khloe, Robert Jr., and Kourtney Kardashian. Allegedly, Priscilla refused to marry anyone while Elvis was still alive. This included Rob Sr., who made his intentions to wed her known (via Page Six). But after Elvis' death, Priscilla's oath was sworn, and she never remarried.
"To be honest with you, I never wanted to marry after him," the widow said, referring to Elvis (per People). "I never had any desire. No one could ever match him." Priscilla had a few serious relationships, including a 7-year romance with actor Michael Edwards that began the year of The King's death. Her longest partnership, however, was with music producer Marco Garibaldi from 1983 to 2006. Over the course of their 23-year relationship, they welcomed a son, Navarone Garibaldi, but never got married (per People).
Priscilla and Elvis' relationship has faced criticism in recent years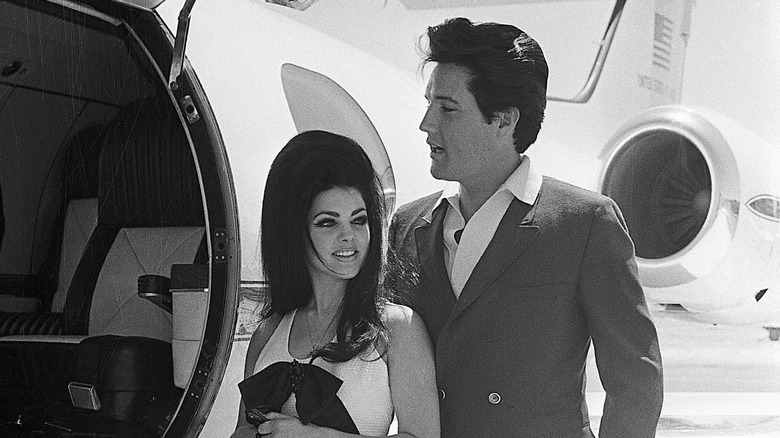 Bettmann/Getty Images
Elvis and Priscilla Presley's marriage has remained a cultural staple. As true embodiments of '60-'70s pop culture, their looks and dynamic have been the subject of admiration — and scrutiny. In recent years, critics have called out Elvis and Priscilla's controversial 10-year age difference. Elvis became fascinated with Priscilla upon meeting her when she was just 14 years old, meanwhile, he was a 24-year-old music star.
The young girl eventually moved to the United States from Germany, where her family was stationed, to live with Elvis at Graceland. Priscilla was instantly thrust into the world of superstardom. In order to better adjust, Elvis took control of her image as her only connection in this new environment. According to Priscilla herself, Elvis was very particular regarding her appearance and wanted her to look older. She opened up to Hoda Kotb on Today about her experience being selected and made over by the King of Rock n' Roll.
"Something in his Southern upbringing had taught him that the 'right' girl was to be saved for marriage. I was that girl," Priscilla explained. "At the same time, he molded me into his woman. I wore the clothes, hairstyle, and makeup of his careful choosing." Despite the controversy of their romance, Priscilla rejects claims that she was groomed by Elvis. She maintains that their relationship remained respectable — i.e., they didn't hook up — up until they were properly married (via CNN).