Why Good Bones' Karen E. Laine Is Divorcing Her Fourth Husband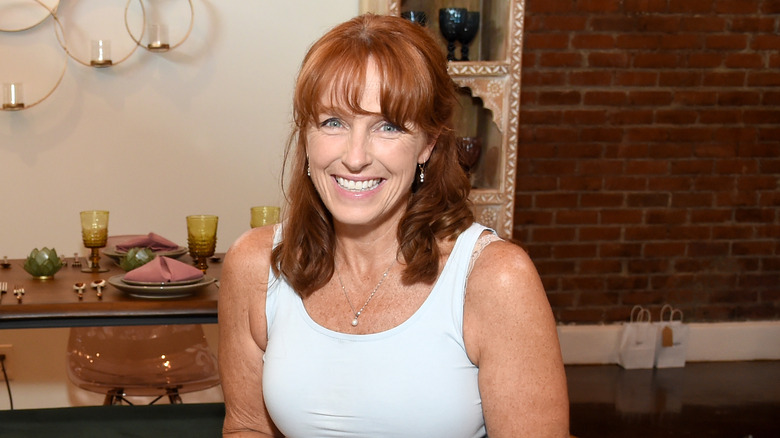 Michael Kovac/Getty Images
Renovating homes comes easy to "Good Bones" star Karen E. Laine, but relationships are another story. The parental half of the company "Two Chicks and a Hammer," Laine has a complicated history with husbands that have created some drama between her and her daughter Mina Starsiak Hawk when the cameras aren't rolling. The mom of five has been married four times and will soon be single again.
Laine is thought to have married Roger Rominger sometime in 2015. Rominger's fifth-anniversary post in 2020 seems to confirm the date of their nuptials, though they have never been particularly forthcoming about their relationship. Despite their shying away from the spotlight, Closer Weekly reported that after nearly eight years of marriage, on April 26, 2022, the pair filed a joint petition for legal separation with the court. Nine months later, on January 13, 2023, Laine and Rominger went to court again, this time changing their initial request to a filing for dissolution of their marriage.
Things between the couple settled for a while, but amidst her children, namely, Mina, speaking out about the family drama post-"Good Bones" finale, Laine decided to push ahead with her divorce. According to Heavy, on October 12, 2023, Rominger and Laine's divorce case was officially full steam ahead. As it turns out, things had been going south for the couple since Laine retired from "Good Bones" and "Two Chicks and a Hammer" in 2019.
Retirement woes may have ended the relationship
Karen E. Laine joined the "What's Up Wilmington" podcast in late October 2023 to discuss her retirement, revealing that she "got rid of the last husband, who wanted to retire on a sailboat," something that she tried to compromise on but couldn't because her extreme seasickness made it impossible. Continuing, Laine noted, "So now I can retire anywhere I want," even suggesting Wilmington, North Carolina, itself. 
The former lawyer was honored in a sweet farewell post on Two Chicks and a Hammer's Instagram in 2019, captioned: "Karen is excited to spend her time doing all the things she loves like spending more time with Roger, sailing, hanging with her chickens, and working on DIY's for 'Good Bones!'" Clearly, the first two retirement goals didn't pan out for her. Now, Laine is planning on tirelessly renovating a home she purchased in the port city, which is about 12 hours away from her hometown of Indianapolis.
However, she also clarified that soon-to-be ex-husband Roger Rominger wasn't alone in attempting to foil her retirement plans. "My children have destroyed my dream," she joked on the podcast. "So now I have five grandkids in Indianapolis that I didn't have when I bought the house." Laine went on to acknowledge that she'll probably have to split her time between the two locations as a result. 
Karen E. Laine isn't a stranger to separation
Karen E. Laine is living her retirement dream, and she wasn't about to let a husband get in the way of her future plans. That seems to be the MO of the former business owner, who seemingly doesn't have a problem with letting go and moving on to maintain her happiness. Her first husband, Casey Starsiak, is the father of three of her children — Mina Starsiak Hawk and two sons, William and CR. It isn't clear why the couple divorced, but once things were finalized, Laine was free to marry again.
She then walked down the aisle with Randy Gray, with whom she would eventually welcome daughter Kelsey Spaeth (Gray). Their relationship ended in divorce, too, only for Laine to try once more with a man named Mick. While there aren't a lot of details on why Laine said farewell to each of her husbands, the marriages couldn't have lasted too long. Mina was born in 1987, and Kelsey in 1992, which doesn't leave much room for two marriages and divorces.
Mother and daughter attempted to illustrate their family tree on a behind-the-scenes clip of "Good Bones," but fans were left with more questions than answers. Laine might not excel at renovating her relationships when things fall apart, but she also clearly isn't afraid to always give love another chance!