RHONYC's Brynn Whitfield Had A Long-Ago Fling With Another Bravo Star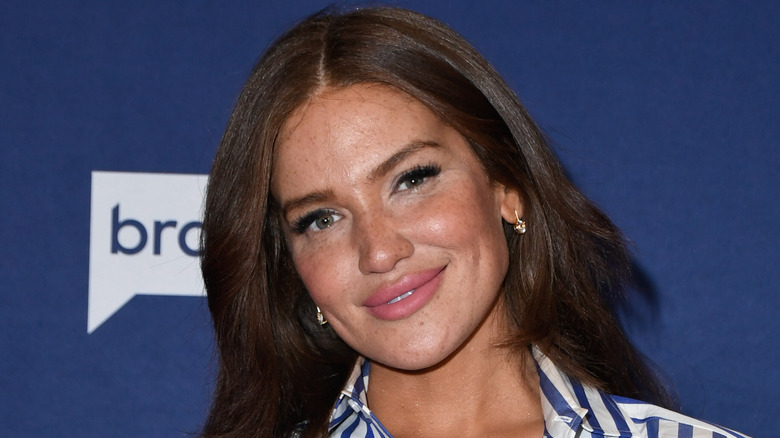 Mindy Small/Getty Images
"Real Housewives of New York City" staple Brynn Whitfield is not shy when it comes to discussing her personal life, even if it means dishing on the past men she's encountered. Viewers have learned that Whitfield still holds a soft spot for ex-fiancé Gideon Lang-Laddie, who was one of three men to ask for her hand in marriage. She is currently single, but during the 2023 BravoCon, Whitfield revealed that she has a crush on Shep Rose of "Southern Charm." Though, he is not the only Bravo star who has caught the TV newbie's attention.
Years before "Vanderpump Rules" debuted in 2013, Whitfield had a short fling with established restaurant manager Peter Madrigal. Whitfield made the stunning revelation during a July 2023 episode of the "Bravo By Betches" podcast. They may not have run off into the sunset with one another, but Whitfield and Madrigal did have a bit of fun together before either of them shot to fame.
Brynn Whitfield and Peter Madrigal had a make-out session years ago
Before Brynn Whitfield embarked on her own TV career, she crossed paths with Peter Madrigal at a party. The year was 2006; both were in their 20s, with Madrigal not yet working at SUR. "I think that manager [Peter] — I think I made out with him once on Halloween. This was like 2006," Whitfield told Dylan Hafer during the taping of his "Bravo By Betches" show. Hafer joked that Whitfield could've been the first "Scandoval," referencing the 2023 cheating scandal between the "Pump Rules" cast. Madrigal didn't exactly deny Whitfield's allegations, commenting on the video, "Well, hello Brynn."
Madrigal would not become employed with SUR until 2008 when he was hired as a bus boy. Eventually, he worked his way up to manager, appearing on his boss' hit show. Whitfield dodged the "Pump Rules" opportunity when initially offered a spot on Vanderpump's "Real Housewives of Beverly Hills" spinoff. Whitfield has known the family since her teenage years due to her close friendship with Vanderpump's daughter, Pandora.
Whitfield is no stranger to speaking about her hook-ups, thanks to Lisa Vanderpump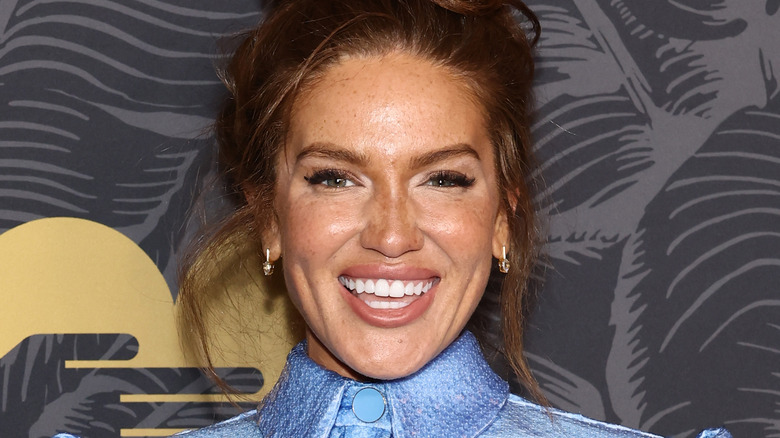 Arturo Holmes/Getty Images
Brynn Whitfield speaks very freely about her affairs, which is partly thanks to Lisa Vanderpump. When the serial entrepreneur and posh Beverly Hills "Housewife" learned Whitfield had joined the "Real Housewives of New York City," she had an NSFW influence on the big city bachelorette. Whitfield told Page Six in July 2023 that Vanderpump's many sexual innuendos, often seen on camera, motivated her to speak openly on the show about intimacy in her own life. Fans even got to witness Whitfield playfully flirting with castmate Jenna Lyons during their group trip to Anguilla, which aired in September 2023.
Whitfield has not named Peter Madrigal as an official boyfriend, and he has endured his own drama in his romantic life. He briefly dated "Pump Rules" costar Raquel Leviss, though their relationship fizzled after just a few dates. It doesn't seem that Whitfield and Madrigal reconnected once they both became "Bravolebrities," but she confirmed the fling once again during an August 2023 episode of "Watch What Happens Live" host Andy Cohen. With both now presumed single, Madrigal and Whitfield may bump into one another again.