The Young And The Restless' Bryton James Was Never The Same After His Divorce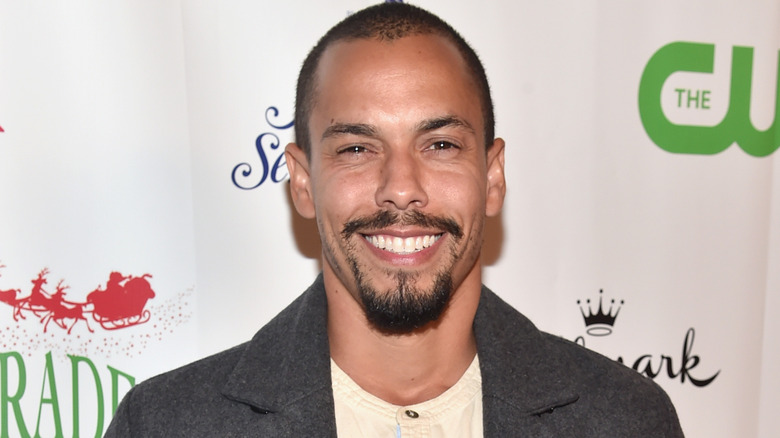 Alberto E. Rodriguez/Getty Images
"The Young and the Restless" actor Bryton James (Devon Hamilton) has been a part of the show since 2004. Yet, while fans have watched his second life unfold on-screen, few likely know of the struggles James has endured off-screen. His divorce from Ashley Leisinger, whom he was in a relationship with for 7 years was among those challenges. They first met when he was only 17 years old — the same year he landed his role on "The Young and the Restless." And it was their eventual divorce, in fact, that forever altered his views on marriage itself.
After just a few months of dating during their younger days, James had to break things off because he was living with his parents and they had very strict rules for him to follow. A few years later, in his early 20s, they reconnected, and James asked Leisinger to move in with him when he finally got his own place. After being together for several years, Leisinger and James tied the knot on March 16, 2011. Their wedding was officiated by none other than James' co-star, Christian LeBlanc (Michael Baldwin). Just three short years later, however, in 2014, the duo divorced and it left an everlasting mark on James. They decided to mutually part ways and the two remained friends. 
Despite his experience, though, the romance in James' life was far from over. He eventually entered into a relationship with co-star Brytni Sarpy (Elena Dawson), whom he worked with almost every day on-set. But James' strong feelings about marriage and children still hold true.
Why Bryton James won't get married again
In December 2021, Bryton James appeared on the "State of Mind with Maurice Benard" podcast. Hosted by "General Hospital" star Maurice Benard (Sonny Corinthos), the podcast explores mental health struggles. During the interview, the subject of divorce came up. Benard explained, "Some people who get divorced don't want to get married again." James came back with his opinion on the situation, saying, "Yeah, I don't think I would get married again because I have different ideas about the institution of marriage and where it comes from and what it's about."
James also shared that he doesn't believe he will want children, telling Benard, "I've always kind of known that I didn't want to have children, but it hasn't been something as concrete as it is now." James would go on to say something incredibly enlightening: "I know plenty of men who, they don't have to be convinced that they want to have a child and want to leave something behind in that way. It's in them, they just know it ... Those are the people that need to be fathers." James recognizes the sacrifices his parents made for him. "I just know what it takes to enjoy life as much as I did," he explained,"It's a non-stop job." 
His views on having children haven't changed since 2018, when he spoke with Soap Opera Digest about how his father gave up a great job as a musician to keep his family in their homestate. "My parents put so much into my upbringing," James explained. He has remained resolute in his beliefs and his role as Devon Hamilton will be the legacy he leaves behind.
Bryton James tried to love again
While his marriage did not work out, Bryton James was not totally against being in a relationship. When co-star Brytni Sarpy (Elena Dawson) joined the cast of "The Young and the Restless" in 2019, they caught each other's eye. A new nurse in Genoa City, Elena became Devon's love interest on-screen. However, off-screen, there was also some chemistry bubbling between the two actors. The actors began dating, and soon, their relationship was headline news, with fans yearning over their real-life love. Together, they even purchased a condo  and were able to move in quickly before the pandemic hit.
Things seemed to be going well for the lovebirds, even during the COVID pandemic. Speaking to Soap Opera Digest, James discussed his relationship with Sarpy and whether he had reservations about dating a co-star. "You know, I did until I didn't. That all went out the window. I remember Kristoff [St. John] giving me that advice a long time ago, probably not to do that. But it's been great. We both have the same work ethic," he said. However, the last photo the couple posted together was back in 2020. 
Rumors that they'd broken up immediately began to spread on Instagram. Neither have confirmed nor denied the claims, but it is interesting that their photos suddenly stopped popping up. Viewers are still pulling for this couple, though, both on- and off-screen, in hopes that we'll see them together again!