Why Bianca Censori's Friends Are Worried About Her Marriage To Kanye West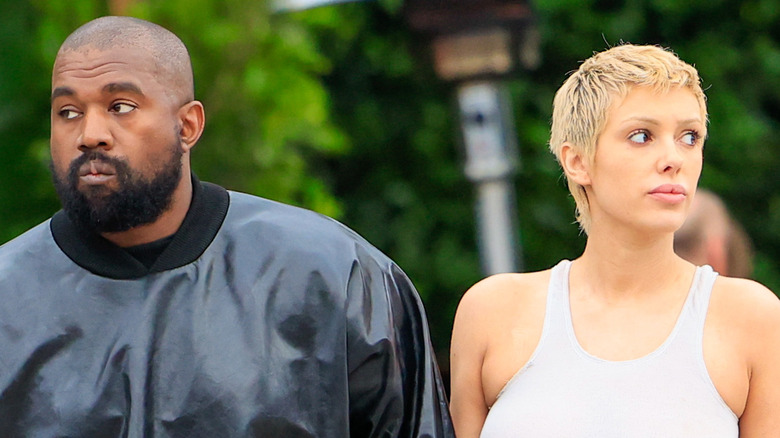 Rachpoot/bauer-griffin/Getty Images
Kanye West's marriage to Australian architect Bianca Censori has raised quite a few eyebrows since the couple wed in a private ceremony in December 2022, less than one month after West's divorce from Kim Kardashian was finalized. But now, confused speculation has grown into intense concern from Censori's friends, who reportedly told her to "wake the f*** up" when she made her first trip back to Australia since marrying the "Stronger" rapper.
Two months before West and Censori would celebrate their first wedding anniversary, the Daily Mail reported a lengthy list of concerning rules West reportedly told his second wife she had to follow. An inside source told the Daily Mail his rules for Censori included "never speak and wear what he wants her to wear. She is also required to eat certain food items and to work out even though Kanye doesn't work out."
The source continued, "She has no mind of her own anymore and obeys him because he has convinced her that they are royal." When friends and family initially expressed their concerns to Censori, the Australian native dismissed them and called them jealous.
Bianca Censori reunited with family and friends after a year apart
Architect Bianca Censori (pictured second from left) returned to her home country for the first time since her wedding at the same time her husband Kanye West took a trip to the Middle East with his eldest daughter North. The rapper and his first child with ex-wife Kim Kardashian shopped at a Dubai mall and visited nearby Saudi Arabia, where they mingled with fans in Riyadh, per TMZ. Meanwhile, Censori spent her visit home patronizing popular Melbourne bars and restaurants and spending quality time with her friends, sister Angeline, and parents, Leo and Alexandra.
The Daily Mail reported Bianca and Angeline spent one night at Marquis of Lorne, a Melbourne bar, where they enjoyed a quiet, drama-free night. "No one made a fuss at all," a witness told the site. "She was with her sister, and they just blended in with everyone else. She was there just having a good time and a few drinks, catching up with friends. It was really no big deal."
Censori has previously discredited her friends' concerns about her marriage, even going so far as to tell them to "f*** off," per Page Six. However, The Daily Mail's sources suggest Censori's inner circle has finally gotten through to her.
Her family and friends' intervention seems to have worked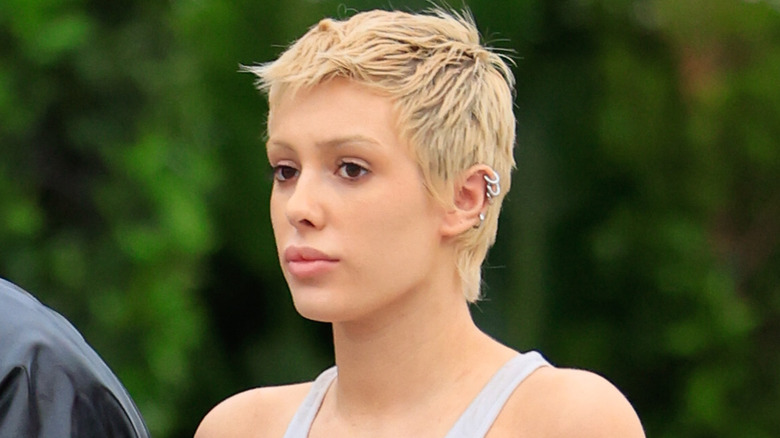 Rachpoot/bauer-griffin/Getty Images
According to an insider close to the situation, "Everyone is just glad that they finally were able to get through to Bianca [Censori]. Her friends let her know exactly how they feel. She knows that she has shut out those close to her, and she is also starting to see through the smoky mirrors of her marriage. She is aware of Kanye's controlling ways, and she is starting to see things from an outside perspective" (via The Daily Mail).
The first year of Censori and Kanye West's marriage has been speckled with controversy and confusion, from Censori's highly revealing outfits to the couple getting banned from using a Venice boat rental company after West was photographed seated on a bench, pants around his knees, while Censori knelt in front of him. The water taxi company, Venezia Turismo Motoscafi, said the couple was "no longer welcome" on its boats, per TMZ.
Even West's ex-wife Kim expressed concern for Censori amidst their turbulent relationship. A source close to Kardashian told Elle that she wanted to talk to Censori privately about the dangers of allowing someone else to manipulate her the way West was appearing to do so. "In Kim's opinion, all the fame or exposure in the world isn't worth being someone else's puppet," the source said. But after Censori's eye-opening trip to Australia, that the ex-wife and current-wife meeting might not have to happen after all.