A Look Back At Michael J. Fox's Bond With Friends Alum Matthew Perry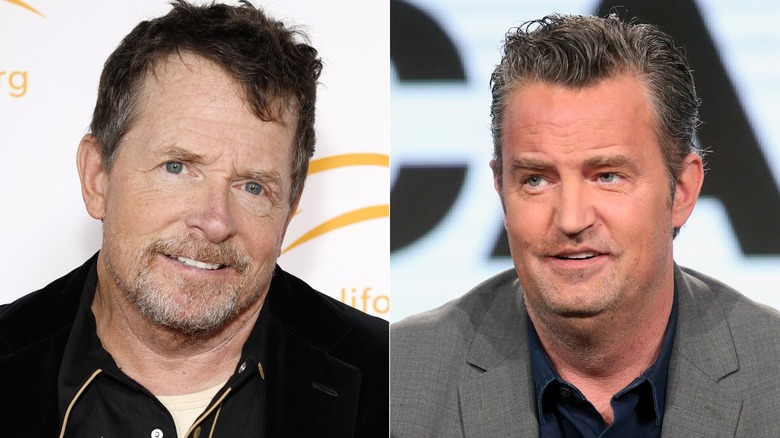 Frederick M. Brown/Getty & Jason Kempin/Getty Images
Matthew Perry was known best for playing Chandler Bing on the hit show "Friends," but Perry had a vision for his legacy before he died. He wanted to be remembered as someone who wanted to help people. And he most certainly did help his friend Michael J. Fox.
Fox was diagnosed with Parkinson's disease at the age of 29. He started The Michael J. Fox Foundation for Parkinson's Research in 2000; the foundation's goal is to help find a cure for the degenerative brain disorder as well as help with therapies for those who have Parkinson's. And Perry once donated quite a lot of money. Fox talked about it at the 2023 fundraising benefit for his foundation, telling Entertainment Tonight that the donation happened after "Friends" really took off: "when [the "Friends" cast] first made their big sale and were made millionaires for the rest of their lives, he wrote a big fat check to the foundation."
While the "Back to the Future" star didn't give a specific year, the "Friends" cast started negotiating their contracts together for season 3, and by season 9, they negotiated to each get a million dollars per episode, so it seems likely that Perry's gift came around season 9. And some people in Perry's position might have bragged to the world about making a grand donation, but he notably didn't.
Michael J. Fox and Matthew Perry played hockey together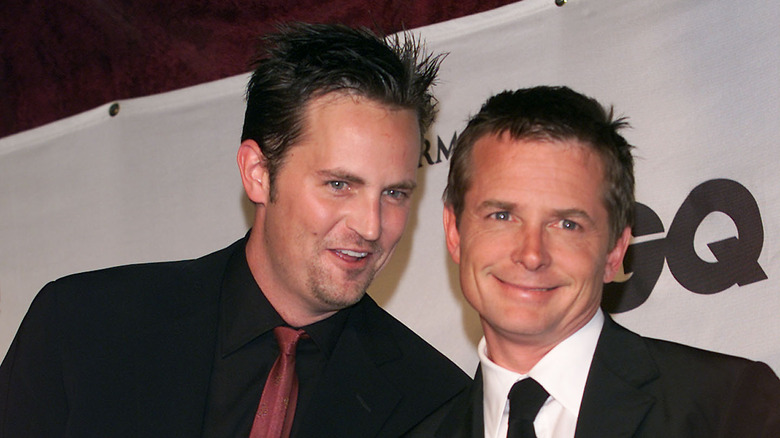 Evan Agostini/Getty Images
Michael J. Fox definitely appreciated Matthew Perry's sizable donation to his Parkinson's foundation, but one of the things he liked best about it was that Perry did it discreetly: "it wasn't accompanied by any self-aggrandizing or anything, he was just like, 'Take it and do your best.' I loved that." We love that too!
It wasn't just Perry giving money to a random charity. Fox and Perry were friends; they were both Canadian, and they had a mutual love of hockey — it is the Canadian national sport, and we're happy to see that two of them could bond over the sport they'd played growing up, even though they'd both moved to Los Angeles. "Matthew and I had spent some time together over the years," Fox explained to Entertainment Tonight. "He was a hockey player, a good hockey player, and we played hockey together." Perry's love for hockey was also known within the NHL, and at a couple of NHL games after Perry's death, organists sweetly played a version of the "Friends" theme song in his honor.
Matthew Perry wanted his career to be like that of Michael J. Fox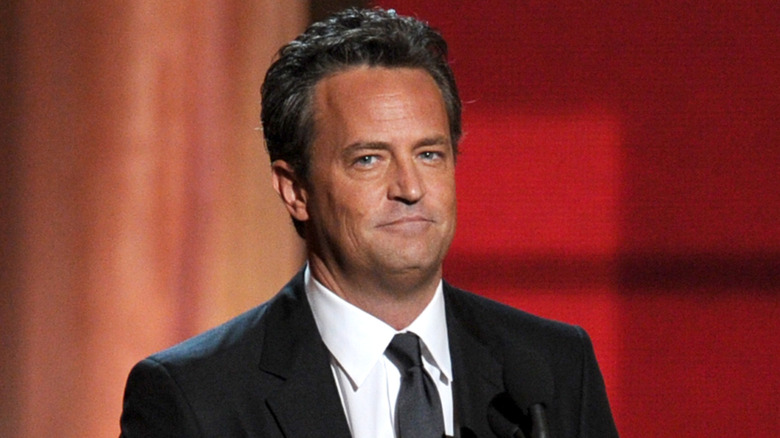 Kevin Winter/Getty Images
While Michael J. Fox and Matthew Perry may have bonded over a love of hockey, there were times when Perry was both jealous of and aspired to be like Fox when it came to stardom. Fox is eight years older than Perry, and his breakout roles came in the 1980s in both TV and film with "Family Ties" and "Back to the Future." Perry spoke on "Q with Tom Power," about seeing Fox and the success of his career, saying, "there was smoke coming out of my ears, I was so jealous of this guy." And of course, Perry did rise to and perhaps exceed Fox's level of fame, but even so, as we can tell from his donation to Fox's foundation, Perry wanted to help others.
When Fox was asked about how Perry thought of him as his acting inspiration after Perry's death, Fox explained to Entertainment Tonight that he had a lot of respect and admiration for the "Friends" star as well, saying, "I think he's just a funny guy, and if I was ever as funny as he is at his funniest — I'm happy, I can pack it in."