What General Hospital Star Ellen Travolta's Relationship With Her Brother John Travolta Is Like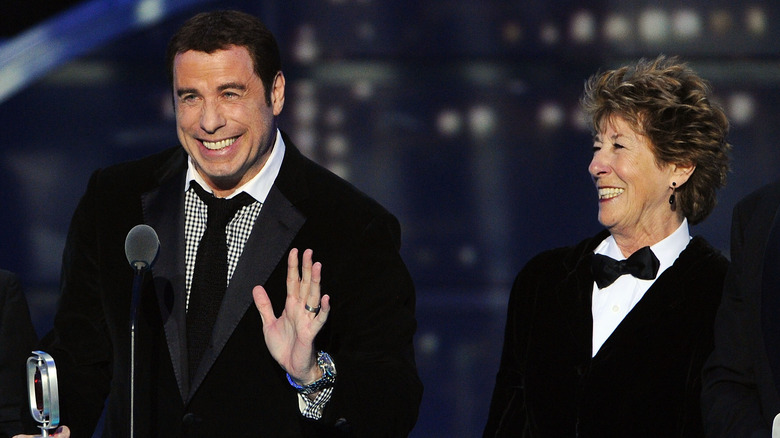 Larry Busacca/Getty Images
In the 1970s and '80s, if Ellen Travolta showed up in a TV show, you knew she was going to deliver a memorable performance. The beloved star appeared in such shows as "All in the Family," "What's Happening!!," and "Police Story," among many others. In 1977, she played Arnold Horshack's (Ron Palillo) mother on the hit sitcom "Welcome Back, Kotter," which also starred her youngest sibling, mega celebrity John Travolta. Ellen went on to play fan-favorite Louisa Arcola, mother to Scott Baio's Chachi Arcola, on "Happy Days," appearing in several episodes from 1981 to 1984. 
Those roles solidified her in the memories of a generation. She even took Louisa to the "Happy Days" spin-off series, "Joanie Loves Chachi" in 1982, and later appeared as Lillian on Baio's other hit comedy series, "Charles in Charge," for a longer run starting in 1987. Fans may also have blinked and missed her brief appearance as a diner waitress in her brother John's hit film, "Grease."
But everyone was ecstatic when she played Gloria Cerullo, mother to Lois Cerullo (Rena Sofer), on "General Hospital" in 1995, and now that Ellen is reprising her role on the sudser, viewers are doubly excited. Ellen's relationship with John is solid, and while they haven't shared any screen time (yet), he helped her get a part in the 2022 Hallmark Christmas film, "Haul Out the Holly," effectively paving the way for Gloria's return.
John is very supportive of his sister
Ellen Travolta acted consistently in TV and film until 1999, subsequently devoting most of her time to performing on stage instead. She was married to Jack Bannon for 34 years, and the two worked together in theater often. But when he tragically died on October 25, 2017, Ellen sought solace elsewhere. The couple had cared for many outdoor feral cats, and one Jack affectionately named "O" came to Ellen's door one day, which they typically did not do. In an interview with The Spokesman-Review, Travolta explained, "For half a minute I thought, 'Is Jack back as a cat? I can't ignore this.' So I let him in. He came up on the couch and we watched Hallmark." 
From then on, she was hooked on the network's output and was even inspired to appear in one of their festive films. According to Ellen, "I wanted to be part of it because they're hopeful, and sometimes not so realistic, but I didn't care." After exhausting every avenue of communication to get in with Hallmark, she turned to her brother, John Travolta, who had always been supportive of her throughout their lives, for some guidance, remarking, "I was away with John in Austria and all I did was talk about being on Hallmark. So when we got back, he called his agent and asked, 'What do we have to do to get Ellen in a Hallmark movie? All she wants is one line.'"
John and Ellen Travolta are still close
With the help of her superstar brother, Ellen Travolta nabbed a part in Hallmark's "Haul Out the Holly," also due in large part to the fact that its director, Maclain Nelson ("A Christmas in Vienna"), was a fan of her work on "Charles in Charge," according to Ellen's interview with The Spokesman-Review. "I was so thrilled to do it," she enthused. "When I got there, everybody included me. People were so kind and respectful, and they knew everything I'd ever done." 
As the "Happy Days" star acknowledged, "They weren't even born when I was doing television!" In a bizarre twist of fate, the cat named "O" had meandered off into the world after she got the part, and perhaps was a sign from her late husband. John Travolta and Ellen remain in each other's lives as illustrated by an April 18, 2019, Instagram post in which he shared a photo of the two of them along with their sister, Ann Travolta. 
John captioned it: "1976. My sisters Ann, Ellen and I during production of 'Bus Stop' at the Falmouth Playhouse. Thanks for always being by my side!" He also celebrated her role in "Haul Out the Holly" in a sweet Instagram Story. Clearly, the Travolta siblings remain incredibly close to this day, and it's nice to see they're still entertaining audiences after decades in the industry.