Harry And Meghan's Warrior Fitness Outing Concerns Royal Fans About Their Marriage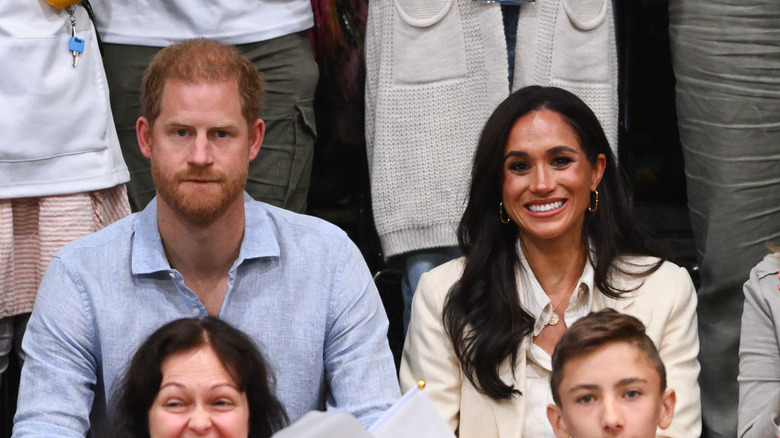 Karwai Tang/Getty Images
Days after Prince Harry and Megan Markle denied rumors of skipping out on King Charles' birthday party, the royals were faced with another set of vicious rumors, this time about their marriage. On November 8, 2023, the Duke and Duchess of Sussex attended the grand opening of the Navy SEAL Foundation's new West Coast facility for the Warrior Fitness Program. The building will serve as a center for active and veteran Navy SEALs recovering from mental or physical trauma. The military event was near and dear to Harry's heart. According to the official website of the royal family, the prince served 10 years in the British Army and regularly participates in activities that bring awareness to military veterans. The royal couple was even invited to participate in the day's festivities. Per the Times of San Diego, Harry and Meghan took part in the ribbon-cutting ceremony for the new center. Afterward, they headed to Camp Pendleton to spend time with servicemen and their family members. 
The duke and duchess were a hit that day, but something about their body language felt off. Even though they donned matching outfits of black and similar red poppy pins, the couple didn't seem to be in sync on other levels. Keen-eyed royal fans noticed a particular video from the day that showed a complete lack of chemistry between Harry and Meghan. The awkward moment has led to renewed speculation that their marriage is in jeopardy.
Harry looked distant and angry in a viral video
Prince Harry and Meghan Markle's marriage was called into question (yet again) after a video surfaced of the royal couple's very odd body language. In the viral TikTok clip, Meghan can be seen at the Warrior Fitness event smiling brightly at the press and answering questions. She looks to be living very much in the moment. Prince Harry can easily be described as Meghan's exact opposite. He looks positively bored as he stands quietly behind his wife. His hands are folded in front of him and his eyes dart left and right, anywhere but towards Meghan or the people around them. There's even one point in the video when Meghan turns towards Harry as if to get his answer to a question, and the royal doesn't even glance at her. After watching the clip, the message overlaying the footage reads as a bit sarcastic. "They are so in love. They don't have to try," it states.
The sarcasm train continued in the video's comment section. "Harry is jumping for sheer joy and happiness here — wow I have never seen him happier," one user teased. Another commenter had an equally playful quip: "They are SO in tune with one another, she no longer needs to tell him to get behind her, he now does so automatically."
Others speculated that Harry's glum expression is a sign that he's tired of being married to the TV star. "Brother, you need to blink twice if you want [to be] rescued!!!" a royal fan begged. Other photos from that day show the prince smiling and engaged in conversation, so perhaps Harry simply grew bored with the topic.
Meghan stole the spotlight, body language expert claims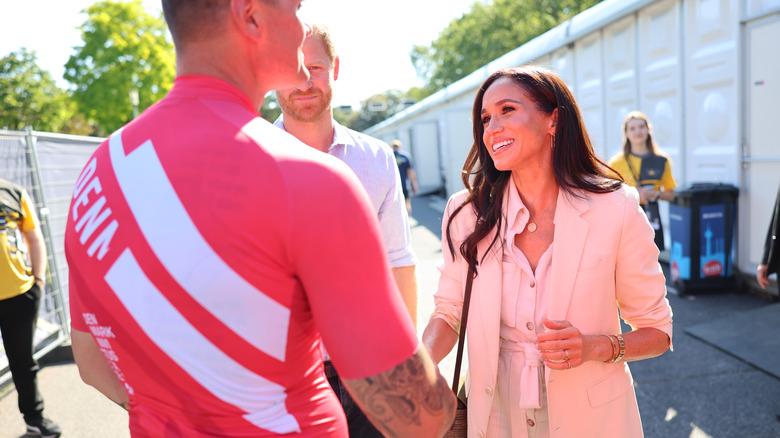 Chris Jackson/Getty Images
Critics of Meghan Markle have a popular theory about the Hollywood actress: She loves being the center of attention. According to renowned body language expert Judi James, Meghan's tendency to steal the spotlight was on full display during her and Prince Harry's appearance at the Warrior Fitness event. "Meghan's signals with him were very maternal and dominant in terms of a power display," James told the Daily Express. On the other hand, James found Harry's movements in the video to be riddled with anxiety. The prince seemed to be avoiding the spotlight while Meghan was completely at ease with so much attention on her. "It was Meghan standing beaming in the spotlight while a speech was made while Harry stood behind her looking like an unsmiling 'plus one'," the body language expert summarized.
Even though that particular video didn't show Harry in the best light, the British royal and his wife did seem to have a great time at the event. They left a wonderful impression on Robin King, CEO of the Navy SEAL Foundation, who told People that the pair was "absolutely fantastic" that day.