Reese Witherspoon's Son Turns Heads Over His Lavish NYC Apartment Tour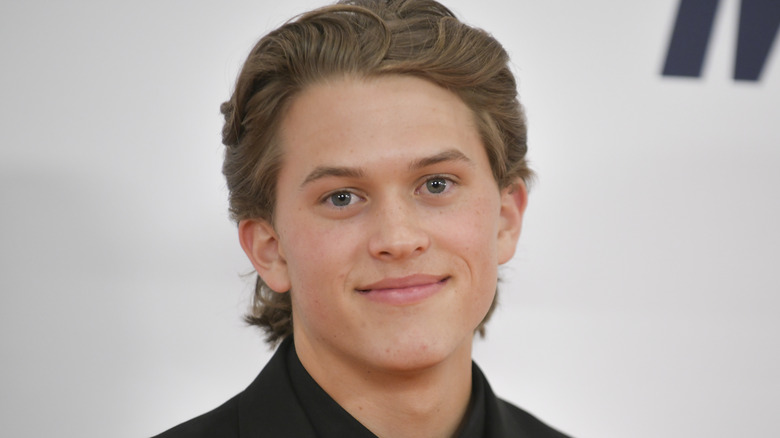 Rodin Eckenroth/Getty Images
Deacon Phillippe, son of Reese Witherspoon and Ryan Phillippe, appears to be following his parents' footsteps by going into the arts — but he's drawing attention for his lavish NYC digs on TikTok, not his talent.
Deacon made his acting debut in Season 3 of Netflix's "Never Have I Ever," but he seems to be more focused on music than on acting. His first album — "A New Earth" — was released in April 2023, and he's studying music at New York University, so it's no surprise that dad Ryan is equally proud of Deacon's acting and music endeavors.
You can see Deacon's love of music on display during the tour of his two-story West Village apartment. Social media star Caleb Simpson, who's famous for his videos touring people's New York apartments, got to tour 20-year-old Deacon's apartment, and the 58-second TikTok includes a quick glimpse of Deacon's vinyl wall, along with the keyboard and computer setup he has in his bedroom. It's definitely not your typical example of student housing, and people are calling Deacon out in the TikTok comments for living in such a nice place, crediting his parents for his swanky lifestyle.
Deacon Phillippe's apartment tour sparks 'nepo baby' accusations
It's not clear if Caleb Simpson knew he was going to tour Reese Witherspoon and Ryan Phillippe's son's apartment when he started, and Deacon Phillippe didn't mention his famous parents in the video, but that didn't stop commenters from doing so.
Simpson started his video, as he does all his apartment tour videos, by asking how much he pays for rent in New York. Deacon, whose occupation is listed as student in the video, didn't give a specific number, but just discreetly said, "West Village prices." From the video, it looks like Deacon has two roommates, so we're going to assume it's a three-bedroom. RentHop puts the average price for a three-bedroom apartment at $6,495 per month. Even split among three roommates, that's still pretty pricey, particularly for your typical college kid. But when your parents are Hollywood actors, you're anything but a typical college kid, and people in the comments definitely took notice.
One wrote, "How much do you pay? The correct answer is: ask my mom and dad." Another one said, "West Village prices is rich kid language for free." Others referred to him as a "nepo baby" — a derogatory term for someone who is believed to have gotten significant career benefits because of their wealthy celebrity parents. And there's definitely no denying that Deacon's got celebrity parents!
People are defending Deacon Phillippe and his swish NYC apartment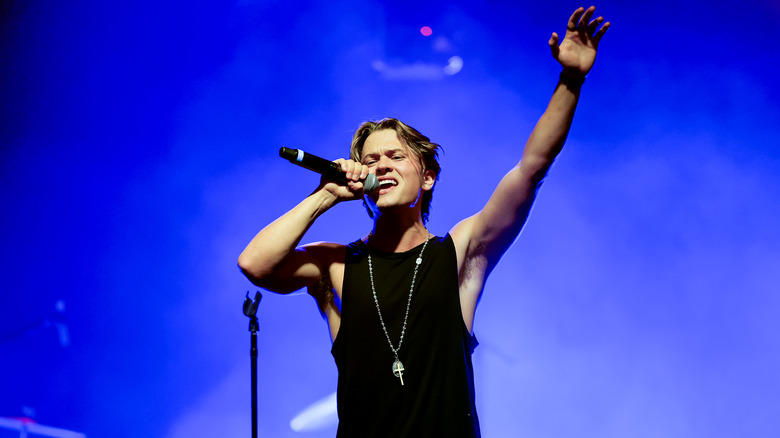 Matt Winkelmeyer/Getty Images
Other people defended Deacon Phillippe over his West Village apartment, saying that even if his parents did help him, it doesn't matter. One wrote, "if I could give my kids a place like that I'd do it. Let him live." Others made the point that Phillippe clearly has roommates and that he does have his own income coming in: "His parents obviously have helped him but I'm pretty sure he also has released an album as well. Also I am guessing his roommates contribute something."
Some people seem most impressed by how clean Philippe's apartment appears to be during the impromptu visit, especially since it's lived in by three young men in college. "His bed is made!!! Good for them – they have cleaning people," one person commented. "Is anyone's place ever messy? Is it just me?" lamented another commenter.
Phillippe even chimed in with his thoughts on the video, though he didn't address any of the negative comments. "Nice meeting you man!! Even tho [sic] you made me late to class," he wrote. This apartment is a step up from his first place in New York. When Phillippe was a freshman at NYU, he shared some pictures to Instagram of his dorm room. He had a single bed, elevated to make room for storage, and there didn't seem to be room for his keyboard, so he's probably thankful for the sophomore year glow-up.