The Stunning Transformation Of Rocco Ritchie, Madonna's Oldest Son
James Devaney/Getty Images
You might think the son of two of the more influential media-makers on Earth would have his path paved, but Rocco Ritchie, son of Guy Ritchie and Madonna, worked hard for his blossoming career as a fine artist. Before the revelation that he was in fact a burgeoning painter, Rocco was primarily known on the red carpet for his daring fashion choices, riding the line between classic vintage looks and cutting edge 2020s style. 
In 2021, word got out that Rocco Ritchie was selling his art, but under a different name. Before that, he attended top-tier art schools, and was even signed by a prominent art dealer in London, snowballing to even more success. It should come as no surprise, but his mother is proud of all he's accomplished so far. "You have taken the road less traveled by and that will make all the difference!" Madonna wrote on Instagram in 2023. "Nothing gives me more Joy than to watch you grow as an artist!" 
The rising art world star has had more than his fair share of hardship over the past several years, contending with the messy–and public–dissolution of his parents' marriage and a rocky relationship with his mother through his teen years. Rocco Ritchie's transformation from troubled teen to art world elect was years in the making. Here's just a few of the major milestones.
Rocco Ritchie was born three weeks early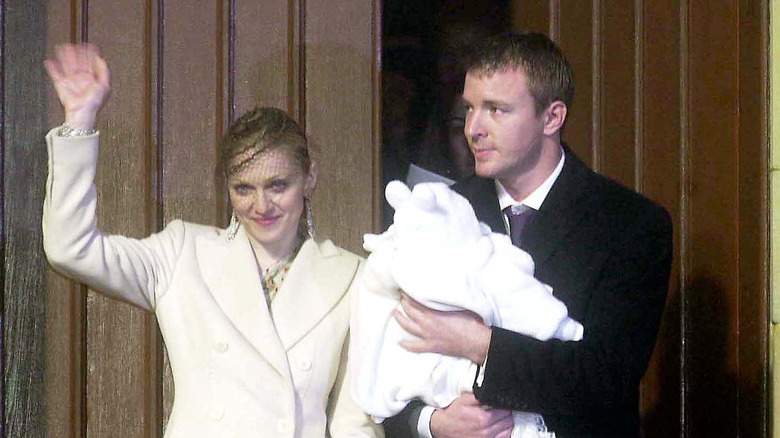 Uk Press/Getty Images
Before his dramatic entry in the art world and beyond, Rocco Ritchie made a dramatic entrance into life. After being rushed to the hospital for abdominal pain and bleeding the evening of August 10, 2000, Madonna gave birth to her son Rocco John Ritchie by emergency c-section three weeks before his due date. Madonna suffered a detached placenta, a serious and life-threatening condition for mother and child alike.
Fortunately, doctors at Los Angeles's Cedars-Sinai Hospital were swift to diagnose Madonna and successfully deliver Ritchie on the morning of August 11, 2000, several hours after Madonna had arrived. Rocco Ritchie's father, director Guy Ritchie, stayed by Madonna's side through the hospitalization and Rocco's subsequent birth. Madonna's then-publicist, Liz Rosenberg, further affirmed that Madonna and baby were doing well. "She is safe, as is little Rocco. Guy and Lourdes are by her side," Rosenberg said in a statement, per BBC News.
Rocco Ritchie was Madonna's second child, and the first child and sole biological child born to Madonna and actor Guy Ritchie.
From the beginning, Rocco Ritchie was the center of attention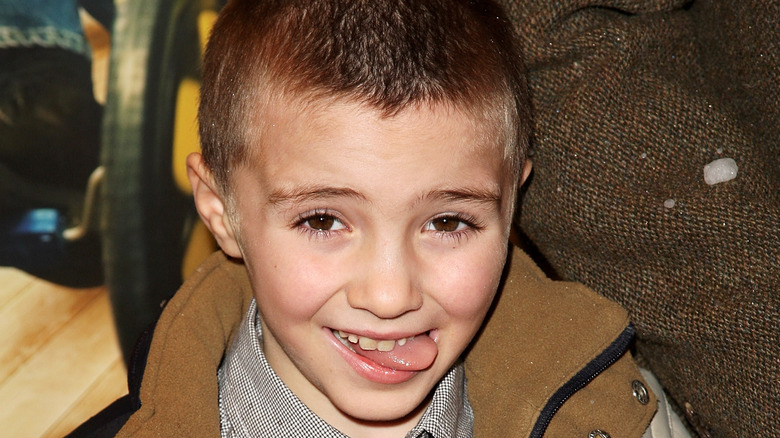 Dave Hogan/Getty Images
There's no doubt that Rocco Ritchie has long been comfortable basking in the spotlight — even when he was just a kid. As the child of two superstars, there's no shortage of paparazzi shots of Ritchie clowning around with the camera. But the young Ritchie was featured in more than the occasional photo. Ritchie made brief cameos in both parents' work early on, immediately catching the eye of the camera. Madonna's live album "I'm Going to Tell You A Secret" was accompanied by a somewhat controversial documentary recording Madonna's 2004 Re-Invention tour. Jonas Akerland's documentary of Madonna's day-to-day life may not have been lauded by critics, but as Pitchfork noted, a 4-year-old Ritchie's brief appearance in the documentary proved to be a highlight.
Ritchie made his Vogue debut a year later, at 5 years old, posing with his older sister Lourdes Leon and his mother, Madonna, and frolicking in the English countryside in an elaborate cover spread in 2005. "Voguing" clearly ran in the family.
Rocco Ritchie made appearances in both parents' work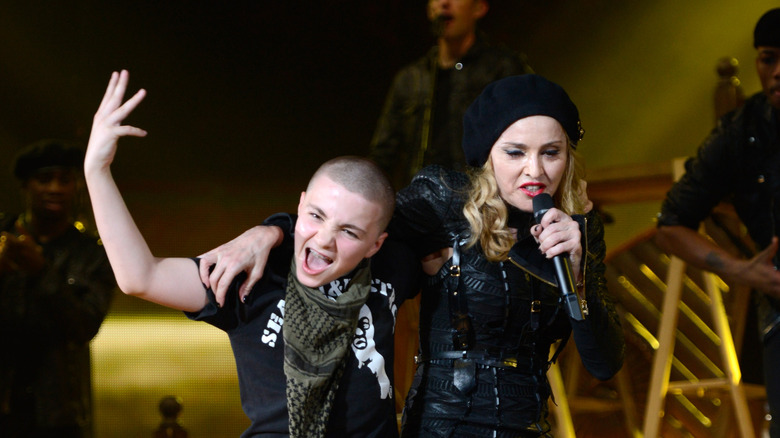 Kevin Mazur/Getty Images
Rocco Ritchie's occasional appearances in the public eye turned into out-and-out features as the young star grew. He wasn't afraid to ham it up a little, either. In 2009, at 8 years old, Rocco appeared in an uncredited role for father Guy Ritchie's gritty reboot of "Sherlock Holmes," alongside stars Robert Downey Jr. and Jude Law. And in 2010, outlets like the Mirror took note when the 10-year-old busted out some handstands and other dance moves alongside his sister Lourdes Leon at the after party for Madonna's Macy's clothing line launch in New York.
A couple of years later in 2012, the 11-year-old artist worked as a backup dancer for his mother Madonna while traveling with her on her 2012 MDNA Tour, showcasing some serious moves. Over the course of the tour, Rocco performed with his mother in front of thousands of fans over the course of her tour and even pulled off a few costume changes, from acting out spinning records in a blue tank to dancing in a black-and-white priest outfit. Needless to say, he may have pulled off being the show stopper.
Growing up with Madonna could be tough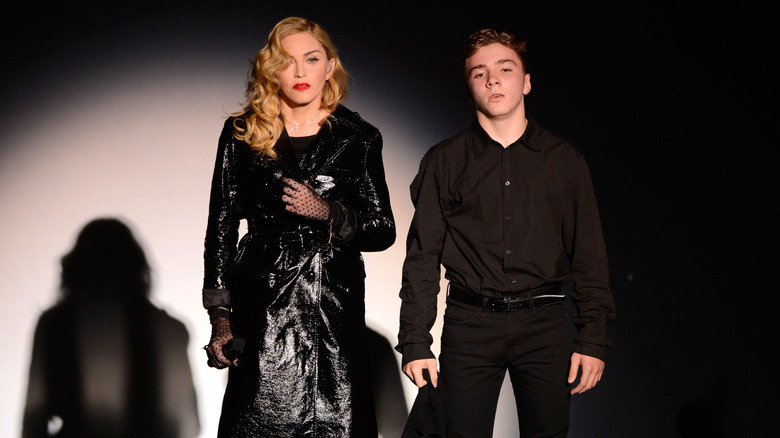 Kevin Mazur/Getty Images
Growing up in the shadow of an icon is never easy, but growing up as the child of Madonna might have been a different level of difficulty for Rocco Ritchie. When it came to household rules, Madonna was said to be a strict parent to her six children, even to the point of being controlling. Madonna's oldest child, Lourdes "Lola" Leon, once said in a chat with Debi Mazar for Interview that her mother could be overbearing in her rigidity. "We don't get any handouts in my family," she stated. "My mom is such a control freak, and she has controlled me my whole life." Though Leon admitted her admiration for Madonna's work ethic and the values she instilled in her and her siblings, her mother wasn't one to give a free ride.
Ritchie, Leon's younger brother, seemingly agrees with her assessment — or at least he did when he was younger. Asked about Madonna's parenting style in 2012 in an interview with Ellen DeGeneres, the 12-year-old Ritchie admitted she could be tougher than the average celebrity mom. "She's very strict," he admitted, "but in a good way."
Madonna and Guy Ritchie fought for custody of Rocco Ritchie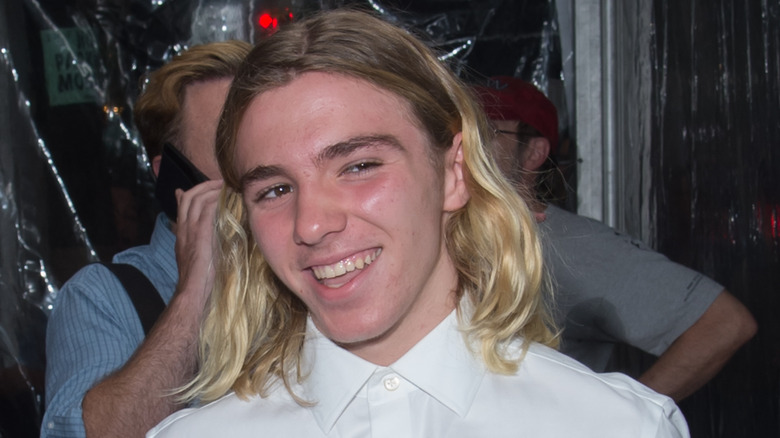 Mark Sagliocco/Getty Images
Growing up wasn't all glitz and glam for Rocco Ritchie. Parents Madonna and Guy Ritchie divorced in 2008, sharing custody of the then-8-year-old Rocco and 3-year-old David Banda, whom they adopted in 2006. Though the Madonna and Guy themselves have remained tight-lipped about the divorce over the years, sources close to the couple maintained the split was inevitable; tensions had been rising between the two for some time. But the couple managed to amicably split custody of their two children, shuttling the boys back and forth between Madonna's home base in New York and Guy Ritchie's home in the UK.
Unfortunately, the peace didn't last. Tensions rose again between Madonna and Guy around 2015. The 15-year-old Rocco refused to continue touring with his mother in December 2015, deciding he would prefer to return to his father's home in London, leading to an ugly custody battle between the stars. According to People, a judge ordered Guy to return Rocco to Madonna just before the holidays, Rocco stayed on with his father into 2016. The battle of the exes dragged on for several months until a March 2016 ruling that Rocco would stay in the UK with his father, attending the school that his parents had chosen. The case fully came to a close out of court in June 2016.
Rocco Ritchie and Madonna had a rocky relationship in his teens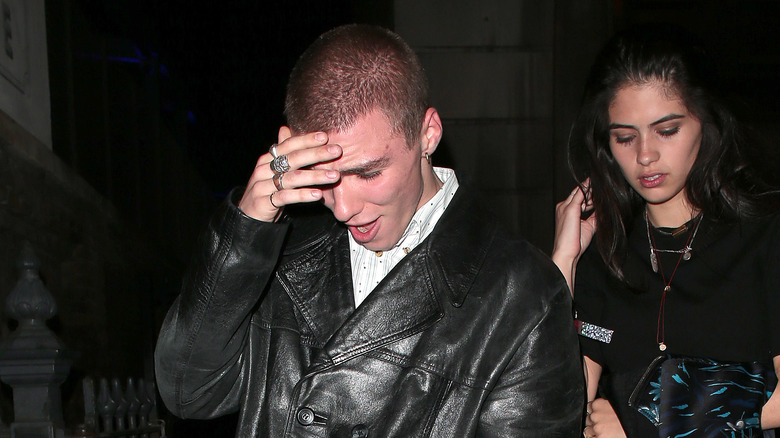 Ricky Vigil/Getty Images
The public custody battle didn't help Rocco Ritchie and Madonna's relationship, as they appeared to be estranged for some time between 2015 and 2016. Rocco had been front-and-center during Madonna's tours in the years previous, but the 15-year-old began to tire of the spotlight during her international Rebel Heart Tour. This time, the teen stayed behind the scenes, which Madonna attributed to run-of-the-mill teenage behavior in an interview with Entertainment Weekly. 
But there seemed to be more at play than typical teen angst when Rocco declined to return to his mother's home in New York. According to Page Six, was said to have Rocco preferred the more permissive atmosphere of his father's home, along with father Guy Ritchie's more private lifestyle. The mantle of fame had begun to hang heavy on the young star, and as an unnamed source claimed, "Even by her ruthless standards, Madonna has been particularly driven on the tour, and when Rocco did see her, he felt like she was trying to micromanage his life."
Madonna traveled to London to visit Rocco to convince her son to return to New York City with her. But their relationship appeared to remain strained, as a now-deleted comment from Rocco on Madonna's "Mannequin Challenge" Instagram post would suggest. "So glad I don't live there anymore," Rocco posted in response to Madonna and family's video (via the Daily Mail).
Rocco Ritchie was arrested for drug possession when he was 16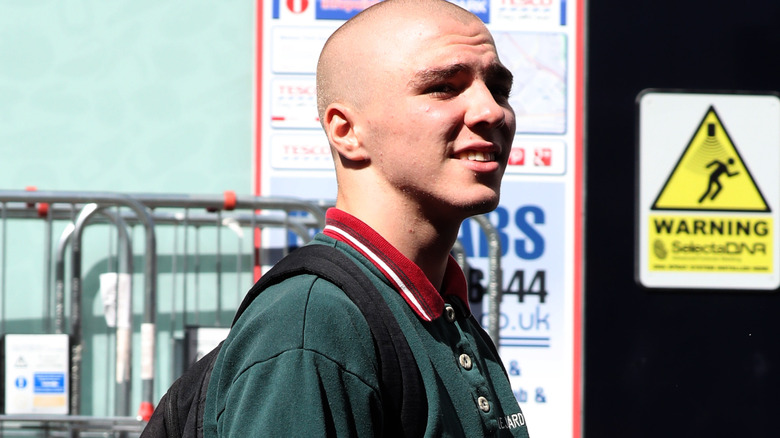 Alex B. Huckle/Getty Images
Things continued to be rocky for Rocco Ritchie when late in 2016 it was revealed he had been arrested for possession of marijuana. After the public custody battle over the 16-year-old star, Ritchie was photographed smoking cigarettes walking through London, much to his mother Madonna's dismay. A further bombshell was dropped by TMZ in November 2016, when the magazine broke the news that Ritchie had been arrested for possession after being stopped and searched by police over a month earlier. With the news of Ritchie's arrest out in the open, Madonna took to her Instagram to ask for privacy in dealing with Ritchie's legal troubles, stating that it was a "family matter."
In the aftermath of Ritchie's arrest, other reports surfaced from the Daily Mail of Ritchie and other teens reportedly loitering around the upscale neighborhood of Primrose Hill, where his father lived, as well as reports of him attempting to buy alcoholic drinks at a local pub.
Ritchie was taken to a north London police station after being arrested. His case was moved to the Youth Offending Team of Camden borough after being bailed. By the time the news had dropped, Ritchie had been sentenced, and subsequently attended a drug education program, according to TMZ. The star has had no further infractions since.
Rocco Ritchie studied fine art at Central Saint Martins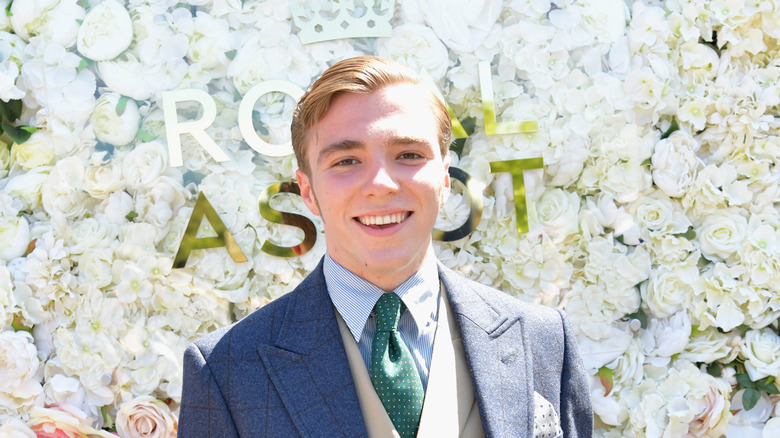 Kirstin Sinclair/Getty Images
Things began to turn around for Rocco Ritchie with his enrollment at renowned fine arts and design college Central Saint Martins in 2019. After his arrest in 2016, Ritchie appeared to keep a low profile from 2017 into 2018, occasionally appearing in paparazzi photos. While it seemed in 2018 he was poised to join longtime friend Brooklyn Beckham, son of David and Victoria Beckham, at Parsons, he ultimately chose to attend the alma mater of Stella McCartney and other notables. Ritchie eventually moved on to the prestigious Royal Drawing School in the London borough of Shoreditch.
Over this period, Ritchie began to develop his artistic sensibilities. Ritchie admitted a fondness for the street artist Banksy, but his approach was anything but guerilla. Though Ritchie's life hadn't necessarily been on the straight-and-narrow before, he was determined to play by the rules in his artistry–at least for now. "What I find most extraordinary is the discipline, vision and sheer guts it takes," said Ritchie to The Standard. "Especially as a young painter, I want to learn all the rules before I can break them." Ritchie put craft and discipline above all else in his painting, and that approach began to pay off.
Rocco Ritchie anonymously debuted his paintings at the Tanya Baxter Contemporary Gallery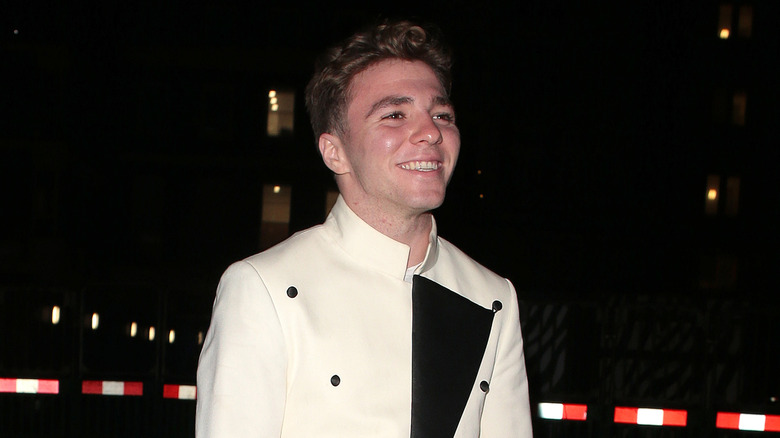 Ricky Vigil M/Getty Images
Not long after the 18-year-old Rocco Ritchie enrolled in art school, a mysterious emerging artist named "Rhed" debuted with a collection of paintings at the Tanya Baxter Gallery in July 2018. Rhed's paintings were, as described by the gallery, "bricolage art with expressionist verve and street energy" with a "bold and dominating use of color," inspired by artists like Jean-Michel Basquiat and Banksy. Rhed's art sold for impressive prices, with some totaling in the five-figure range. The artist additionally touted purveyors such as Madonna and Guy Ritchie, both spotted at his early art openings.
While Rhed still carries clout with the art elite, it wasn't quite as surprising that Madonna and Guy would be supporters, as the previously anonymous artist was later revealed to be none other than Rocco Ritchie himself. In 2021, Page Six got the scoop that Rocco had been selling paintings under the name Rhed for years. The art world exploded with the news; The Guardian's art critic evaluated Rocco's paintings as a little undercooked for all the praise heaped upon them. Opinions swirled on whether Rocco was yet another example of a "nepo baby." But, as the Tatler noted, Rhed's paintings were on the whole "bold and brave." As for Rocco himself, the unmasking has appeared to only accelerate his already successful career, and he's continued to take risks in his painting in the past few years.
Rocco Ritchie and Madonna mended fences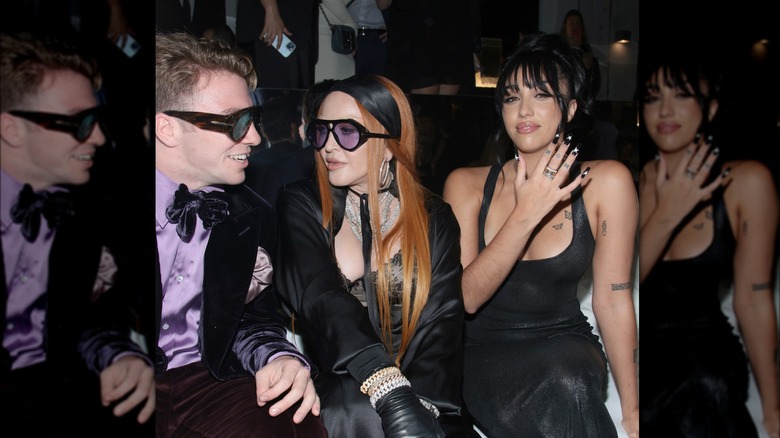 Dimitrios Kambouris/Getty Images
Despite previous discord, Rocco Ritchie and Madonna have appeared to repair their relationship into Ritchie's early 20s. As noted in the Express, Madonna and Ritchie were seen spending time together shortly after the March 2016 ruling that Ritchie would stay in the UK during their prolonged custody battle. Madonna additionally came to bat for her son when it was revealed he had been arrested for drug possession a few months later, stating her unequivocal support on Instagram in a now-deleted post (via Teen Vogue).
Apart from supporting her son through the difficulty of his arrest, Madonna was also spotted at the debut of the artist then known as "Rhed," revealed to be Ritchie, and she has continued to support her son's work through her Instagram and beyond. In 2022, tensions seemed to have fully ceased between the two, as Madonna posted a since-deleted photo of her and the then-22-year-old Ritchie at his birthday celebration in August (via Page Six).
Rocco Ritchie made bold fashion statements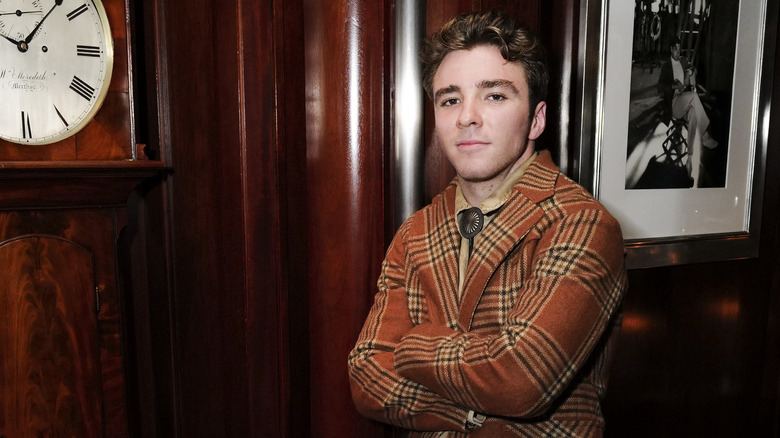 Darren Gerrish/Getty Images
Even before his career as an artist, it was clear that Rocco Ritchie had his mother Madonna's sartorial flair. Ritchie sported grungy cargo shorts and skate punk style in his teens and quickly developed into a fashion risk taker, wearing outfits that combine classic vintage pieces with 21st-century flair. In a Vogue Hong Kong spread that had Ritchie channeling James Dean, the artist elaborated on his commitment to the clotheshorse label: "I've always tried to present myself to be more than just an artist, to be bold and make a statement, even when I'm not painting," he said.
When pressed on his fondness for clothing, he noted that even most suits are more than what meets the eye. After a tailoring apprenticeship, Ritchie realized how much work it takes to put together even the most basic of suits. "I have a tremendous amount of respect for those who design and create clothes," he said.
Rocco Ritchie opened an art gallery with two friends in 2022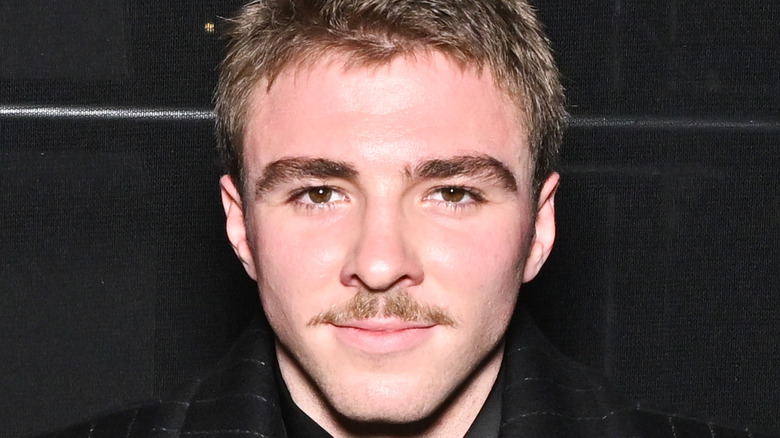 Stephane Cardinale - Corbis/Getty Images
Rocco Ritchie would have been in the public eye regardless of his own endeavors. But under the moniker Rhed, his star has begun to seriously climb, enough such that Ritchie could turn his attention to building his own gallery. Working with two friends, Ritchie launched the gallery in 2022. In May 2023, Maison Rhed, named for Ritchie's pseudonym, put on his first solo exhibition of "Rhed" work. Ritchie stated of the art gallery's founding that leaving New York in 2015 ended up helping him in the long run: "Moving to London had a huge effect on me," he said in Vogue Hong Kong. "It pushed me to focus on my passion, but to also get out of my comfort zone"
Ritchie hasn't slowed down from there. He additionally debuted a series of charcoal portraits at an exhibition in October, held at the Tanya Baxter Contemporary gallery in Chelsea. His work was also featured during Frieze London, a renowned contemporary art fair in Regent's Park. From skater kid to art icon, Ritchie has already pulled off the kind of evolution worthy of Madge.