Nikki DeLoach On Her Personal Connection To A World Record Christmas' Touching Message - Exclusive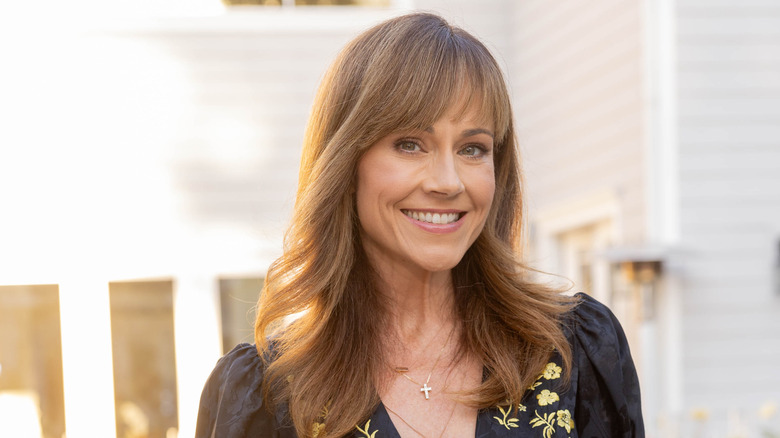 Emma Mcintyre/Getty Images
Nikki DeLoach is one of the Hallmark stars we love most. Luckily, she loves working with the network just as much as we love watching her. The star has had deeply personal connections to some of her Hallmark roles in the past, and her latest role is no different.
"A World Record Christmas" premiered on November 16, 2023. In it, DeLoach plays Marissa Parsons, the mother of an autistic child named Charlie, played by Aias Dalman, who tries to break a world record in Jenga on Christmas Eve. This story, which was inspired by real events, is one that DeLoach loved telling. In an exclusive interview with the List on November 15 at Hallmark's Countdown to Christmas Holiday Celebration, DeLoach talked a bit about why this movie means so much to her.
"Neurodiversity is something that is talked about a lot in our house," she told us. I have two boys, and so it's not something that I didn't know. I knew a lot about autism and neurodiversity and the way that I approached it." 
For DeLoach, telling this story in the right way was vital. "I think a lot of times when those stories are told, a child's neurodiversity is some obstacle or challenge that needs to be overcome instead of them being embraced for how their neurodiversity makes them so special and unique," she said. The minds behind this movie set out to change that, and in the end, DeLoach called it "an incredible experience."
Why putting in the work made A World Record Christmas a success
For Nikki DeLoach, portraying autism accurately and sensitively in "A World Record Christmas" was key. "The thing with this movie that was really important to me was to make sure that we were not melodramatic, to make sure that we weren't modeling, to make sure that we were telling a story that was rounded and authentic about two parents who just happened to have a child with autism," she explained.
To achieve their goal, it was all hands on deck, and having an autistic actor playing the role of Charlie made all the difference. "We really sat down with the director and the producer and myself and Luke," DeLoach said, referring to Lucas Bryant, who plays DeLoach's onscreen husband, Eric. It was also important to have Aias Dalman — who portrayed Charlie — there when discussing the project, as he had valuable input to provide, she added. "Aias, the actor in real life, is autistic and [we] sat down and had conversations about the script and the dialogue and what the moment is really asking of us," she said. 
It's clear that putting in this effort made the film turn out as wonderfully as it did. It seems that DeLoach agrees. "I have to say it was one of the most joyful experiences I've ever had on set from start to finish," she told us.