John Stamos' Memoir Sparked An Awkward Moment Between Ex Rebecca Romijn And Her Kids
We may receive a commission on purchases made from links.
Breaking up is never easy, especially for celebrities who face the added concern of private matters being exposed to the media. "Star Trek" actor Rebecca Romijn had to navigate this situation when her ex-husband, "Full House" star John Stamos, dedicated an entire chapter to their marriage in his 2023 memoir, "If You Would Have Told Me," in which he candidly shared his perspective on their marriage and subsequent divorce. Stamos wrote of Romijn, "In my mind back then, she was the devil, and I just hated her."
Dealing with the aftermath, Romijn, who shares teenage twin daughters, Charlie and Dolly O'Connell, with her husband Jerry O'Connell, found herself in a difficult position when the headlines reached her family. The twins began asking questions about their mother's past with Stamos and what led to him labeling her a literal demon.
Romijn and Stamos started dating in 1994 and tied the knot four years later. After growing apart, they ultimately parted ways in 2003, finalizing their divorce in 2005. Stamos' openness in his memoir has created a new challenge for Romijn and her family, despite having moved on and working through his own struggles since their divorce.
Romijn's husband had to explain to their kids who Stamos was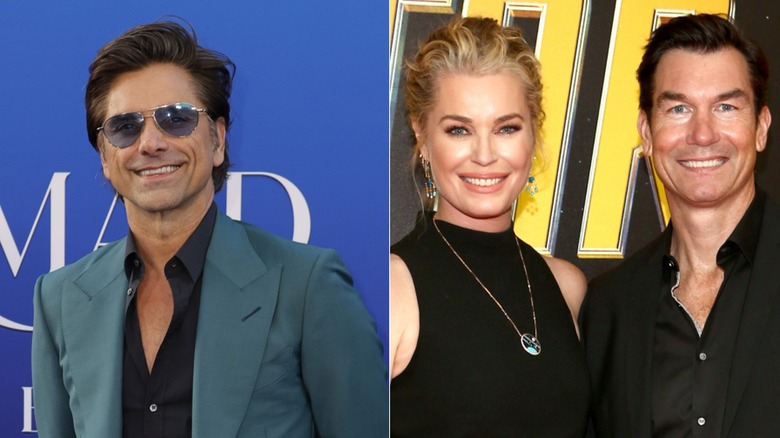 Tommaso Boddi & Frazer Harrison/Getty
During an interview on SiriusXM's "Andy Cohen Live," Jerry O'Connell opened up about how John Stamos' candid memoir has affected his family with Rebecca Romijn. Although no one in the family has read Stamos' book, their teenage daughters have expressed interest in it, leading to awkward conversations for their parents. Jerry shared that the girls approached their mom with questions like, "Hey, mom, your ex has a book out and called you the devil. What are your thoughts? Why did he call you that?" He emphasized, "There's no hiding; there's no restricting them; there's no more keeping things from them."
However, this wasn't the first time Charlie and Dolly O'Connell learned about their mom's previous marriage, as Jerry revealed on Bravo's "Watch What Happens Live," according to People magazine. He mentioned that the girls were fans of Stamos' "Full House" character, Uncle Jesse, before discovering his connection to their mom. When Jerry explained Romijn was once married to him, the teenagers weren't too thrilled and wanted to know why she wasn't still with Stamos.
Despite the challenges it created for her family, Romijn has chosen not to comment on the memoir or Stamos' media appearances, as per a Page Six source. "She doesn't want to give John any more oxygen or attention and help him sell more books," the insider shared.
John Stamos admitted to hating his ex-wife in his memoir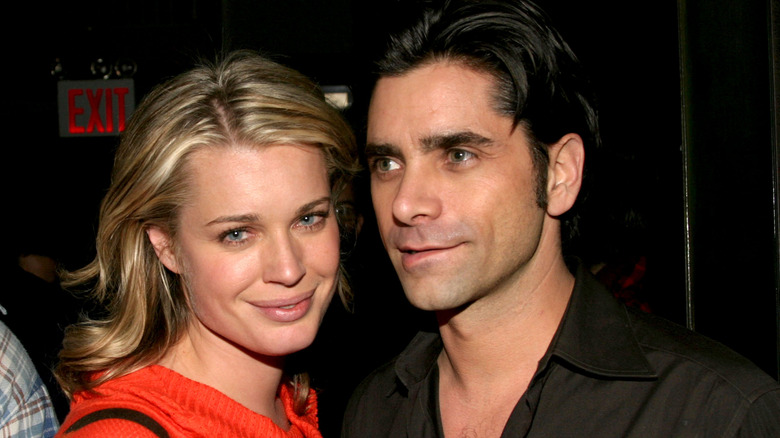 Bruce Glikas/Getty Images
In his bestselling memoir, John Stamos opened up about his past relationship with Rebecca Romijn, acknowledging the profound impact their breakup had on him. Speaking candidly in an interview with People, the "Big Shot" star admitted to taking the divorce harder than we thought. "My first marriage was shattering to me. I was shattered for way too long, too." On "The Howard Stern Show," Stamos recalled blaming Romijn's flourishing acting career for making him feel like less of a man because he was more stagnant in that area of his life. The actor told People, "I couldn't believe how much I hated her, and it ruined my life."
Stamos eventually found solace and recovery through AA meetings, marking a turning point in his healing process as he came to terms with his role in the divorce. In 2018, Stamos married Caitlin McHugh, with whom he shares a son. Meanwhile, Romijn also moved on and married Jerry O'Connell two years after finalizing her divorce from Stamos. Nonetheless, the "X-Men" star still had a hard time processing her split from Stamos, as she revealed on "The Talk," Entertainment Tonight reported. Romijn shared, "I was with [Stamos] for 10 years. Divorce feels like a failure, and there were a lot of things that I had to let go of that were very sad."