5 Heartbreaking The Bold And The Beautiful Moments We'll Never Forget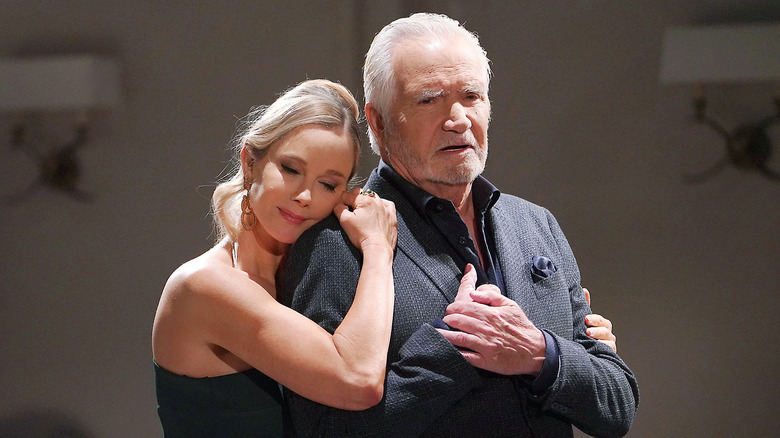 Howard Wise/jpistudios.com
Soap operas can often seem outlandish and over-the-top, but some storylines hit especially close to home. From Brooke Logan's (Katherine Kelly Lang) struggles with alcoholism to Deacon Sharpe's (Sean Kanan) attempt to rebuild his life after years of criminal activity, these moving stories captivate viewers. Even Eric Forrester's (John McCook) health problems have been difficult to watch, as we have all known someone in our lives who has struggled. These moments ground the series and give us an opportunity to connect with what's happening on-screen.
"The Bold and the Beautiful" has had its fair share of heartbreaking moments — the kinds that leave us with a terrible feeling in the pit of our stomachs. And while we may not enjoy it as much as dramatic arguments and sexy relationships, they genuinely make us feel something. We adore these characters and seeing them endure heartache isn't easy. Whether it's the story of a couple finding their long-lost child, or the death of a matriarch, "B&B" has a history of hard-hitting moments that still have us grabbing for the tissues.

Steffy loses her twin sister, Phoebe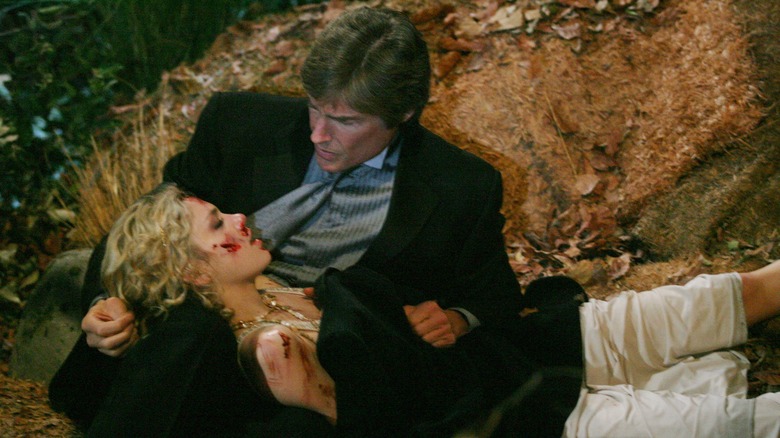 Aaron Montgomery/jpistudios.com
Phoebe Forrester (MacKenzie Mauzy) died in a car accident back in 2008 and left her parents, Ridge Forrester (then-Ronn Moss) and Taylor Hayes (then Hunter Tylo), as well as her twin sister, Steffy Forrester (Jacqueline MacInnes Wood), reeling in anguish. Unfortunately, Phoebe was arguing with Rick Forrester (then Kyle Lowder) in the car after she found out he and Steffy kissed. The altercation got physical and Rick ended up crashing the car. Her family was left in ruins, but so were viewers who loved the character and Mauzy. 
Fans were shocked to witness Phoebe die at the scene of the crash with her father holding her in his arms. It was a gut-wrenching moment that will not soon be forgotten, and Steffy and the Forresters still carry that with them every day. Steffy had been close with her sister and years later when she had her baby, Kelly, she wanted to make sure she grew up with a sister. This prompted Steffy to adopt a baby girl and name her Phoebe in memory of her twin sister. Unfortunately, the adoption was illegal, and the baby ended up being Beth Spencer, the baby whom Liam Spencer (Scott Clifton) and Hope Logan (Annika Noelle) had been told died at birth. 
Liam and Hope reunite with baby Beth
Speaking of Beth Spencer, her supposed death rocked Liam Spencer (Scott Clifton) and Hope Logan's (Annika Noelle) world, as they were thrilled to be welcoming a beautiful baby. However, Dr. Reese Buckingham (Wayne Brady) was short on cash and needed to cover his gambling debts, so he took the opportunity to steal their baby and sell her. Steffy Forrester ended up adopting the child, not knowing who the baby actually was. While Hope and Liam were heartbroken, Hope still sensed something was off, and each time she held Steffy's daughter Phoebe, she felt an inexplicable connection to the girl.
This mother's intuition ended up being right, as it was ultimately revealed that Phoebe was, in fact, baby Beth. Liam learned the truth from Douglas Forrester (Henry Joseph Samiri), then slowly walked into the room, trembling, as he picked up baby Beth. Viewers' hearts shattered when they saw Liam hold baby Phoebe after this life-changing realization. His emotions ran wild and Clifton's performance cut through the television. The entire storyline — from her supposed death, to her parents finding her — was an emotional rollercoaster and something fans will not soon forget.
Thomas threatens to leave his own son
Baby Beth's saga didn't end there, though. Thomas Forrester (Matthew Atkinson) went as far as threatening his own young son to make sure his plan didn't come to light. Thomas was a part of the scheme to steal baby Beth away from Liam Spencer (Scott Clifton) and Hope Logan (Annika Noelle). What he did not expect was that his son, Douglas Forrester (Henry Joseph Samiri), would overhear the plan while he was talking on the phone. A confused Douglas just wanted to know why his father would say that baby Beth was alive.
In a soul-crushing scene, Thomas told his son he would run off to New York with Hope, abandoning him, if he didn't remain quiet about the situation. Watching a father tell his child to their face that he would leave them is a heartbreaking thing to witness and Thomas will forever be tainted by this moment.
Viewers later learned that Thomas had planned to win Hope back. With baby Beth gone and neither Liam nor Hope knowing she was alive, their marriage would fracture and allow Thomas to slide back in with Hope. He even approached Hope with the idea of her becoming Douglas' mother if she would be with him. It was a disturbing offer that still gives us the creeps today.
Taylor is shot and presumed dead
Taylor Hayes (then Hunter Tylo) has escaped death several times, but one of the most heartbreaking moments came when she opened the door into the Forrester mansion and found Sheila Carter (Kimberlin Brown) standing there with a gun pointed at her. Taylor tried to reason with Sheila, but was unsuccessful. Brooke Logan (Katherine Kelly Lang) walked into the room at this particular moment and Taylor attempted to grab the gun from Sheila while she was distracted. However, Taylor ended up getting shot. While at first it appeared that she was going to pull through, she ended up dying in Eric Forrester's (John McCook) arms.
Viewers were distraught over the loss of Taylor and watching her die in Eric's arms was incredibly stressful. Taylor was such a beloved character who had endured a lot in her life. Thankfully, Taylor's eventual return soothed the pain, as she had not been killed! Viewers later learned the character fell into a coma for several years. She remains a fan-favorite, but many wonder when her next fake death will be...
Stephanie dies alongside lifelong frenemy Brooke
Nothing compares to watching the beloved matriarch of the Forrester family, Stephanie Forrester (Susan Flannery), die on November 26, 2012, in a beautiful cabin by the side of a lake. Stephanie died from lung cancer, which became a crucial part of the character's storyline for two years. She died next to her biggest rival, Brooke Logan (Katherine Kelly Lang), but the two had worked incredibly hard to make sure their negative relationship came to an end before Stephanie took her final breath, thankfully coming to an understanding of respect. For years, Stephanie called Brooke every name in the book, but to see them end on good terms was a heartwarming moment.
Originally, some viewers weren't fans of how she ended her run, but in 2013, Flannery spoke to TV Guide about the decision and how she asked producer Brad Bell, "'You're gonna have Brooke there with her at the end, right?' He looked up and gave me this great big grin and said, 'Yes, that's who it is.' I said, 'Fabulous!' I think it worked out really well." However, Stephanie's death was a huge blow to the show and viewers. Stephanie was the glue that held the Forrester family together and her snarky comments about Brooke, like calling her the "sl** from the Valley," always provided a giggle.