Zahara Jolie-Pitt's Sorority Declaration Hints At Her True Relationship With Dad Brad Pitt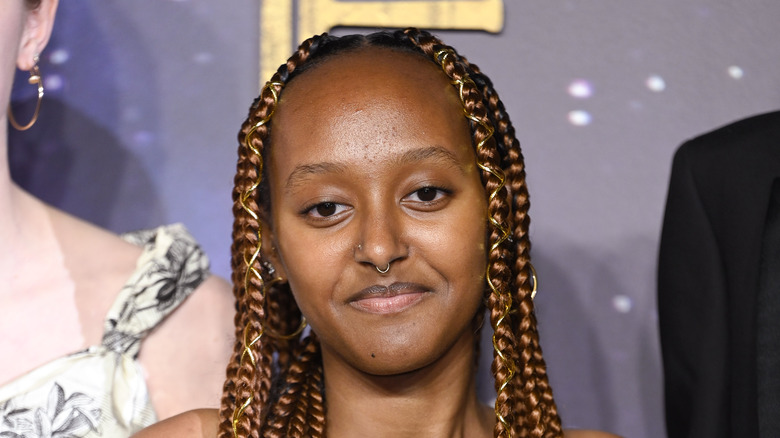 Karwai Tang/Getty Images
Time has indeed flown for Zahara Jolie-Pitt, the eldest daughter of Brad Pitt and Angelina Jolie. The college sophomore just hit a major milestone — pledging to the Alpha Kappa Alpha sorority at Spelman College. In a noteworthy moment captured in shared videos, Zahara performed the traditional declaration of entry into Alpha Kappa Alpha, at the all-women's historically black college. When called to list her name, Zahara subtly dropped her father's surname and marked her identity as "Zahara Marley Jolie," per Page Six.
This small but powerful act was quickly noticed by fans, providing a glimpse into Zahara's feelings towards her father. Even though Zahara's life has been tied up with the ups and downs of her famous parents' relationship. In 2005, "Brangelina" began their relationship after working together on the film "Mr. & Mrs. Smith." Pitt and Jolie finally decided to tie the knot in 2014, but just two years later in 2016, they called it quits.
This triggered a messy divorce and custody showdown that still hasn't been finalized years later. This legal saga has seen the couple grapple with issues ranging from property division to financial assets, with the most prominent being the custody of their six children: Maddox, Pax, Zahara, Shiloh, Knox, and Vivienne Jolie-Pitt. It seems that the drama since her parents' split may have taken its toll on the relationship between Zahara and her dad. 
Zahara and Brad had a very close relationship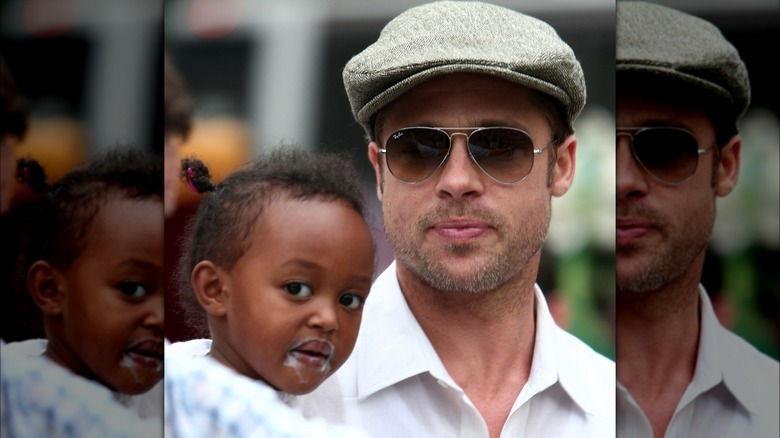 James Devaney/Getty Images
Zahara Jolie-Pitt was born in Ethiopia in 2005 and adopted by Angelina Jolie while she was still an infant. While she has grown up lovingly with her two parents, Zahara's adoption story is more complicated than fans may realize. At the time, Jolie had already welcomed her first child, Maddox, into the family through adoption from Cambodia three years earlier. Following Zahara's adoption, Brad Pitt chose to undertake the legal process to adopt both Zahara and Maddox, according to Today.
Throughout her life, Pitt and his first daughter appeared very close. Contrary to the expectations surrounding a Hollywood playboy, the "Troy" actor embraced fatherhood wholeheartedly. In a 2007 interview with V Magazine, he opened up about his newfound experience as an adoptive father. "[Fatherhood] is the funniest, most lovely thing I've ever taken on," Pitt admitted. "And the biggest pain in the ass as well. And I couldn't go back. I couldn't imagine it any other way," he shared.
Pitt even faced a parenting episode that led him to take a step back and reconsider his drinking habits. After a young Zahara choked on a piece of ice that fell out of his beer, Pitt knew that he needed to cut down on alcohol for the sake of being a more attentive parent. "It's not easy to be a good father when you've had a few drinks," the actor admitted to Total Film Magazine. "You have to be absolutely on top of every situation."
Pitt and several of the children have a strained relationship now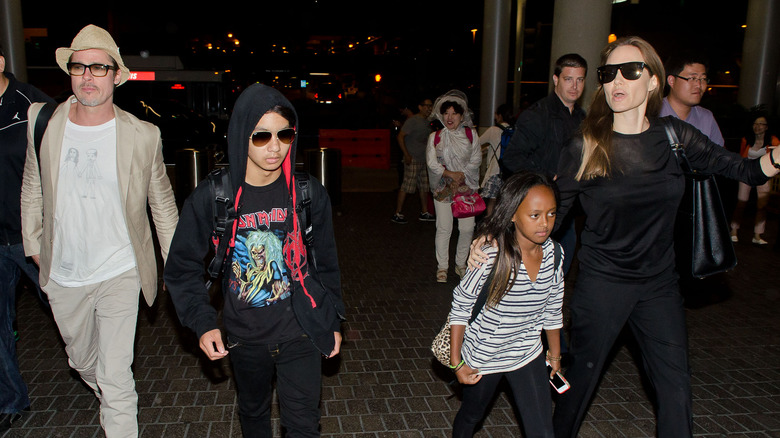 Gonzalo/bauer-griffin/Getty Images
In 2016, things took a turn for the worse in the Pitt-Jolie family. Reports arose alleging that Brad Pitt had become verbally and physically abusive toward Angelina Jolie and one of their children on their private plane, People reports. The Los Angeles Department of Child and Family Services and the FBI launched an investigation into the incident. Though Pitt was eventually cleared of any wrongdoing, the incident seriously impacted the custody battle and his relationship with the kids.
Maddox is the only child who has gone on record to say anything about his parents and appeared indifferent when asked if he would ever have a relationship with Pitt again (via InTouch). Though Zahara's exact sentiments are unclear, her commitment to using only Jolie's last name during the sorority probate hints at which side she has taken.
Amidst the challenges, Pitt expressed his support for Zahara as she entered her first semester at Spelman. "I'm so proud of her. She's so smart," Pitt gushed to Vanity Fair during a press tour. "She's going to flourish even more at college. It's an exciting and beautiful time to find her own way and pursue her interests. I'm so proud." While Pitt wasn't present for Zahara's first-year college move-in, Jolie has been spotted at Spelman College several times.