Who Is Jim Jordan, The Man Donald Trump Spoke To Before The January 6 Riot?
Chip Somodevilla/Getty Images
The infamous Capitol Building riot on January 6, 2021, involved thousands of participants, $1.5 million in damages, as well as multiple injuries and deaths. It was also allegedly instigated by former President Donald Trump. Amidst the various investigations into the riot, one key figure has emerged: Jim Jordan — the man Trump reportedly spoke to before the incident.
Republican Congressman Jim Jordan has been a prominent and vocal supporter of Trump, who made history as the first president to be indicted on criminal charges. Jordan's support was as evident in Trump's 2016 presidential campaign as it was during the former president's failed efforts to challenge the 2020 election results.
According to The New Yorker, on January 5, 2021, Jordan forwarded a legal strategy to overturn the election to Trump's chief of staff, Mark Meadows. The following morning, he had a 10-minute phone conversation with Trump just before the then-president's speech at the Ellipse. This has raised allegations regarding the congressman's possible foreknowledge and involvement in the Capitol Building riot. Let's find out more about House Representative Jim Jordan.
Jim Jordan was an Ohio wrestling champion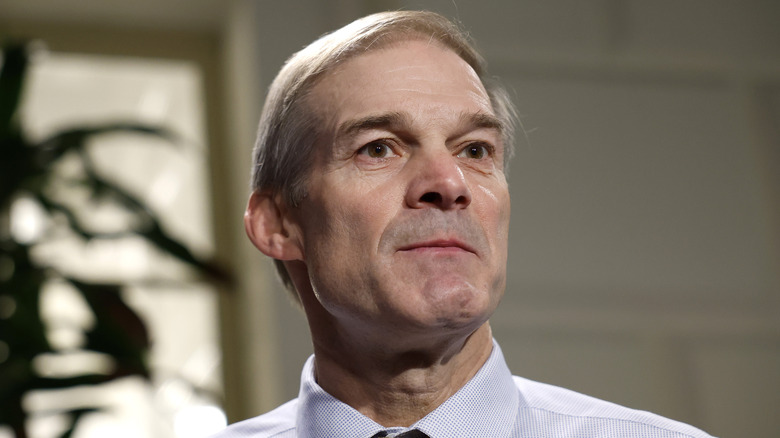 Anna Moneymaker/Getty Images
U.S. Senator James Daniel Jordan, popularly known as Jim Jordan, was born on February 17, 1964, in Troy, Champaign County, Ohio. His father, John, worked at a General Motors plant, while his mother, Shirley, ran a housecleaning business. Jordan attended Graham High School, where he first participated in wrestling and met his future wife, Polly Ann. He quickly became a wrestling star at Graham, winning four state championships. Jordan graduated in 1982 and married his high school sweetheart three years later.
His wrestling journey continued at the University of Wisconsin, where he earned a Bachelor's Degree in Economics in 1986, along with significant wrestling accolades. Competing for the Wisconsin Badgers, Jordan amassed an impressive record of 150 wins with only one loss. The skilled Ohio wrestler became a two-time NCAA wrestling champion and a three-time All-American, although he did not make the U.S. Olympic team.
Jordan later obtained a Master's in Education from Ohio State University in 1991. He then worked as an assistant wrestling coach before pursuing a law degree from Capital University in Columbus in 2001. In a 2014 interview with the National Wrestling Hall of Fame, Jordan attributed his strong sense of competitiveness to his father, his first wrestling coach. This foundation helped facilitate his smooth transition from wrestling to the world of politics, reflecting the significant influence of his early experiences.
Jim Jordan's rising political career encountered challenges in 2023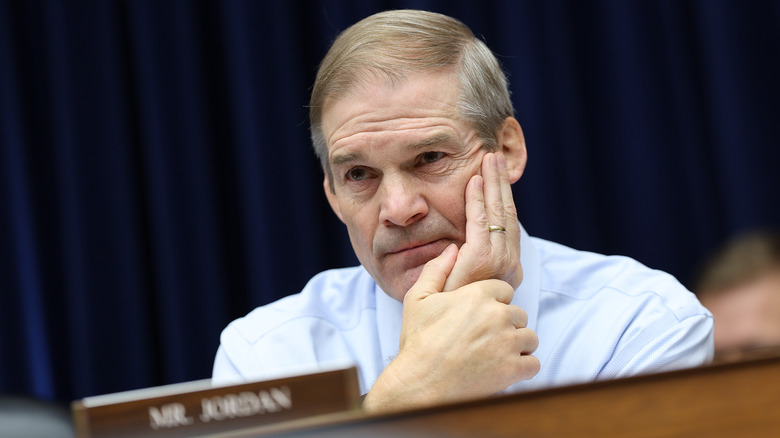 Kevin Dietsch/Getty Images
Jim Jordan's first foray into politics began as an Ohio State representative in 1995, where he likened campaigning to wrestling: "A good, hard campaign is about as close to wrestling as you can get," he said (per Politico). Jordan served in this role until 2000, then ascended to the Ohio State Senate, where he served from 2001 to 2006.
In 2007, Jordan stepped onto the national stage as a House Representative. His tenure in politics has been marked by a staunch opposition to tax increases and participation in various committees such as the House Freedom Caucus. Despite his active role, Jordan has yet to be credited with passing a bill into law. Instead, his major contributions are often associated with opposing Democratic initiatives and his vocal loyalty to Republican figurehead Donald Trump. This stance and his antagonistic methods have made Jordan a controversial figure, with former House Speaker John Boehner famously labeling him a "legislative terrorist" (via Politico).
Jordan's relationship with Trump was further solidified when the then-president awarded him the Medal of Freedom, the nation's highest civilian honor, in 2021, shortly after the Capitol Building riot. In 2023, following the ousting of House Speaker Kevin McCarthy, Trump endorsed Jordan for the vacant Speaker position. However, Jordan could not secure a unanimous vote from fellow Republicans. Despite losing, it's a safe bet that Jim Jordan will play a part in Donald Trump's 2024 campaign.