Why HGTV's Jonathan Scott Thinks Good Timing Is The Key To His Romance With Zooey Deschanel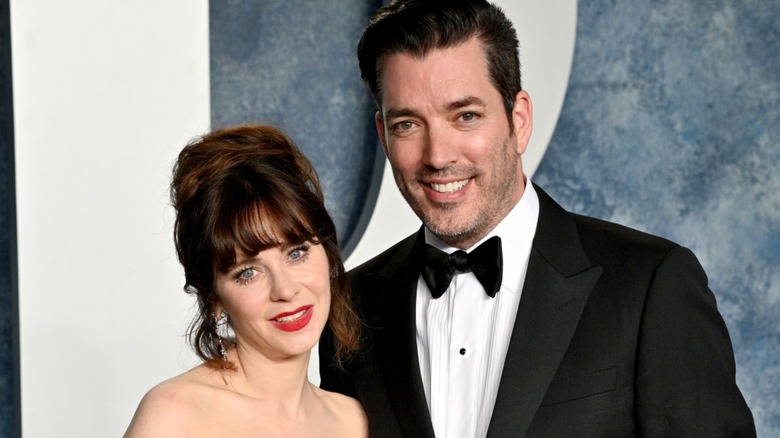 Lionel Hahn/Getty
One celebrity couple who's bordering on Hollywood royalty is HGTV star Jonathan Scott and actor Zooey Deschanel. An expert even told The List that Deschanel and Scott's body language cemented them as an "it couple" when they were interviewed by People in October 2023.
Jonathan and his brother Drew Scott were interviewed on "Today with Hoda and Jenna" in November 2023, and Jonathan was candid about something that he believed spells success for his relationship with Deschanel. Host Hoda Kotb told the audience that prior to the interview starting, Jonathan said he didn't think he and Deschanel would be a couple if they had met two decades earlier.
"Well no," Jonathan said. "I mean, sometimes I think you go through your whole life ... you don't know when you're young what you want. And we got to a point where we know what we want and it's each other. And it's been the most incredible experience to actually feel that love bounce right back at you." 
Scott got a prediction about his future relationship before meeting Deschanel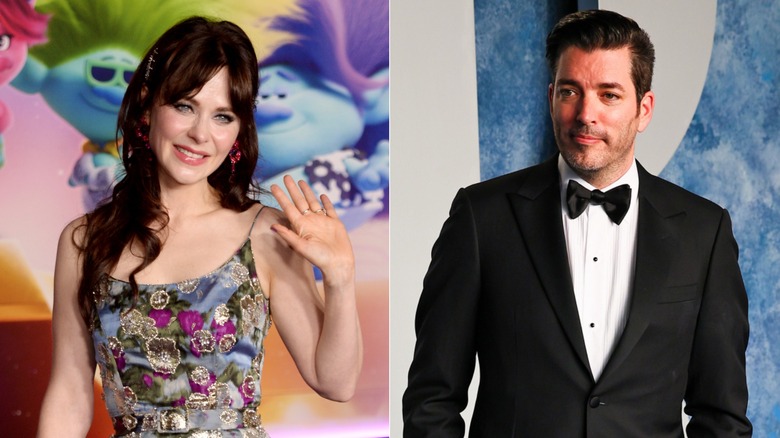 Unique Nicole & Leon Bennett/Getty
In her October 2022 interview with Hoda Kotb on "Today with Hoda and Jenna," Zooey Deschanel talked about her and Jonathan Scott's relationship. She raved about Scott's kindness and how it inspires her to want to continue being the same way. Kotb asked if it was a situation where Deschanel automatically knew Scott was the guy for her, and Deschanel confirmed it was. Like Scott, she also cited their age as something positive for the development of their relationship. "I was like 39 when we met," Deschanel told Kotb, "and he was like maybe 41. We were, you know, not young. So we kinda knew, you know? You kinda know. It was great."
In a November 2023 interview on "The Tonight Show Starring Jimmy Fallon," Scott mentioned something implying that perhaps his and Deschanel's relationship was written in the stars. Scott said, "It was so bizarre because before I even met Zooey, like a year before, we were having a wrap party. ... And we had a tarot reader at the wrap party." 
The woman told the "Property Brothers" star, "Ah yes, you'll have children within the year." Scott was doubtful, but less than a year later was in a relationship with Deschanel and helping raise her kids. Scott made sure to express his gratitude to the tarot card reader on Fallon's show.
Scott and Deschanel got engaged at a castle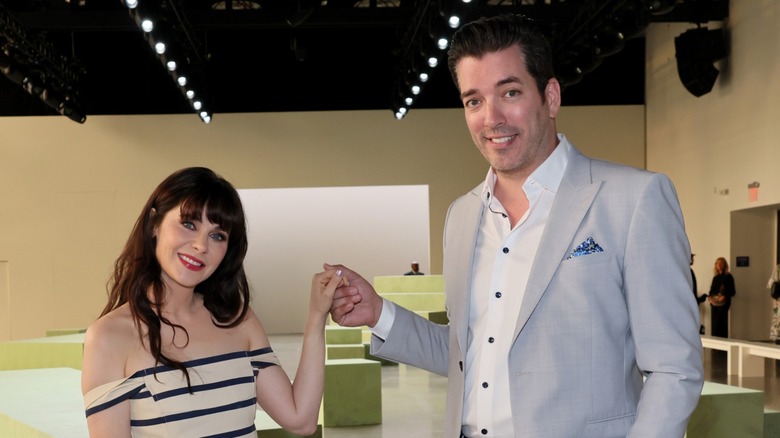 Dia Dipasupil/Getty
Despite the fact that Jonathan Scott botched Zooey Deschanel's engagement ring by getting it in the wrong size, their engagement was joyous and exciting for themselves and their loved ones. In their People interview, Scott and Deschanel told the story of their proposal. Scott planned it for over two months before popping the question. The proposal happened at a castle in Scotland after all the other tourists had left for the day.
When the pipe band playing traditional Scottish tunes made way for a guitar player performing "Harvest Moon" by Neil Young, Deschanel knew something was going on. "That's like a special song for us," Deschanel said. "So I was like, 'Uh, I think something's happening.'"
She of course said yes, and the couple shared the happy news on Instagram. Deschanel captioned their post-engagement selfie, "Forever starts now!!!" with an infinity symbol and smiling emojis with little hearts. The announcement post received over 2 million likes.