Inside Young And The Restless Star Cait Fairbanks' Relationship History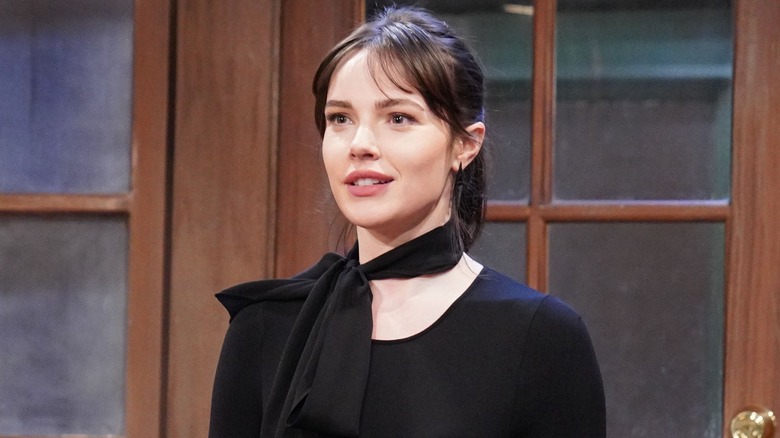 Howard Wise/jpistudios.com
Cait Fairbanks has made relationship history as Tessa Porter on "The Young and the Restless." Since her debut in 2017, she's been a central character on the soap, winning over fans with both her superb acting and musical talent. Tessa was pursued by Noah Newman (Robert Adamson) when she arrived in Genoa City, and they dated for a while before she met Mariah Copeland (Camryn Grimes). The two women resisted their feelings for each other before finally falling in love. Tessa's relationship with Mariah made history on "The Young and the Restless" as the soap's first same-sex couple, and they instantly became a favorite couple of the fans.
In real life, portrayer Cait Fairbanks has had an interesting relationship history as well, including dating one of her "The Young and the Restless" co-stars and a fellow musician. Despite keeping her romantic interests relatively private, fans followed her relationships closely on social media, where she mostly shares updates about who she's involved with at the moment. Fairbanks has not publicly dated many people, but the ones she has have made big waves in the world of soaps.
Zach Tinker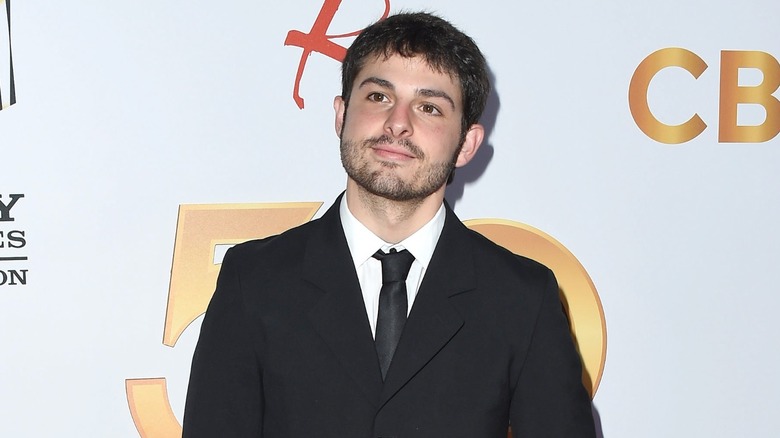 Jill Johnson/jpistudios.com
Like many other soap stars, Cait Fairbanks looked to her fellow "Y&R" actors for one of her first public relationships. Fairbanks confirmed she was dating actor Zach Tinker in 2019. Tinker joined the cast of "The Young and the Restless" in 2018 as Fenmore Baldwin, the son of Lauren Fenmore (Tracey E. Bregman) and Michael Baldwin (Christian J. LeBlanc). Although Tessa and Fen were never romantically involved on the show, off-screen, sparks flew for the two actors.
Tinker and Fairbanks grew close as they bonded over fun vacations together, like their trip to Lake Arrowhead, California in 2020. Tinker also penned a sweet birthday message to Fairbanks in a now-deleted Instagram post, saying, "They say a picture is worth a thousand words. Well here's 8 pictures and 2 videos, so that must be at least like 10,000 words, right? I love you Caitlin. So damn much. Enjoy your day" (via Soaps She Knows).
Unfortunately, a happily ever after wasn't in the cards for Fairbanks and Tinker, as the couple confirmed their split in 2021. A reason for the breakup was never revealed by either Fairbanks or Tinker, but it seems as if they've moved on amicably after their split.
Jay Rudolph
Common interests make a relationship that much easier, and Cait Fairbanks' current boyfriend is no exception to that rule. Along with her acting career, Fairbanks is also known for her musical talent, and she has released music under the name "Ginesse." The musical side of her career seems to have led her to a new relationship, as Fairbanks is currently dating fellow musician Jay Rudolph. The "Y&R" actress confirmed their relationship in 2022, posting a compilation of pictures of her new beau on Instagram with the caption "swoon alert."
The adoration between Rudolph and Fairbanks is mutual, based on Rudolph's birthday post for Fairbanks in 2022 where he wrote on Instagram, "@caitfairbanks, thank you for making the world feel like such a light and magical place — I am so absolutely enamored with you." The couple keeps a low profile, but they make exceptions for sweet declarations of love on social media; clearly, they aren't afraid to make their feelings known, and we couldn't be happier for them.