What We Know About General Hospital Star Gregory Harrison's Addiction Struggles
Gregory Harrison has had quite the career having appeared in two cult classic horror films; the TV movie "Trilogy of Terror" in 1975 produced and directed by the legendary Dan Curtis, as well as arguably the best killer pig film, "Razorback," in 1984, directed by "Mad Max" auteur, George Miller. Harrison's television fame started to rise with his starring role as Logan in "Logan's Run" (1977), an adaptation of the eponymous Michael York film from 1976, and later as the fan-favorite Dr. George Alonzo "Gonzo" Gates on the hit series, "Trapper John, M.D.," from 1979 to 1986. 
Since 2020, he has played Gregory Chase on "General Hospital," father to Dr. Hamilton Finn (Michael Easton) and detective Harrison Chase (Josh Swickard), and is embroiled in a major storyline in which his character is dying from ALS, aka Lou Gehrig's disease. On the October 1, 2023, episode of "State of Mind," a mental health awareness YouTube show hosted by Harrison's "GH" co-star Maurice Benard (Sonny Corinthos), the actor spoke about his career and, more pertinently, the battle with addiction that greatly affected Harrison's otherwise charmed life. 
When Benard asked how his co-star landed in the Betty Ford Clinic, he responded, "I'm a recovering addict, and [I've been] recovering now for 36 years." Harrison also acknowledged that the final few years, before he got help, were especially difficult, noting, "[I] became somebody I never dreamt I could be. Did some things I never dreamt I could do."
Harrison's wife stood by him the whole time
Gregory Harrison explained on "State of Mind" that he had not only spent the last few decades celebrating his hard-won sobriety but was, "Also trying to make amends for who I was and what I did." The soap star was supported by his wife, Randi Oakes — who played Officer Bonnie Clark on the hit TV show, "CHiPs" — but admitted, "She didn't really help me get sober. She just believed in me enough to be patient and let me get sober." 
Harrison pointed out that it wasn't her responsibility, nor was it possible to force him to get sober. All Clark could do was stand by her husband during the tougher moments. The "General Hospital" fan favorite was still acting and even had his own production company while battling his addiction. Benard questioned how he managed to juggle it all, with Harrison asserting, "Creatively, I somehow survived, but I didn't grow. All growth stopped." 
The actor also addressed that he was at the pinnacle of his career, which complicated matters: "It was my prime. If I was the kind of person who would be regretful, I would say, 'Well that's what I would regret. [That] in my prime I was busy using all of my acting skills to disguise my addiction, instead of building my career.'" Although Harrison continued working the whole time, he noted that his performances were, understandably, not very good.
Harrison got a wake up call just in time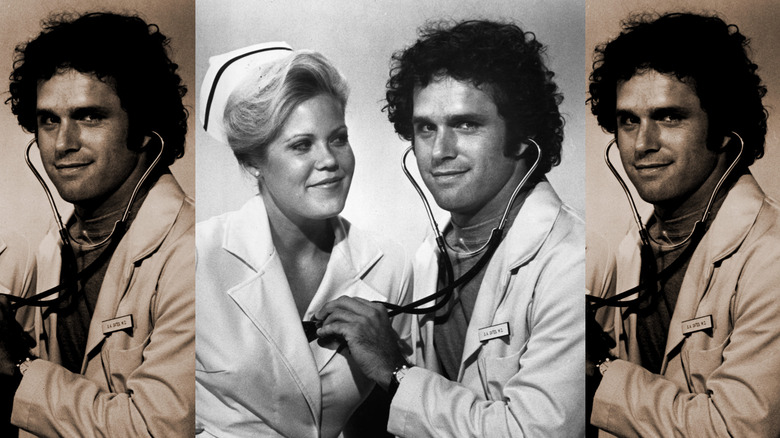 Archive Photos/Getty Images
"General Hospital" star Gregory Harrison acknowledged on "State of Mind" that all of his energy went toward his addiction, "Not into being the creative artist that I aspired to be." In 1989, he spoke to the Los Angeles Times, nearly two years after he finally sought professional help. Harrison elaborated on how his cocaine and alcohol addictions gave him false confidence for a time, noting that, "It lets you get away with it just enough time to be convinced you will always get away with it." His wife simply thought the actor was sick because he'd become such a convincing liar.
Cocaine was incredibly prevalent in the '80s, especially in Hollywood where users felt it fueled their creativity. A major wake-up call for Harrison came from nearly losing his family, as he stated, "Nobody was comfortable around me. My little girl [Emma] was one and a half years old and didn't trust me. She wouldn't want to climb up in my arms." 
Realizing that he could either die or end up taking his own life, Harrison mustered up the strength to get help and started working with the Entertainment Industry Referral & Assistance Center, which assisted addicts with finding various forms of help. Thankfully, three decades have passed and Harrison has been able to spread the word that help exists.
If you or anyone you know needs help with addiction issues, help is available. Visit the Substance Abuse and Mental Health Services Administration website or contact SAMHSA's National Helpline at 1-800-662-HELP (4357).