Donald Trump's New Medical Report Raises Major Questions
Jim Vondruska/Getty Images
In 2015, Dr. Harold N. Borstein, Donald Trump's personal doctor since 1980, released a letter about the presidential candidate's health. It was particularly complimentary — "If elected, Mr. Trump, I can state unequivocally, will be the healthiest individual ever elected to the presidency," he said via NPR. But in 2018, Dr. Borstein told CNN that he hadn't written the letter by himself; instead, Trump had dictated the letter to him.
Trump is running for president again, and he's now released another letter from his personal physician. He seems to have stopped using Dr. Borstein and started seeing Bruce Aronwald, D.O., out of Morristown, New Jersey. And while Aronwald's letter features less hyperbole than Borstein's letter from 2015, it still raises some questions.
First, one could wonder why Trump's primary care doctor is so far away from his primary residence of Mar-a-Lago. Trump has been living full-time in Florida since he left the White House; however, his personal doctor since 2021 is Dr. Aronwald, who practices half a dozen states away. It's a bit far to go for doctor's visits, though it is only about a 20-minute drive from the Trump National Golf Club in Bedminster, New Jersey.
Donald Trump released the letter on Joe Biden's birthday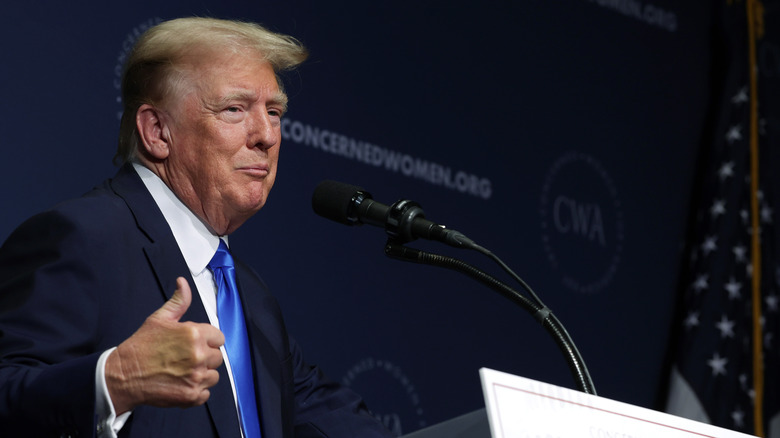 Alex Wong/Getty Images
One question we're pretty sure we know the answer to is why Donald Trump released the letter about his health when he did. It seems unlikely that it was a coincidence that Trump posted it on Joe Biden's 81st birthday, particularly considering that Trump's last physical, according to the letter, was in September 2023. It was also released a day after Republican challenger Ron DeSantis said on CNN that being president wasn't "for somebody that is pushing 80."
One might wonder why Trump posted the letter at all, which conservative CNN commentator S.E. Cupp described as "propaganda" via Mediaite. It doesn't specify any of Trump's vitals or test results, though they are described as "within the normal range." But it does seem to support some of Trump's campaign rally popular talking points — that he's better qualified physically and mentally to be president compared to President Joe Biden.
When it comes to mental health, Aronwald points out that Trump's "cognitive exams were exceptional." Trump has touted his ability to pass cognitive tests in the past; while president, he successfully completed a screening test for possible dementia. And while Trump has frequently mocked Biden for verbal slips he's made over the years, Trump has made a number of gaffes on the campaign trail, like confusing Sioux Falls, Iowa, with Sioux City, South Dakota. So perhaps this letter could be a counterpoint to help reassure his voters?
Donald Trump has apparently lost nearly 30 pounds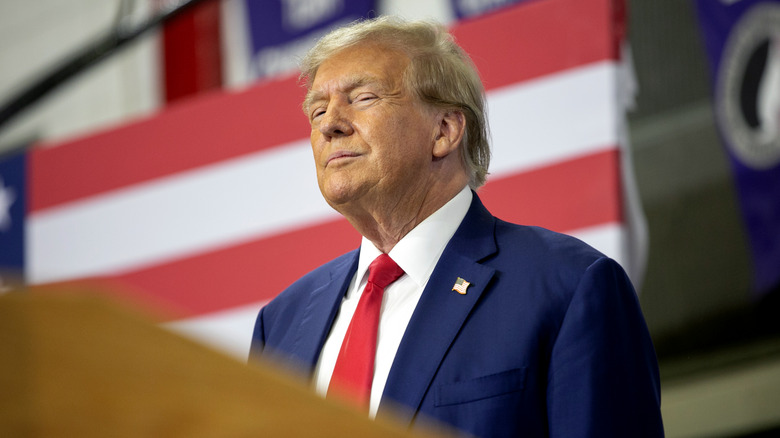 Jim Vondruska/Getty Images
Similarly to the 2015 letter, in which Donald Trump was said to have lost 15 pounds the previous year, the 2023 letter also notes Trump's weight loss. While it doesn't include a specific number, there is a way to make an educated guess as to how much weight we're supposed to believe Trump has lost. In 2020, his physical as president recorded his weight as 244 pounds. Then, in August 2023, when Trump surrendered at Fulton County jail for trying to overturn the 2020 election results in Georgia, he self-reported his weight at 215 pounds. That would mean Trump's lost nearly 30 pounds since he left the White House.
Aronwald's letter says the weight loss came about "through an improved diet and continued daily physical activity while maintaining a rigorous schedule." What specific changes he's made weren't made clear. Trump has a legendary love of fast food, particularly McDonald's. As for exercise, in 2015, Trump told The New York Times Magazine that speaking at his campaign rallies is one of his forms of exercise. He's also known for golfing, though he often uses a golf cart instead of walking. Trump also reportedly sees little value in strenuous exercise because of his philosophy that the body is like a battery that can be drained of its set amount of energy by exercise, according to The New Yorker. All in all, the more you look at the letter, the more questions seem unanswered.