Is 90 Day Fiance Real Or Is It Scripted?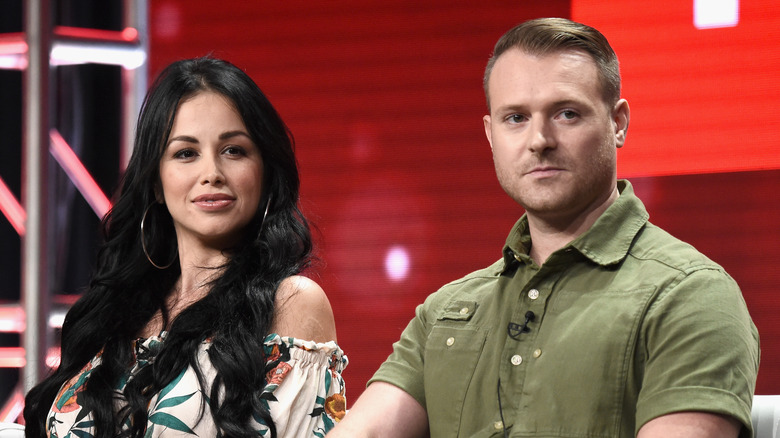 Amanda Edwards/Getty Images
The biggest reality TV shows tend to be plagued by accusations of staged scenes and faked drama, an idea most memorably teased out in the infamous ending to MTV mega-hit The Hills, which saw the cameras pull back to reveal stars Kristin Cavallari and Brody Jenner had been standing on a film set the entire time. With the insane popularity of TLC's 90 Day Fiancé and its spin-offs, eagle-eyed fans are understandably wondering whether they can believe everything they see. 
In a now-infamous YouTube video, Chris Thieneman (best friend of fifth season star David Toborowsky) and his wife Nikki Cooper spilled the tea about whether or not the show is scripted. "Absolutely parts of it is. No question. Some of it is real, and then teased with, added to, subtracted from," Thieneman said. Cooper added that there's not necessarily a script that has to be followed. However, there are certain moments when producers suggest participants behave a certain way. 
As reported by InTouch Weekly, in a 2017 Facebook post Cooper pointed to an uncomfortable moment on the show when they first met Toborowsky's then-fiancé, Annie, in Thailand and Thieneman suggested she give him a "Thai massage" in exchange for letting the 90 Day Fiancé couple crash in their house. "Yes, the awkward scene of Chris asking for a massage was SCRIPTED. The producer asked him to say it... We were fed our lines while sitting at the table, which is why no one reacted," she revealed. Thieneman backed up his wife's version of events, admitting he was stupid to agree to it in the first place. 
Also in 2017, Radar Online reported that season two's Mohamed Jbali had, in a series of Facebook Live videos, called out the show for staging scenes. It was only after speaking to producers that Jbali agreed not to film any more videos, which seems suspect. And, according to InTouch Weekly in 2019, season six's Ashley Marston took to Instagram to, in a since-deleted series of posts, suggest she and ex-husband Jay Smith had been asked to be "very deceptive" during their participation on 90 Day Fiancé.
The hit show may not be 100 percent real, but for those of us who love the drama, do we even care?