Is Jonathan Scott A Real Contractor?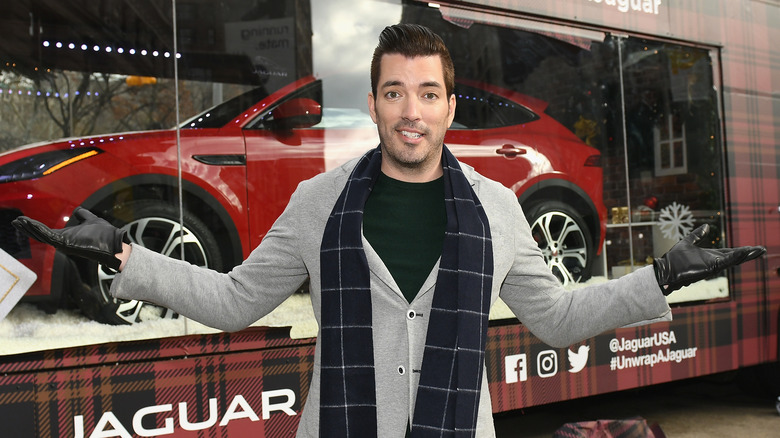 Craig Barritt/Getty Images
Not everything on reality TV is real, but HGTV mega-hit Property Brothers has a reputation for being slightly more authentic than its contemporaries — unlike Fixer Upper, participants on the show actually get to keep the furniture once filming has concluded. According to his bio on the official HGTV site, Jonathan Scott is a licensed contractor who, along with twin brother Drew Scott, has 15 years experience in the real estate business. And yet, questions have arisen about whether Property Brothers' resident contractor is actually doing all the work he claims to be, and is widely featured, doing. 
Back in 2015, a Reddit user who was in the process of being vetted to appear on the hit show revealed that the Scott brothers aren't working alone. In fact, much of the hard work is allegedly done by hired hands who might not be as, er, camera ready as the lovable Canadian duo. "They use local contractors in the areas they are working in. They get referrals (not sure from whom) and then narrow down the crews they use to 4 different ones," the Redditor advised. This makes some sense, as it would be nearly impossible for Jonathan to finish up a job so quickly by himself. 
Jonathan revealed in an interview with PopSugar that homeowners are expected to pitch in, too, which is something the application process for being cast on the show also explicitly includes. "One of the ways we stretch the budget is that we utilize the homeowners to do a bunch of the work with me," he explained. However, the Property Brothers star also took the opportunity to reiterate how involved he is in the renovation process, saying, "If we find that our budget is taking hits left, right, and center, I'll jump in and do even more because I'm not charging for my time."
As E! News notes, the Scotts likely aren't licensed in every single state they visit, which would explain why they don't necessarily do all the work. Maybe it's just another of his illusions, but it's clear Jonathan Scott is definitely qualified to chip in, even if he isn't the master contractor on every project.