Do The Homeowners Keep The Furniture On Fixer Upper?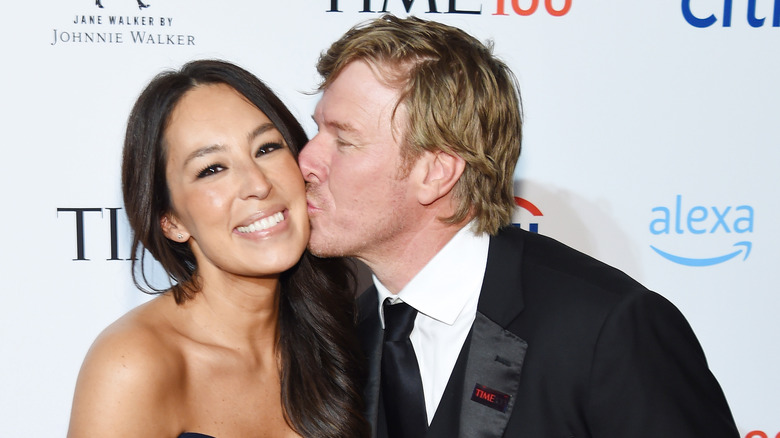 Larry Busacca/Getty Images
We might not be getting any new episodes of Fixer Upper, and Chip and Joanna Gaines may have moved on to build their own TV empire, but that doesn't mean fans aren't still thinking about the show. There are plenty of questions that need to be answered when it comes to Fixer Upper. In particular, do participants get to keep all the gorgeous furniture or not? 
Back in 2016, Fixer Upper client Jaime Ferguson, whose home was remodeled on season three, gave an exclusive interview to Rachel Teodoro about her time on the show. Ferguson revealed, "When it came time to pack up all their beautiful staging furniture Kyle and I had to decide what we really loved because our budget at that point was pretty spent." Ferguson is referring to the furniture used on reveal day to make the space look finished (and amazing). Once Chip and Joanna are done, clients can choose what they wish to purchase, and the rest goes.
Rachel Whyte, who also appeared on season three, told Country Living in 2018 that her Fixer Upper experience was much the same as Ferguson's, and points out that though it's everyone's first question, keeping all that staging furniture would mean getting rid of your own. "...you wouldn't want to get rid of all your furniture," she says. Whyte did note, however, that anything carpenter Clint Harp makes custom, as well as custom design work, stays in the renovated home. 
As for the new stuff, participants can pick and choose. "They give you an itemized list of how much everything costs at the end to see if you want to purchase things at a discounted price," Whyte explained. However, she wasn't too sad to see the props go. "I was excited to fill our home with our things and make it ours," she said.
Joanna Gaines herself actually made it clear how things work on her Magnolia blog, all the way back in 2015, noting simply, "Our show features real clients with real budgets. The furniture budget is not part of the renovation budget, it's something some clients add at the end. About half of our clients already have all their own furnishings, some of which I use for the reveal, and others buy the items I decorate the home with."
Ferguson credited Gaines with working with what they already had in the house, in her interview with Teodoro, so the emphasis is evidently on striking a balance between the fresh and the classic in Fixer Upper clients' homes.