Do The Homeowners Keep The Furniture On Property Brothers?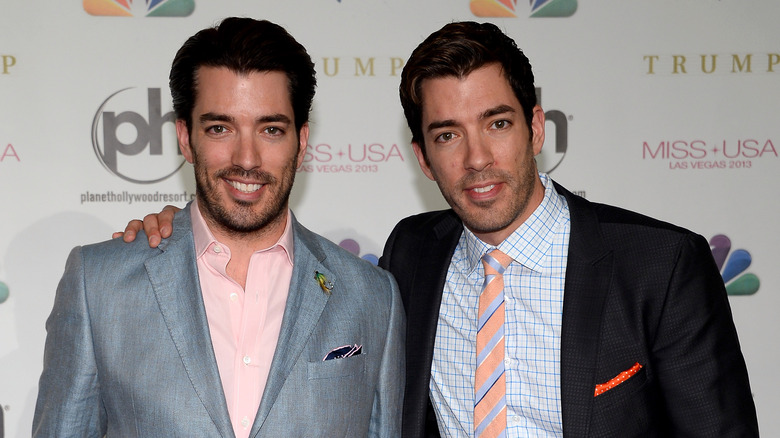 Ethan Miller/Getty Images
Jonathan and Drew Scott, aka the Property Brothers, have made a name for themselves as the most approachable Canadian twins in home renovation reality television (though the competition in this particularly niche field isn't massive, to be fair). But even the most outwardly sweet reality shows have darker elements and, as is the case with Fixer Upper, there's some smoke and mirrors involved when it comes to all those gorgeous home furnishings we see during the reveal. It turns out that most of the furniture and decor gets packed up when the cameras stop rolling — unless the homeowner can pony up the extra cash for it.
Not so with Property Brothers. Responding to a fan on Twitter in 2017, Drew Scott confirmed that all furniture is kept by the featured family, writing simply, "On #propertybrothers and #Brovsbro they keep everything!" When asked about the so-called "staging furniture," which is used during the big reveal to make it seem like the house is fuller and more decorated, Scott confirmed it wasn't taken away at the end either. "On all our shows they [keep the furniture] except Buying and Selling..." he explained, referring to one of their spin-off shows.
According to a previous Property Brothers casting call (via The Spruce), wannabe participants will need to come up with a budget of at least $90,000 to be considered. While that is a substantial amount of money, keeping the furniture is a definite perk, especially considering it's not a given with all home renovation shows.
On spin-off show Brother Vs. Brother, buyers seriously benefit by getting a completely finished home, furniture and all. "The people who buy these houses are getting a steal of a deal because they're getting hundreds of thousands of dollars worth of furniture and all this extra stuff, top quality materials from the decking to the tile, you name it. And they'd never be able to get it for that price if it wasn't for the show," he explained in a Facebook Live session (via People). Apparently it pays to own a Property Brothers home.