How Bindi Irwin's Brother Really Feels About Walking Her Down The Aisle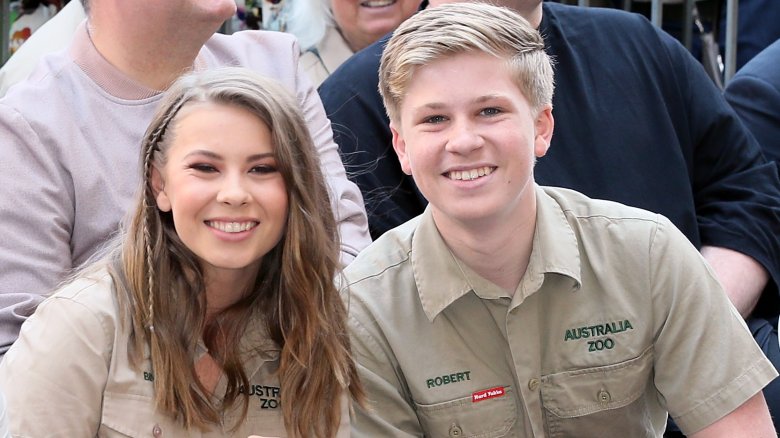 David Livingston/Getty Images
While Bindi Irwin's famous dad, Steve "Crocodile Hunter" Irwin, sadly won't be there to celebrate his daughter's nuptials next year, Irwin is making sure to pay homage to her beloved father on her special day.
Shortly after she announced her engagement to longtime boyfriend Chandler Powell in July, Irwin announced how she plans to honor her dad on her wedding day. Since he won't be able to walk her down the aisle, she said that she will have another Irwin man take her father's place: her younger brother, Robert Irwin. Robert recently revealed how he feels about paying tribute to their dad in this special way.
Bindi Irwin says her brother has always supported her
"I'm always so grateful that Robert is there, and he has been such a big part of my life and he's always stepped up and been the one to give me a hug when I need it and encourage me forward in life," Irwin told Entertainment Tonight last July. "So he will definitely be the one to walk me down the aisle when the time comes, and I think that will make it really special."
She added, "I think that's what dad would have wanted as well."
Robert Irwin is touched that Bindi wants him to walk her down the aisle
Bindi and Robert have always been close. On October 4, the brother and sister appeared on The Kelly Clarkson Show and talked about Irwin's upcoming wedding. On the show, 15-year-old Robert revealed what he thought of being the one to walk his sister down the aisle. "I was so incredibly touched when Bindi said, 'Robert, would you walk me down the aisle?'" he said.
Robert added that he knows Steve Irwin would be happy with how his daughter's life is turning out. "I know dad would be so proud of you," said Robert. "We all love you so much. You're achieving so much."