The Truth About RHONY's Tinsley Mortimer And Scott Kluth's Relationship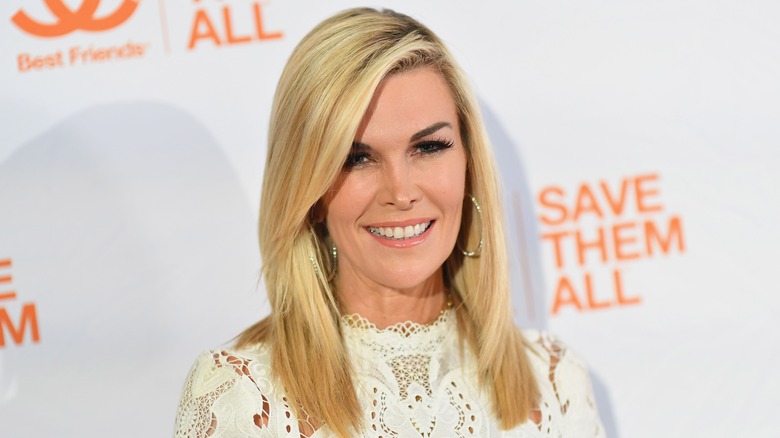 Angela Weiss/Getty Images
Tinsley Mortimer and Scott Kluth's relationship has always been a talking point among the tabloids and Bravo's Real Housewives of New York City crowd. The on-again, off-again couple haven't had the smoothest of relationships, so when they were spotted together at the Big Apple Circus in New York last weekend, people couldn't help but speculate on the status of their romance. Given the two lovebirds met on season 9 of RHONY, fans have been there for almost all the ups and downs, and want only love and happiness for Mortimer and Kluth. We all feel invested, and it's easy to see why. 
How did Tinsley Mortimer and Scott Kluth meet?
Former housewife, Carole Radziwill, first introduced Tinsley Mortimer to Scott Kluth in 2017. The pair hit it off straight away but over the years they faced struggles due to distance. Unfortunately, Mortimer calls New York home and Kluth is based Chicago. 
In a 2018 interview with Bravo's The Daily Dish, the socialite spoke of the challenges they've faced as couple, stating, "We've had our ups and downs, and we've broken up a couple times. It's been tough. You know, distance is hard. We love each other." Mortimer continued, "I just really, honestly want to just make it work with him and then if babies come, marriage comes, and all that stuff, that would be great, an extra bonus on top of everything."
However, during Season 11 of RHONY, which screened earlier this year, fans couldn't help but notice how distance had got the best of them, and witnessed Mortimer and Kluth break up once and for all.
Are Tinsley Mortimer and Scott Kluth back together?
Since appearing arm in arm at the Big Apple Circus on October 28, Bravo seemingly confirmed news that Tinsley Mortimer and Scott Kluth were indeed back together. This comes after Mortimer shared a photo on Instagram that had been taken by Kluth, captioned, "Somewhere over the rainbow skies are blue / And the dreams that you dare to dream really do come true," complete with a heart emoji, effectively sealing the deal the two were back on.
According to Page Six, a source close to the couple said, "After about a year of being broken up, and dating other people, the couple are back together... they couldn't be happier to have finally worked through their differences over the past year."