Who Is Savannah Chrisley's Fiance?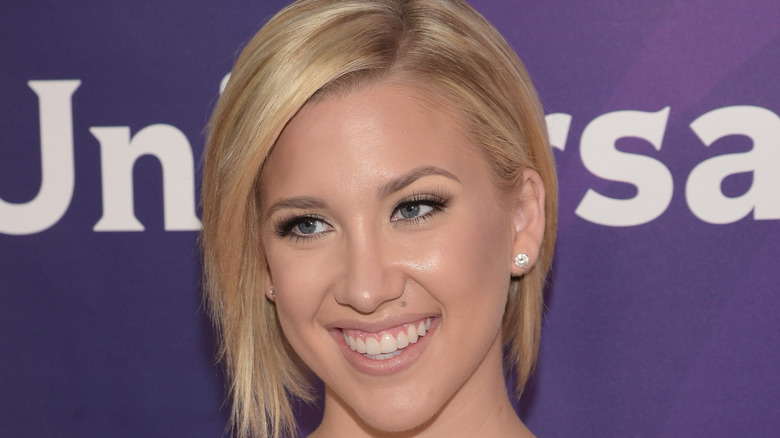 Jason Kempin/Getty Images
Savannah Chrisley, 22, is the star of Growing Up Chrisley, a spin-off of Chrisley Knows Best, and has been engaged to Nic Kerdiles for almost a year. The youngest daughter of Todd Chrisley got engaged on Christmas Eve 2018 after an emotional proposal from her beau of one year (via People).
Of course, Chrisley's family was present for the proposal, and as fans may know, Todd Chrisley is known to get in the middle of his kids' personal lives. However, typically tough and judgmental patriarch Todd approves of the union. He posted on social media last June, writing, "When you've done everything you can to set @nickerdiles up to fail and he still passes with flying colors you gotta say, 'God, if this is you plan, let me step out while you step up.'" It looks like Savannah doesn't have anything to worry about when it comes to dear old Dad.
Here's the lowdown on Nic Kerdiles
Nic Kerdiles, 25, is a former NFL hockey player from Texas. He is currently an unrestricted free agent (via Married Celeb) after experiencing several injuries, but last played for the Manitoba Moose (via Illegal Curve). Clearly, he's no stranger to fame. Since retiring from hockey, he's working as a licensed real estate agent in Nashville (via Distractify). He's also taken up boxing, which he claims reduces his stress and anxiety (via Instagram).
In 2018, the pair met on Instagram when Chrisley found his account on her activity page. "I was like 'ohhhh dangggg....who's that!'" Chrisley admits. She proceeded to message Kerdiles, and the rest is history. Since then the couple has had a strong bond, but a recent post from Chrisley prompted fans to assume the couple had split. On October 15, Chrisley posted a photo revealing a dramatic new pixie haircut. The caption read, "Ladies... do what YOU want to do. Don't base your looks, opinions, beliefs, etc on a man and what HE wants. It's our world and they just live in it." That was all it took for rumors of a breakup to start.
Although she thinks it's ridiculous that people would assume that their engagement is off because of a drastic haircut, Chrisley later admitted that she and Kerdiles are "taking a few steps back," according to E! News. The pair is still engaged but are focusing on a "God-centered" relationship and taking it "day-by-day." She said, "Marriage isn't just for the Instagram, it's not for the photos, it's not a photo-op. It's a real life thing."
Savannah Chrisley and Nic Kerdiles are taking it slow
In August 2019, Chrisley told People, "We're taking our time when it comes to the wedding. Obviously, it's an engagement for a reason. You can figure things out and work together, get to know each other better. So we're taking our time." There are rumors that the original plan is to have the wedding in the summer of 2020, but there is currently no public date. 
Since the pixie cut drama, Chrisley has posted photos with Kerdiles on social media but they were obviously taken before her makeover. Fans may be worried for the couple, but an Instagram post just two days ago from Kerdiles should ease their minds. He congratulated his fiancé on the recent launch of her brand, writing, "You are one incredible woman babe... Love you more than you know," which makes it pretty safe to say that these two are still going strong. This celebrity couple is simply taking the mature route and focusing on the seriousness of marriage instead of jumping right in. Expect to see the lovebirds on Chrisley Knows Best, season 7 (via People).