Who Is Kelly Dodd's Fiance, Rick Leventhal?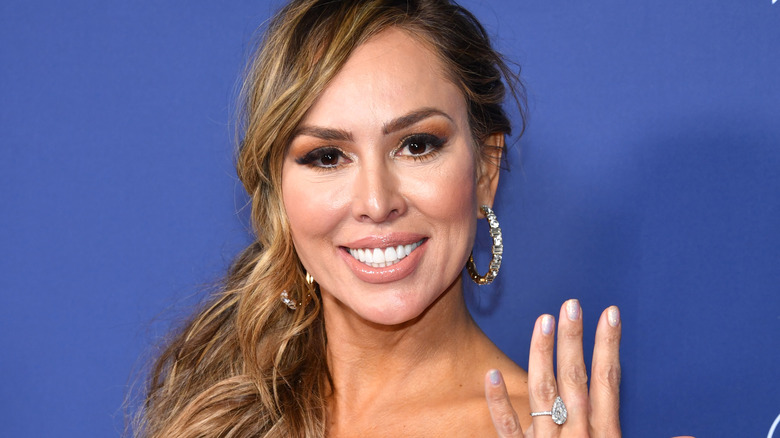 Dimitrios Kambouris/Getty Images
The Real Housewives of Orange County star, Kelly Dodd, announced her engagement to her beau on Instagram sporting a massive diamond and huge smile, captioning the post, "I can't believe I just got engaged !! @rickleventhal you are my Prince and my dream come true!!!" Rick Leventhal, Dodd's new fiancé responded, "Dreams do come true."
Leventhal hasn't appeared on RHOC but their relationship has been documented all over social media. A source told E! News that the two have been discussing marriage for quite a while. "The two of them have been very open about seeing this relationship head toward a long term commitment. Rick has introduced Kelly to his children, his friends and his co-workers and everyone thinks the two of them are a great match. They are both very playful people with a sense of adventure who like to have fun."
Who is the mystery man that has stolen Dodd's heart?
Rick Leventhal is a traveling journalist
Dodd, 44, split from plastic surgeon Brian Reagan in August, which is when Dodd began seeing Leventhal, 59, a Fox News corespondent. He was previously married to professional poker player Beth Shak, but the two divorced in 2017 after being married less than a year (via Page Six). Leventhal has two children, Veronica, 28, and Shoshanna, 23, with his first ex-wife, Penny Daniels. (via Us Magazine). 
The pair met in the Hamptons at Leventhal's barbecue while Dodd was palling around with RHONY star Ramona Singer (via Bravo). While the two lovebirds live on opposite coasts — Leventhal lives in New York City while Dodd lives in Southern California — it's rumored that Kelly may consider moving to the East Coast to be with her man (via Bravo). 
The New York-based senior correspondent joined Fox News in 1997 and provided live coverage of the killing of Osama bin Laden and has been to dozens of war zones. Leventhal was born in Kentucky, grew up in Maryland, got a BA in Broadcast Journalism at American University, and eventually ended up in the Big Apple (via Hollywood Life). 
Kelly Dodd and Rick Leventhal have already set a wedding date
For her part, Kelly Dodd says she was actually shocked about the proposal. "I mean, I knew it was going to happen because I picked out the ring but I didn't know when. I thought it was Christmas. I didn't know he was going to buy it. I just said, 'I like that ring!' she told Page Six. Dodd explained to People that Leventhal had an amazing speech planned and got down on one knee. "Rick is my best friend. My partner in crime. I'm so in love. I can't believe this happened to me. I feel like I just won the lottery," she said. 
Dodd told a fan on Instagram that their wedding date will be October 10, 2020 (via Reality Blurb). 
It's unclear if fans will see much of Leventhal on the RHOC, but he's clearly not camera shy, so anything is possible.