The Reason Hilary Duff Is Struggling On The Lizzie McGuire Reboot Set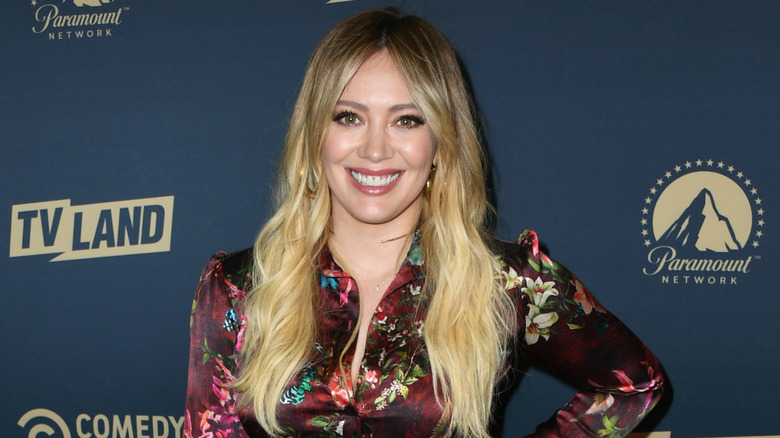 Jon Kopaloff/Getty Images
In 2001, Hilary Duff starred in Lizzie McGuire, a show that inspired our fashion, lingo, and crushes at the time. That's why when the Lizzie McGuire reboot was announced, fans were understandably ecstatic. Excitement aside, since shooting, Duff revealed that she's having a difficult time being on set. The 32-year-old mom shares 1-year-old daughter Banks Violet Blair with fiancé Matthew Koma, and 7-year-old son Luca Cruz Comrie with ex-husband Mike Comrie (via Harper's Bazaar). 
While filming the reboot, Duff has taken to her social media to post images of her kids and talk about how distance makes things a little tough. 
Why Hilary Duff is 'crushed' filming the Lizzie McGuire reboot
In a recent Instagram story (via Today), Hilary Duff explained why she's struggling so much on set, saying, "Guys, I'm just sitting in my trailer because it's finally lunch break and I got a message on my phone saying that Banks is in her crib." She continued, "I just watched her go down for a nap, and it's so amazing that we have these monitors now that we can watch our babies when they're in their rooms, but it also, like, crushed me that I'm not the one there doing that for her." 
Duff has been outspoken about the struggles of being a mom in the past, posting recently to Instagram, "Motherhood has held my hardest and most rewarding days..."
Hilary Duff loves her job but can't help but miss her family
Duff also gave a shout out to all of the moms who are "hustling and doing what you can for your family and showing your kids what hard work and strength is." She continued, "Shout out to the nannies for taking care of our babies when we cannot, for showing them all the love that you do. That's my little thought for right now. My heart's hurting a little bit because of my babies and working such long hours."
While a release date hasn't been announced for the Lizzie McGuire reboot yet, we can expect it sometime in 2020 (via IMDB). Lizzie McGuire won't have a hubby or a baby in the show, which Duff says is "really exciting for [her]" (via E! News). On set, Duff is playing a single 30-year-old in Brooklyn, but in real life, she's a working mom missing her kids.