Easiest Chicken Meals On The Planet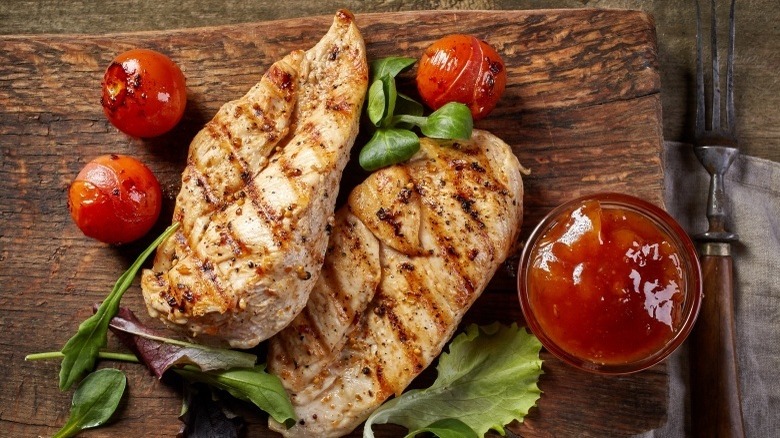 Shutterstock
Perhaps one of the most versatile ingredients in the world, chicken is used by cooks from every culture. When you're in a hurry and want a delicious dish to serve your family, your guests, or yourself, chicken is a go-to protein. To give you some inspiration, we've compiled a list of super-delicious, super-easy chicken meals that can all be prepared in 30 minutes or less. Happy eating!
Chicken Piccata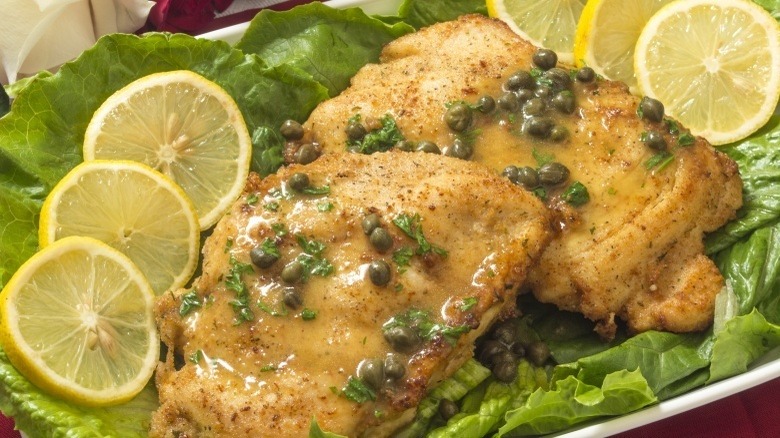 Shutterstock
This Italian-inspired dish sounds fancy, but is actually super easy to prepare and will be ready to eat in about 30 minutes. Slice some chicken breasts up, season them with Italian spices, salt, and pepper, dredge them in flour, and pan fry them in a butter sauce with parsley, lemon juice, white wine, and capers. Be sure to make a cut into the center of the chicken to ensure it's white and cooked through inside. Serve with a good starchy side — like rice, pasta, or polenta. 
Cilantro lime chicken tacos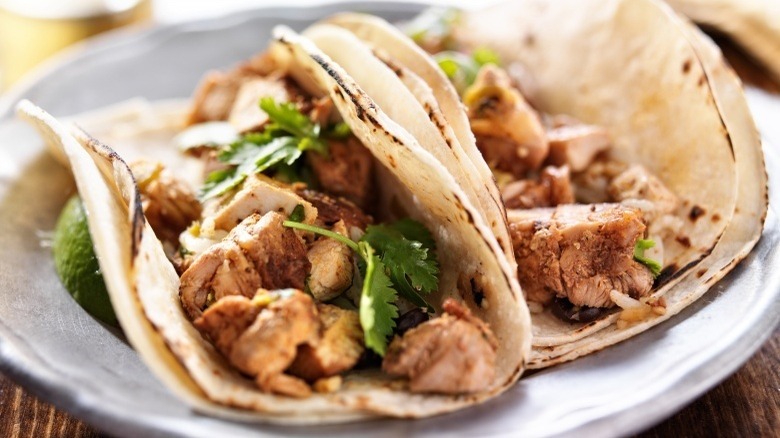 Shutterstock
I shamelessly stole this recipe from my husband, and it's definitely a favorite around our house. We normally grill our chicken, but this recipe also cooks up great on the stove in around half an hour. 
For an extra punch of flavor, marinate your chicken breasts in a bowl of zesty Italian salad dressing. Leave them overnight in the refrigerator, then take them out when you're ready to cook. Cut the chicken breast into small cubes, and dice up some yellow onion and fresh cilantro. Sauté the chicken and onion over medium heat in a little fresh lime juice, making sure to add the onion a few minutes after the chicken. Season your chicken in the pan with your favorite spices (we use salt, black pepper, and a tiny bit of cayenne). 
Serve in corn tortillas, topped with the freshly chopped cilantro. Shredded pepper jack cheese and sour cream also make great toppings — but are completely optional, because the chicken is so darn good by itself!
Chicken marsala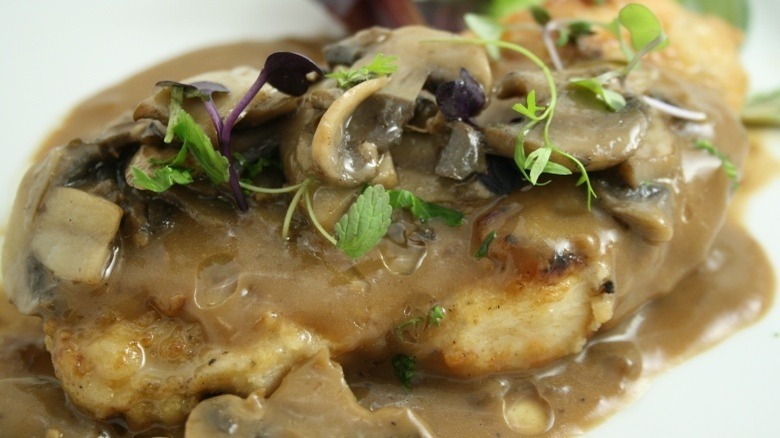 Shutterstock
This Italian-American dish looks and sounds complicated, and may intimidate you at first glance. Making a reduction? Keeping your chicken in a warm oven while you prepare the sauce? We don't have time for that. Thankfully, there's an easy and delicious variation that you can make in just about 30 minutes. No fancy sauce-making methods necessary — you make the sauce right in the pan with your chicken. 
Coat your chicken breasts in a dredging mixture of flour, salt, pepper and dried oregano. Cook the chicken in some butter and olive oil over medium heat until lightly brown. Add some sliced mushrooms, then pour in ½ cup of Marsala wine, and ¼ cup of cooking sherry. Braise for about 10 minutes, turning the chicken occasionally until the juices run clear. 
Serve with some chopped parsley for garnish, and toasted Italian bread to soak up that awesome sauce. If you want to try a lighter version, use a non-stick pan and omit the butter and use less olive oil for browning the chicken. The end result will taste amazing either way!
Thai coconut chicken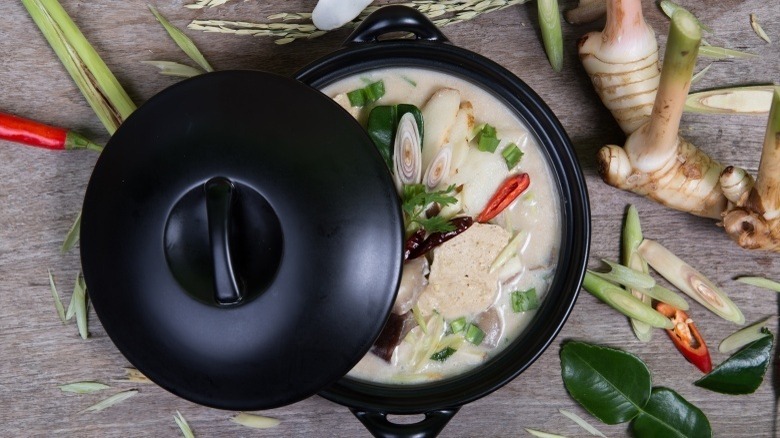 Shutterstock
This is a completely simple and delectable Thai-inspired meal that only requires two pans and around 30 minutes to prepare. Bring two cups of jasmine rice to a boil with three cups of water in a medium saucepan, then reduce heat and simmer for 20 minutes. Cube some chicken breasts and coat lightly in curry powder. In a non-stick skillet, cook the chicken over medium-high heat for about 5 minutes while stirring frequently. Add in snow peas, shredded carrots, and chopped asparagus and green onion. Cook for another 5 minutes, then pour in 1¾ cups of coconut milk. Continue cooking (and stirring) until the sauce is hot and chicken is cooked through. Remove the skillet from the heat, drain any extra water from your rice if needed, and serve the chicken over the hot rice. Yum!
Chicken pesto paninis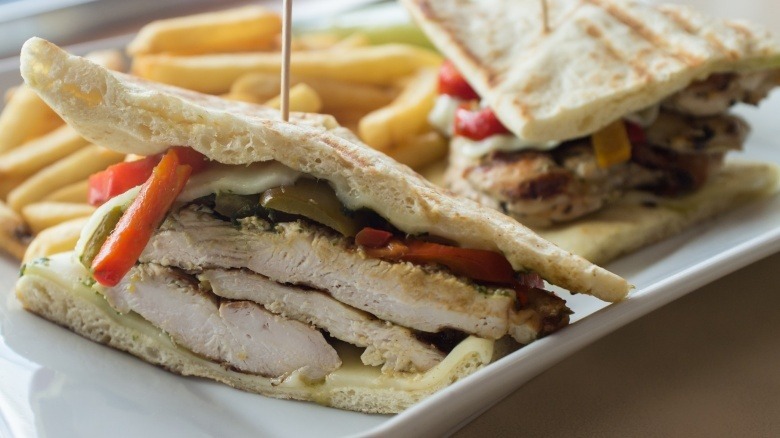 Shutterstock
Ah, paninis — the royalty of melty sandwiches. If you don't own a panini press, don't despair. You can make these just as easily in a regular skillet. If grill marks are your thing, consider investing in a grill pan, which works just like a skillet but gives you those lovely lines. 
Slice up your favorite bread (se love focaccia), then spread some pesto sauce on each piece. Top with layers of diced cooked chicken, yellow or orange bell pepper, red onion, and shredded Monterey Jack, before topping it off with another slice of bread. Grill in your panini press for about 5 minutes. You can also sauté your sandwich in a skillet with butter or olive oil until the bread is toasted on the bottom and the cheese is beginning to melt. Then flip the sandwich and cook on the other side until brown, pressing down on it occasionally with a spatula. Lunch has never looked so good.
Salsa chicken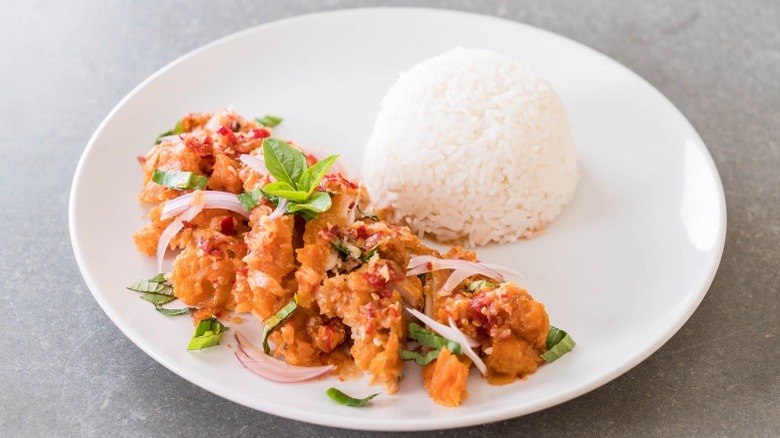 Shutterstock
Doesn't everyone love a recipe that uses only a few ingredients? This salsa chicken recipe only uses two ingredients, salsa and chicken! Not only do I love the simple ingredient list, but I love how versatile this recipe is and all of the ways you can use it. Simply pour your favorite salsa (homemade or store bought) over chicken breasts, bake, and when cooked all the way through, shred with a fork. Then you can put the chicken over rice as taco filling or on top of a salad. With so many ways to use it, it will be impossible to get sick of the leftovers. 
Moroccan chicken skillet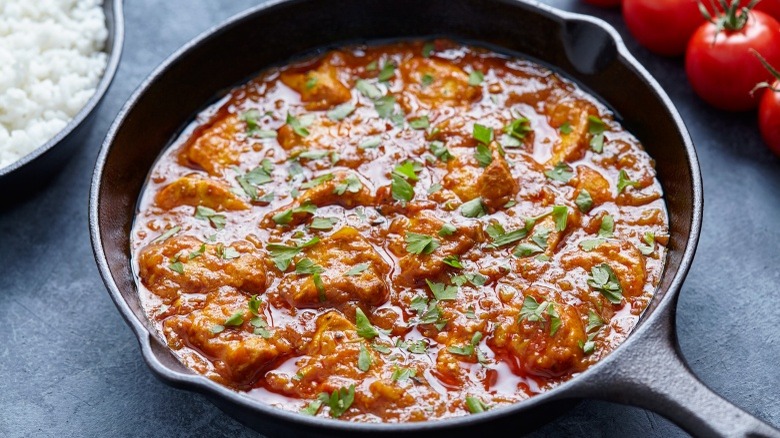 Shutterstock
If you're anything like me, then you pretty much hate doing dishes. Whether cooking for one or cooking for many, the last thing I want to do when I'm done eating my dinner is stand at the sink scrubbing my dishes clean, which means I am all about the one-pan easy dinner options. This Moroccan chicken skillet recipe is just that, making it perfect for those busy weeknights. To make it even better, it's a super healthy option that is sure to please even the pickiest eaters!
Chicken fried rice
Shutterstock
I love take-out as much as the next person, but most take-out options are full of MSG, unhealthy fats, and can get expensive. Most people don't realize just how easy it can be to make your own take-out, like this chicken fried rice recipe, and it is so much better for you. Sauté veggies, chicken and rice in a pan, add spices and liquid aminos and cook until all ingredients are warmed through. I love to use leftover chicken and rice from a previous night's dinner, so this all comes together even quicker! 
Chipotle chicken sandwich
Shutterstock
Chicken sandwiches were one of my favorite lunch time meals as a kid. I remember spending the day at my grandma's and come lunch time, she'd whip up chicken salad, put it on some bread with a little lettuce, and serve it up with a few Fritos, grapes and chocolate chip cookies. I have never been able to recreate Grandma's chicken salad, but I am still sure to get my chicken salad fix with this chipotle chicken salad recipe. Plus, for the adventurous, the addition of some chipotle avocado spread gives this sandwich a delicious and spicy kick. 
Chicken nuggets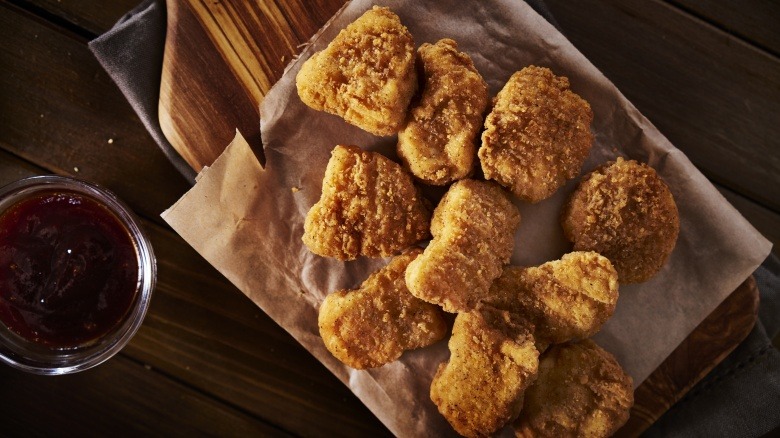 Shutterstock
What kid doesn't love chicken nuggets? Instead of passing through your local drive thru for some not-quite-sure-what's-in-there version of chicken nuggets, you can easily make your own at home, which are going to be so much healthier and — let's be honest — more delicious. I love that these healthy chicken nuggets are cooked on the stove with coconut oil instead of being fried in a vat of canola oil. They'll be just as delicious when dipped in ketchup, BBQ sauce, honey mustard, or whatever your favorite dipping sauce may be. 
Chicken BLTs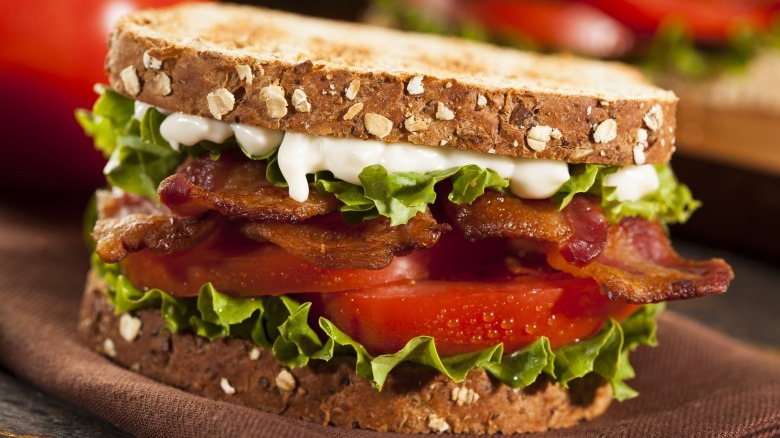 Shutterstock
One of my favorite things to make in the summer with fresh tomatoes from the garden is a BLT. Thought, admittedly, when it comes to this bunless chicken BLT recipe, I can't resist making them all year round. Simply butterfly a chicken breast, spread with basil mayo, layer in spinach, tomato and bacon, and eat. They may get a little messy when you eat them, but I bet the kids would love to help stuff their own "sandwich." If you want to keep the bread, just add the sliced grilled chicken to your sandwich.
With so many delicious options to choose from, I think it is safe to say that the days of boring chicken dinners are far behind us.