Is The Bachelorette's Becca Kufrin Still Engaged?
Manny Carabel/Getty Images
Becca Kufrin accepted a proposal from Garrett Yrigoyen, who received her first impression rose, in 2018 when she was the Bachelorette. The couple came as a shock to everyone, including Becca, who admitted during her finale that she pictured herself ending up with fellow frontrunner Blake Horstmann (via The Hollywood Reporter).
"I do love Blake. He made me feel hopeful. He made me feel love again. But Garrett's the one for me," Becca told producers during the finale (via ABC News). "He's gonna be my teammate. He's gonna be the best partner. He's gonna stand by me every single day. He would be somebody that I could see my dad loving so much."
She added, "I can picture it all: I can picture us being together. I can picture kids and him driving around in a minivan. And I can picture us taking care of one another whenever we're sick. God, I'm so ready for this."
But is the couple still engaged?
Becca and Garrett don't have any plans to get married yet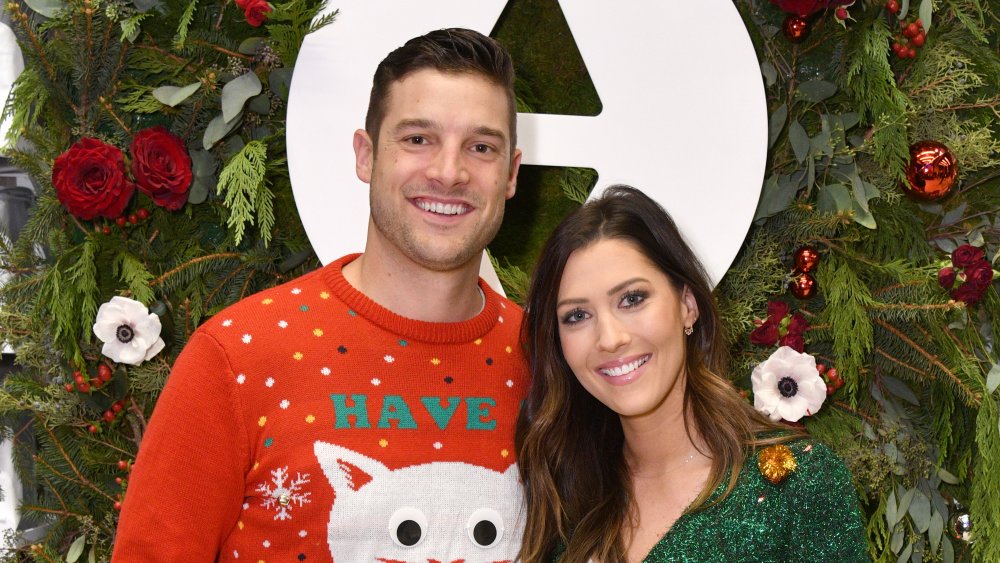 Bryan Bedder/Getty Images
Yes! It's been nearly two years since Garrett proposed, and he and Becca have since moved in together in California and share a dog named Minno.
The couple is living happily ever after, but both Becca and Garrett have made it clear they haven't made plans for a wedding and they're not in a rush either. "He was previously married and divorced, so I never want him to feel rushed or pressured into anything," Becca told Entertainment Tonight in December 2019. "So, I'm fine with where we're at."
That same month Becca told her Bachelor Happy Hour co-host Rachel Lindsay (via E! News), "If I post a picture of Garrett and I, the only comments I feel like we get are, 'Oh, my gosh, have babies right now.' Or, 'Oh, my gosh, when's the wedding?' There's more to our relationship than that, but again, it's because we put ourselves out there in that regard."
Fans of Becca and Garrett still comment on their page asking when they will tie the knot, but it seems the couple is content with their prolonged engagement.