Style Mistakes That Are Making You Look Old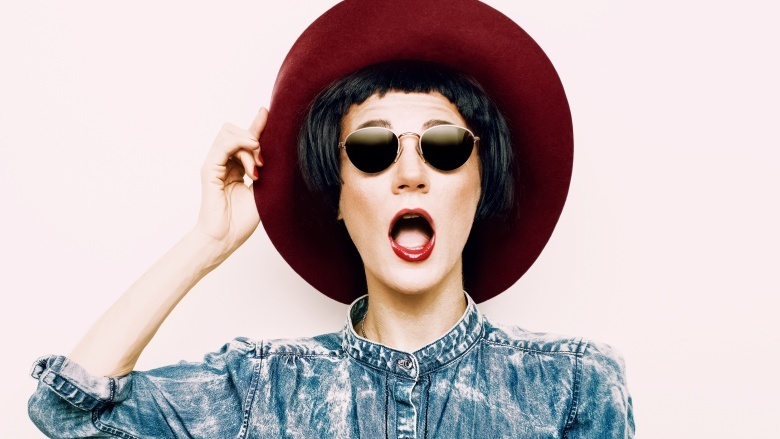 Shutterstock
Just like your makeup choices, your clothing style also needs to evolve as you age. Persisting on wearing styles that looked great on you 15 years ago will make you look older than you actually are. Keep reading to learn from the experts how to keep your clothing style fresh and age-appropriate.
Jumping on the bandwagon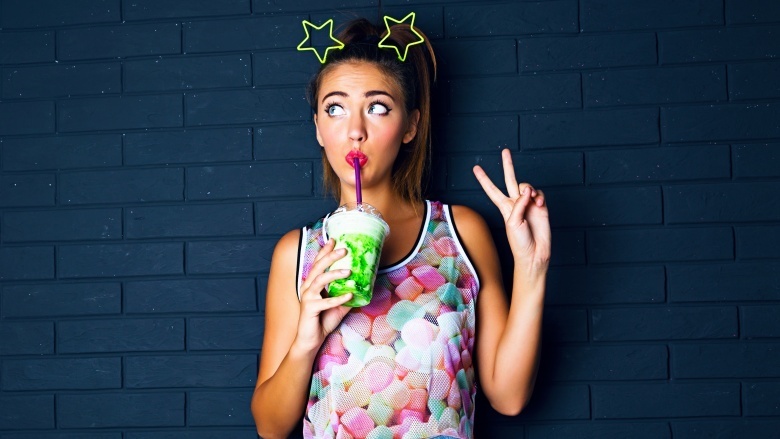 Shutterstock
Don't make the mistake of investing your hard-earned dollars in trends that may be gone by next season. Unless you have an unlimited budget, buying into flash-in-the-pan styles that will be passé within months is just wasting your money. Instead, you should invest in styles that will remain timeless classics and be used for years to come. Celebrity wardrobe stylist Alana Kelen advises, "Look to trends that are here to stay: leather, military, dark florals, plaid, and slimmer cuts such as tailored pants and pencil skirts."
Holding on to the past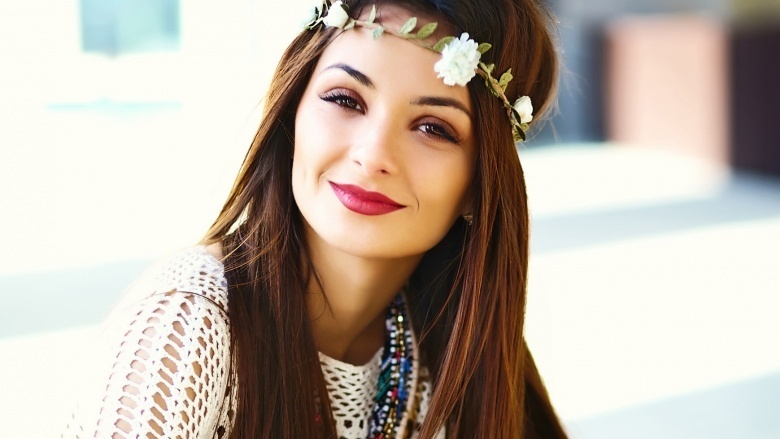 Shutterstock
If you're like most women, styles that fit you when you were 16, 21, or 29 probably don't fit the same today. They may be too tight, or they may be baggy and loose in all the wrong places. Or it may fit just fine but look completely inappropriate for your age. If you really want to keep the piece in your wardrobe, try to have it tailored professionally so it fits your current proportions. If the piece can't be tailored to fit you, then your best option is to donate the item or sell it online or to a secondhand store in exchange for in-store credit. Is that floral baby-doll dress too sentimental to let go? Repurpose it into a new piece of clothing: a handbag, home decor, or something else. Check out this tutorial for ideas.
Going Rapunzel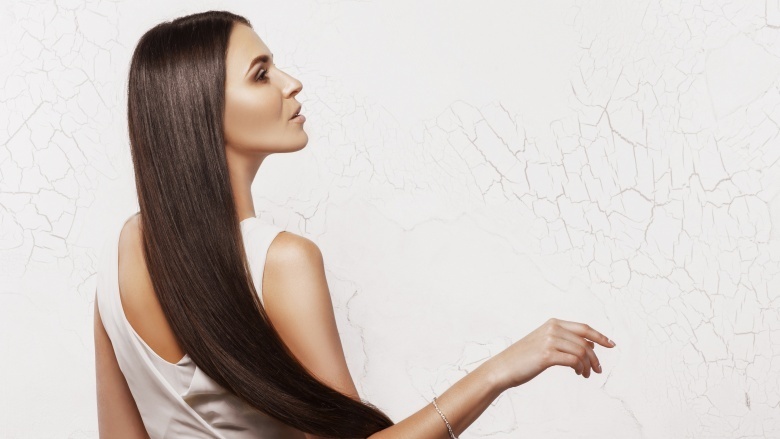 Shutterstock
As we age, we begin to lose more fat from our faces. While this might be cause to celebrate, you need to make sure that your haircut evolves along with the shape of your face. The reason that you see older women sporting shorter "mom" haircuts is because they simply look better on them! You don't have to go full "Granny" with the super-short perm and rollers routine, though. Simply avoid letting your hair get too long, which can make your naturally thinner face look unhealthy. Choose bouncy and full layers that will frame your face and accentuate your features.
Tanning the old-fashioned way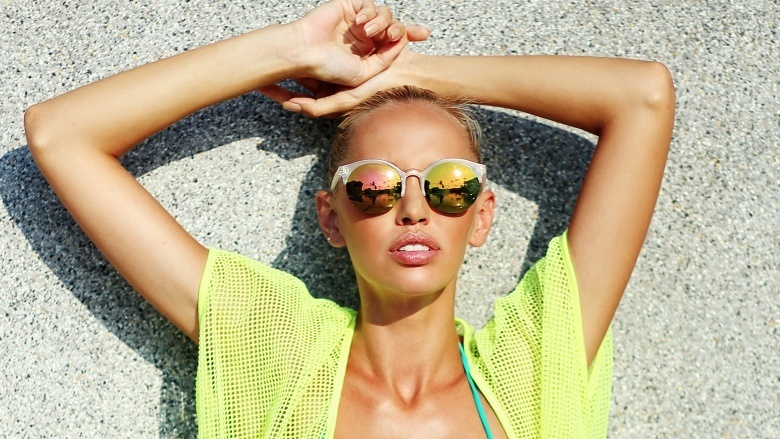 Shutterstock
Even if that beach-babe look was all the rage when we were younger, the baked complexion and wrinkles you get from prolonged ultraviolet exposure is definitely out. Unless you want to end up looking like "Tan Mom," make sure to use a strong sunscreen on your face and exposed body parts every day. Still crave that bronze glow? Go for a spray tan or invest in a high-quality fake tanning lotion. The fake tan formulas of today are much better than they were years ago, which means you can still get a natural-looking tan and don't have to worry about looking like a pumpkin.
Wearing the wrong size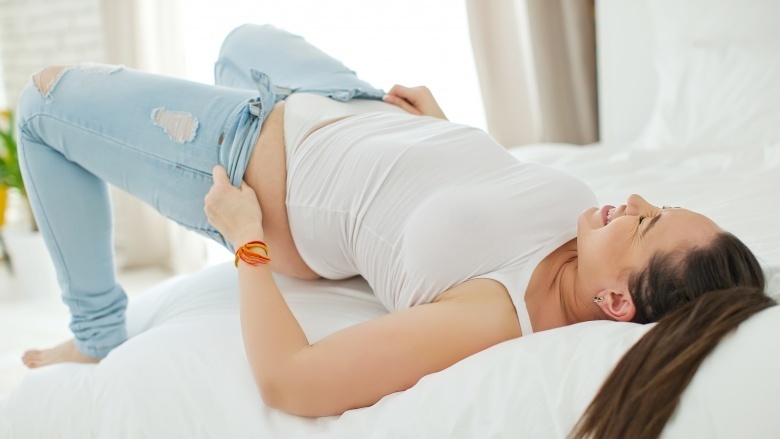 Shutterstock
Just because you fit perfectly into a size six a decade ago does not mean you still do today. Sure, you may be able to squeeze into that pair of jeans and get them buttoned up, but if it's too tight or uncomfortable, it will feel awkward and make you look older — not younger. Don't get caught up in obsessing over the size that's on the tag, and focus on finding clothes that fit well. If you want to draw positive attention, don't be afraid to wear styles you enjoy like mini-skirts or skinny jeans, but make sure they fit you properly when you purchase them! On the flip side, don't cover yourself up with loose, baggy clothing when you don't need to. You might not feel confident in figure-hugging clothing, but wearing clothing that is too big for you will make you look boxy and larger than you are. Above all, go for a good and comfortable fit. If your clothes feel comfortable to wear, you will feel more comfortable and confident while wearing them, and confidence is the most youth-enhancing tool in your arsenal!
Forgetting a belt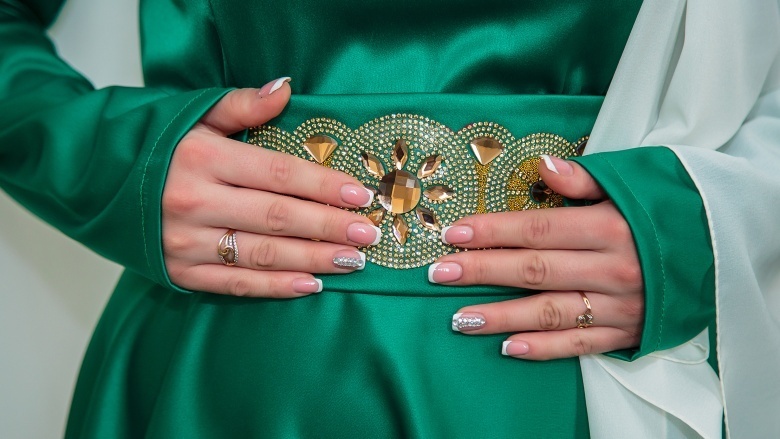 Shutterstock
To go along with the previous tip about loose or baggy clothing, sometimes an item in your wardrobe is baggy by necessity — like a flowing dress, or overcoat. Straight lines from your armpits down to your knees can make you look like you're wearing a shapeless sack instead of a dress. Show off your curves by adding a cute belt to that dress or coat. It will accentuate your shape and let you still wear those comfortable items in your wardrobe without looking like you're wearing a muumuu.
Wearing the wrong silhouette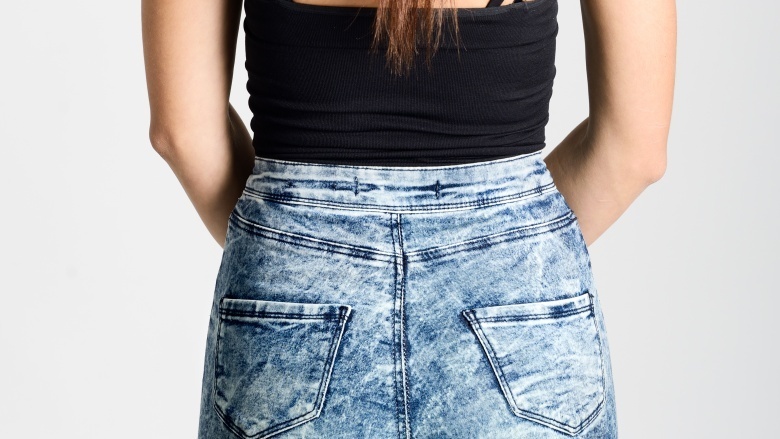 Shutterstock
You need to focus on accentuating the positive when it comes to your daily outfit choices. As Alana Kelen advises, "A great rule of thumb is that if you're wearing a skinny silhouette on the bottom, choose a more forgiving, flowy piece on top. Or flip it: If wearing a tighter top, add a looser, flared skirt or a wide-leg pant to balance out the proportions." For example, skinny jeans look youthful and fresh when paired with a brightly colored tunic, but they may look like you're trying too hard to be 18 again if you wear them with a tight camisole tank top.
Picking the wrong colors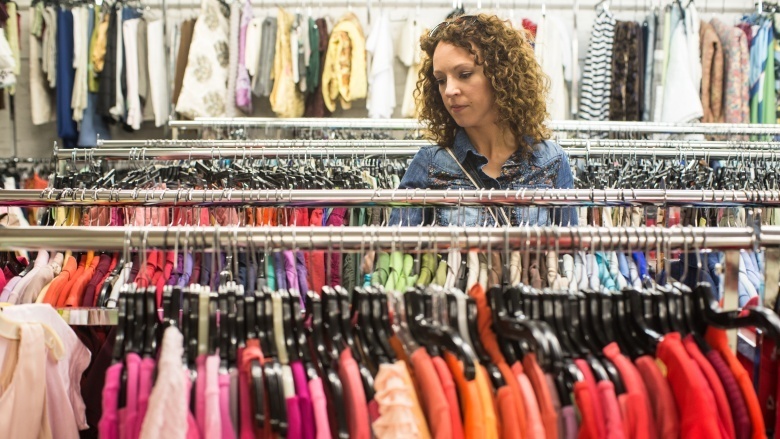 Shutterstock
Color can make a huge difference in how old you look. Picking the wrong color can make you look dull, ashen, and sickly. If you want to look fresh-faced and glowing, you need to choose colors that accentuate your natural skin's complexion and undertones. To help you out, we have a great guide on figuring out your skin's normal undertone and what colors work best for you. Check out the best clothing colors for your skin tone!
Unbalanced Outfits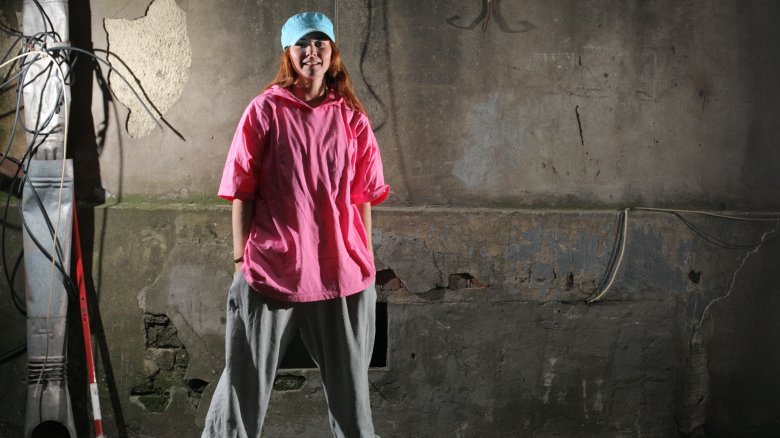 Shutterstock
Balance is important when it comes to crafting a stylish look. Wearing oversized clothing disrupts that delicate equilibrium and unintentionally ages you. "Many women wear clothing that hides their shape or fits oversized in a way that just looks like they rolled out of bed and into a drapey dress," says Orly Schwartz, a stylist/wardrobe consultant at Zahavi & Schwartz, a personal and commercial style consulting agency based in New Jersey. "Oversized clothing can look wonderful when fitted properly and can be comfortable. But when you don't wear a balanced style, or because you are too concerned with arms or legs, hiding by covering up can look dated and uncomfortable."
Instead, opt for oversized clothing that isn't extreme and strike that ever-so-critical balance with other pieces. "If going with a voluminous or roomy sweater or top, make sure to balance it with a tailored or slim-fit bottom. The same is reverse for a wide bottom — balancing it with a fitted or tailored top creates balance and allows the oversized piece to be the focus," says Schwartz.
Pairing too many pieces from one decade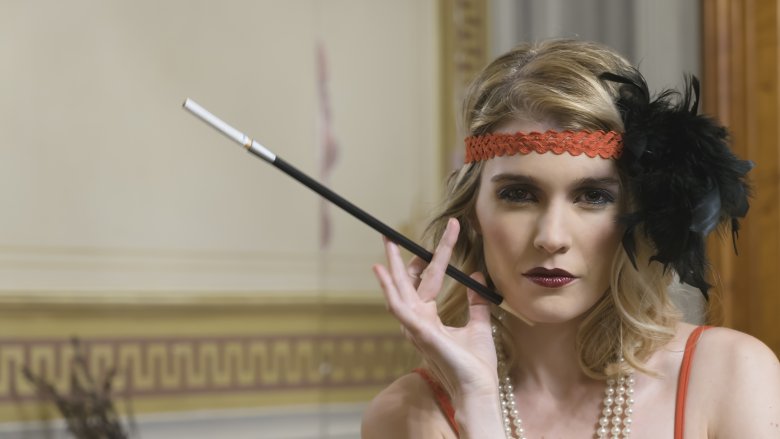 Shutterstock
Wearing an outfit comprised entirely of vintage pieces or too many accessories from another era is overkill and can make the wearer look older than they want. It's best to incorporate one item from a prior generation into an outfit. Max Robinson of A.Hume Country Clothing confirms that while an item like a tweed jacket is often associated with mature dressers, it is becoming more popular with younger generations. The most important style move here is pairing a classic, mature piece with something modern and trendy to keep things funky, fun, and youthful.
"Wearing items of clothing which are typically designed for older generations is popular among the youth, but the key in looking is stylish in the pairing of their clothes," Robinson tells me. "Never pair two items of clothing usually associated with older generations. This is why pairings like a tweed jacket with skinny jeans is quite popular."
Schwartz agrees that wearing too much from one decade is a bad idea, saying, "Unless you are going to a throwback party, it's Halloween, or you are cast as an actor/actress in a period piece, wearing an outfit from all one decade can date you."
Playing with pearls in all the wrong ways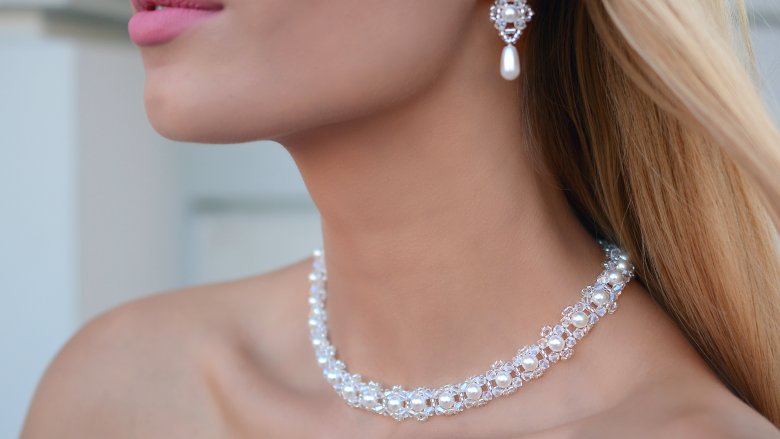 Shutterstock
While pearls are ladylike and are enjoying a Renaissance, there is a wrong way to wear them. Leon Rbibo, president of Los Angeles-based The Pearl Source, says that while celebs like "Rihanna, Taylor Swift, Kim Kardashian, Sarah Jessica Parker, and even Kate Middleton are sparking a renewed interest in the classic gemstone," rifling through your grandmother's jewelry box to play with pearls isn't the way to go nor is it arbitrary. You don't just throw on a strand of pearls to complete a look like you do with many other accessories.
"Just... no," Rbibo tells me about layering pearls. "If you want to pull off the Rihanna look, layer long strands of pearls of smaller size for a chic yet edgy look. Layering strands of bulky jewelry looks clunky and unsophisticated." Dressing pearls down is also a major style mistake, according to Rbibo. He tells me, "Your denim jacket and romper probably don't go with a classic pearl bracelet — there are a few exceptions to the rule, of course. Instead, pair casual styles with casual pearls. Consider pearls strung on leather or twine for a much more laid back look that's going to work well in casual settings."
Outdated jeans styles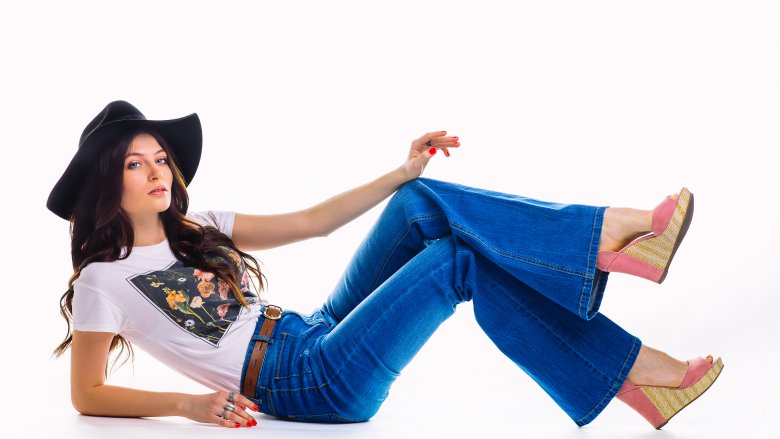 Shutterstock
This everyday basic can reveal quite a bit about your age. Don't focus too much on trends and instead opt for perennial cuts that never go out of style. That way, you will never date yourself or end up looking costume-y, especially when you aren't playing dress up. "I always recommend investing in classic styles like skinny and bootcut in darker washes as they are elegant and ageless, and will never go out of style," says Dina Scherer, an NYC Image & Wardrobe Stylist & Personal Shopper and owner of Modnitsa Styling.
While jean styles are often cyclical — bootcut dominated the '00s and is so backburner these days, while bell bottoms have had several resurgences since the '70s — it's best to go for those that defy and outlast trends. "Wearing styles that are outdated, such as certain washes like boiled denim, or too hip, like cropped flair, or wide leg, can age you," Scherer finishes.
Pieces that look like relics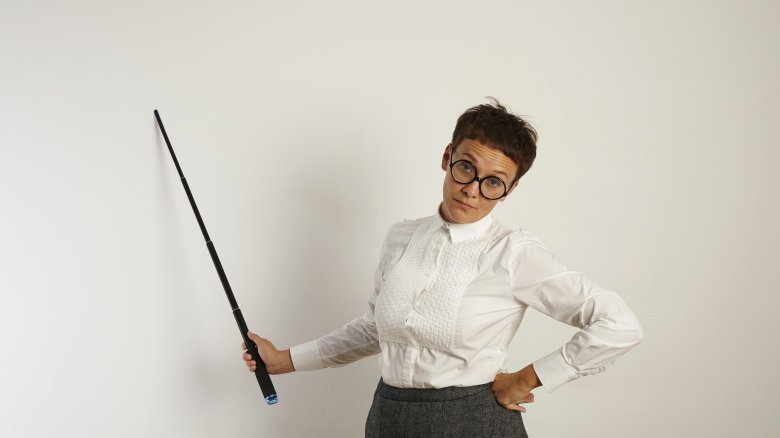 Shutterstock
Clothing or accessories that are obviously from another time and place will speak volumes about the wearer. Diane Pollack, a wardrobe consultant and personal stylist in NYC, tells me, "The worst styling offense that ages someone is when the clothing looks like you could put a specific era on it and that is not a current era. For instance, a collar, sleeve, or pant shape that has not been around for a while." She continues, "I don't believe that everyone wants to be the trendiest person around. But when a piece of clothing looks like a relic, the person wearing it will, too."
Scherer concurs, noting that while fashion does like to recycle ideas, "dressing like the '80s or '90s can be fun for a party, but being attached to a trend from your youth can look tired and disconnected and therefore can make one age themselves." Instead, select "clean and classic styles that don't become irrelevant with time, and whenever experimenting with a trend, do it in moderation."
Glitter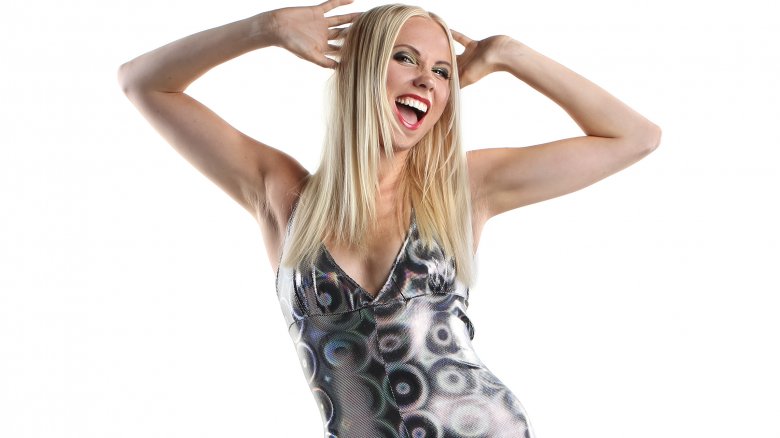 Shutterstock
Susan Padron, a personal stylist in the Philadelphia area, reminds me that clothing with glitter is akin to an arts and crafts project and ultimately associated with children. That association doesn't make you younger by default; it makes you look like you are trying too hard. There really is no such thing as grown up glitter when it comes to apparel, so it's best to accept that fact and avoid glittery tops, bottoms, and everything else! "If you are an adult, you should not be wearing clothes with glitter unless it's Halloween. Metallics are very in right now, so if you need some sparkle, go with anything with metallic thread in it," Padron says.
Large prints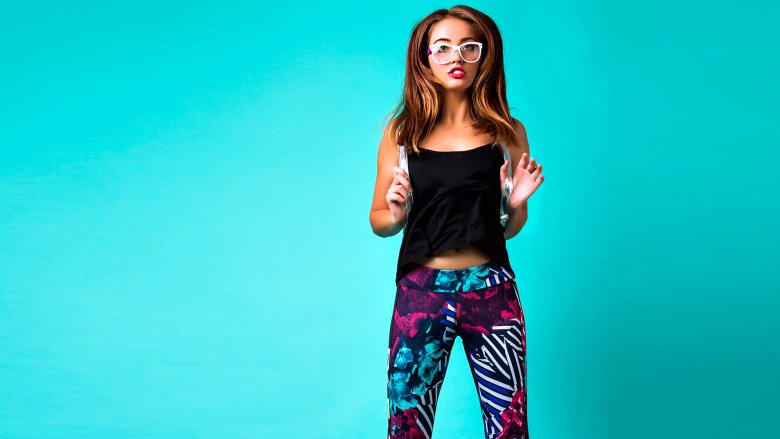 Shutterstock
Large prints, especially on a tight clothing item like leggings, are an avoid-at-all-costs look. They are just too loud and aren't a piece that helps you look your best. "LuLaRoe leggings make a woman appear that she is trying to look younger by holding on to these ridiculous prints, and thus she looks older than she is," Padron explains. "If you want to wear leggings, because your legs get cold when you're wearing that adorable sweater dress with boots in the winter, that's fine! Go with a neutral color like black, and you'll look just fine." Those loud, bright leggings are best reserved for the millennial set.
Wearing shapeless sacks of fabric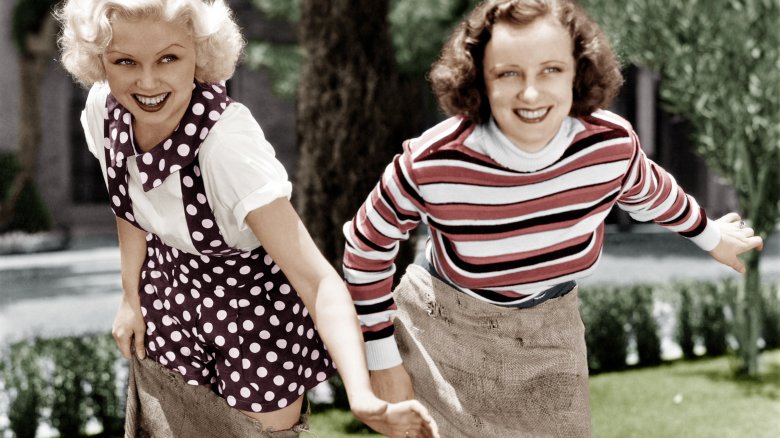 Shutterstock
While Padron loves "a good tunic," she warns against wearing ones that resemble "shapeless sacks of fabric," since they don't flatter any part of your body. She says, "You need a 'completer piece' when it comes to a tunic... something like a blazer or a jacket that defines your waist and creates curves. I think that once women reach a certain age, or their bodies change after children, they no longer want to wear fitted clothing, so they go to the opposite extreme. Wearing a potato sack actually makes you look larger than you are. A cropped jacket gives a visual point to your waist."
Wrong-sized bra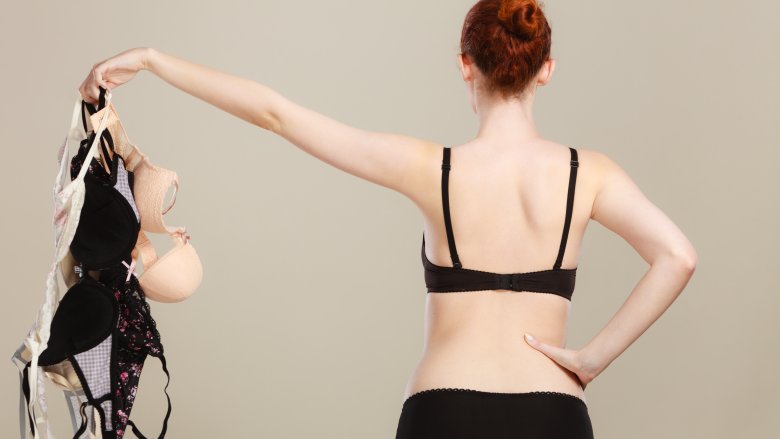 Shutterstock
Your bra needs change throughout different stages of life. As you age, a properly fitting bra is important, according to stylist Amy Acton. Too-young styles may not suit your needs and a frumpy style might make you appear older, as well. So you need to pay attention to your breasts and their needs.
"If you have the right bra, not only will your breasts rest where they should, your clothes will lay nicer, so you will automatically look younger and more fit," Acton tells me. "Wearing a bra that is resting too high is very obvious and screams 'I am trying to look younger' but in actuality, it is not making you look younger. Wearing a bra that is too tight creates bulges in all the wrong places — on your back, under your armpits and these are telltale sign of aging."
Wearing store-brand logos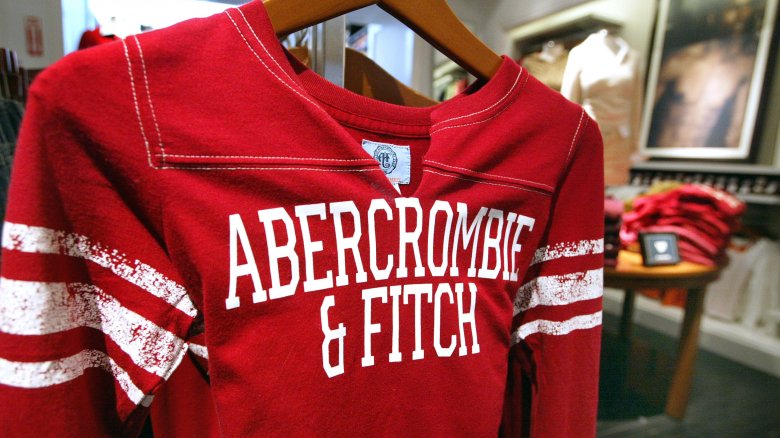 Getty Images
Ali Levine, celebrity stylist and fashion expert, warns against going with store brands and bold logos that are favored by — and largely associated with — teens. "When it comes to an age, there are brands that people make a mistake on. Brands like Pacsun, Hollister, Abercrombie that hold a younger audience. I see people all the time who are older who dress like they're still in high school/college!" she tells me. "You have to dress appropriate to your age. You don't have to show your age, per se, but wear clothing that is appropriate for you! You look sexier that way and age less."
Age is just a number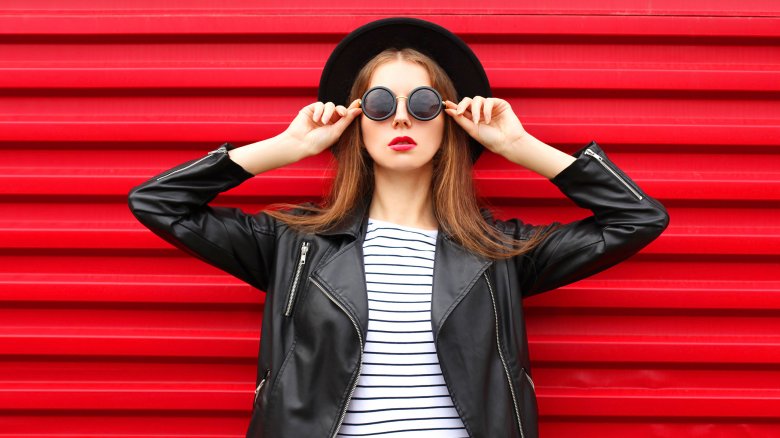 Shutterstock
Age is just a number and your are only as young as you feel. You can and should dress in a way that allows you to express yourself and be comfortable. Wear what you like. But you can avoid style mistakes that unintentionally age by considering things like balance, mixing classic with modern pieces, and staying away from things that "kids these days" are wearing so that you don't appear like you are looking to fashion as your fountain of youth. Instead, make smart choices and follow the tips and suggestions outlined above.