What Alanis Morissette's Ablaze Is Really About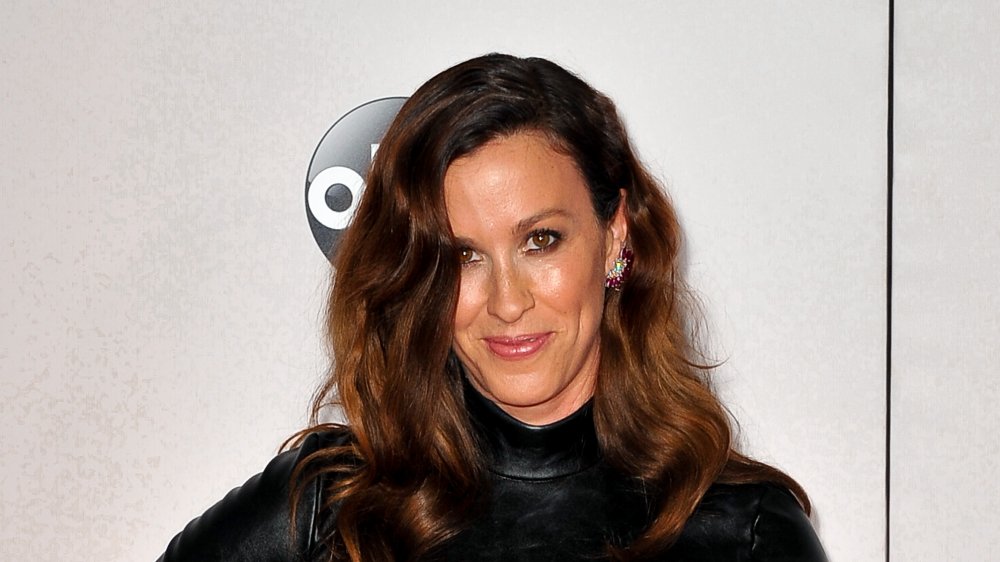 Allen Berezovsky/Getty Images
A lot has changed since Alanis Morissette released her last studio album eight years ago. She now has three children with her husband, Souleye Treadway: Ever, age 9, Onyx, age 4, and Winter, who is about to turn 1 (via PopSugar). Naturally, the singer's newest release, Such Pretty Forks in the Road, features songs that, while having the same trademark Morissette cadence and feel, are about different themes than the angry, vindictive heartbreak we used to associate with the Canadian-born star's music.
Case in point: The song "Ablaze" is about her children, as evidenced by Morissette's performance of the second track from Such Pretty Forks in the Road on The Tonight Show Starring Jimmy Fallon (via Rolling Stone). The star sings "Ablaze" while holding Onyx, who adorably has no idea her mama is performing for millions of people, but Morissette doesn't mind — she shows the love and patience of a parent who is used to doing way more than one thing at a time. And if you listen to the lyrics, you'll hear just how much the star adores her kids, and how high her hopes are for their future.
"Ablaze" lyrics give us insight into Morissette's life as a mom
In "Ablaze," the singer croons, "One became two and then everyone was out for themselves" and then, "They seem to easily forget we are made of the same cells" (via AZLyrics). This could be about the daily struggles of parenting. Morissette also describes her son as "all that energy so wild." She sings about her daughter: "To my girl, to your innocence and fire / When you reach out, I am here hell or high water / This nest is never going away." In the chorus of the song, she states her purpose is to keep the light ablaze in their eyes.
For the rest of her children's lives, Morissette sings, "And this cord is unbreakable." She also tells her brood they will always be a family. The singer even acknowledges her kids may inherit some of her struggles with mental illness. She chants, "It might feel dark, it might feel lonely and you'll wonder why you're here / You may be overcome with darkness and a sense of hopelessness / But it won't matter if you keep your core connected to the one-ness."
We love getting to know this side of Morissette. It's clear that although parenting isn't easy, it makes a light come ablaze inside the star.