Here's How The Good Bones Duo Learned Everything They Know About Renovation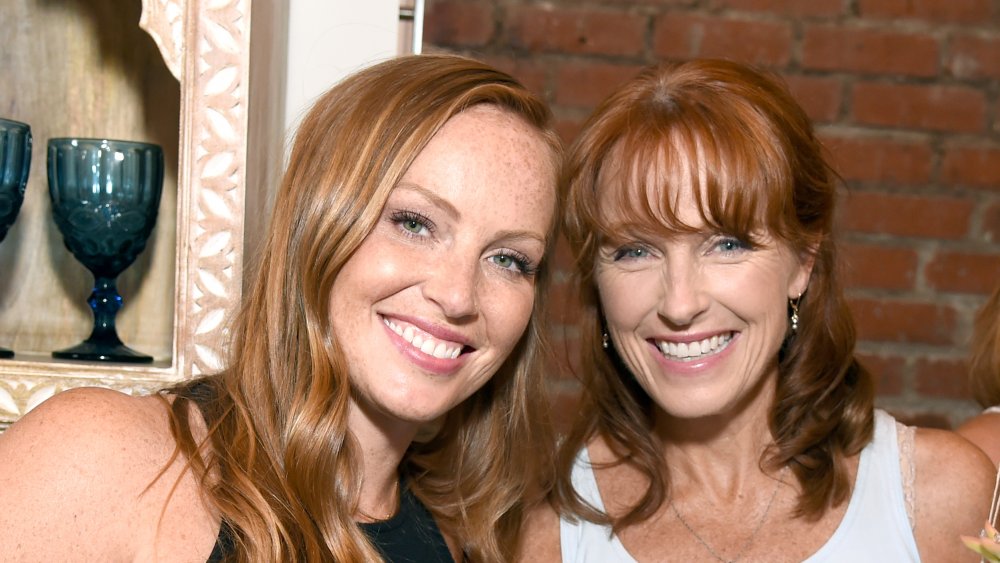 Michael Kovac/Getty Images
HGTV's hit show Good Bones sees mother-daughter duo Mina Starsiak Hawk and Karen Laine renovating properties in dire need of some love and attention in their native Indianapolis. Their infectious enthusiasm and love for their hometown is the main pull of the show, their easy rapport powering them through issues big and small. The duo started their own business, Two Chicks and a Hammer, all the way back in 2008 and soon caught the attention of the home renovation network, who pitched the ladies a show focused on their hometown house rescues.
Starsiak Hawk is a licensed realtor but anybody who's watched her show will know that neither she nor her mother are corporate shills. They started their business on their own because they wanted to make a change in their neighborhood. And keeping with their philosophy of being self-made, Starsiak Hawk and Laine are completely self-taught too, taking to home improvement like, well, a chick to a hammer.
Mina Starsiak Hawk and Karen Laine are self-taught
The mother-daughter duo learned how to renovate by studying their craft. They read up, watched YouTube tutorials, and followed the instructions accordingly. "That's key — it's amazing what you can learn when you read the directions," Laine told the Indianapolis Star, explaining, "It's the 21st century, all of the information is out there, the question is do you have the skills sets and are you willing to take the time to put the effort in? We prove ourselves by passing city inspections, having our houses up to code. Those are our bona fides, if you will."
As she elaborated in an interview with USA Today, "I grew up in a family where we did everything ourselves. So being self-reliant has been part of my nature. It never dawned on us that we couldn't do it." The only thing stopping them from achieving their goals was their own set upon limits.
The Good Bones duo learned by doing
Their first property came about in 2007, with Laine co-signing for the loan and agreeing to help her daughter get started since Starsiak Hawk had no idea what she wanted from life at that point, as Laine explained to USA Today. Although they were broke, the duo relished the opportunity. "We didn't have money, but we had time, so we did most of the renovation work ourselves with our own hands," Laine revealed.
The Good Bones stars realized the only option was to learn by doing. "Most of it we learned along the way," Starsiak Hawk admitted to Indianapolis Monthly. "I read the directions for flooring and putting up light fixtures. I watched YouTube to figure out how to tile." The easiest thing to learn how to do, unsurprisingly, was the demolition aspect because, as she deadpanned, "No one has to teach you how to break s**t."