Inside Jill Biden And Kamala Harris' Relationship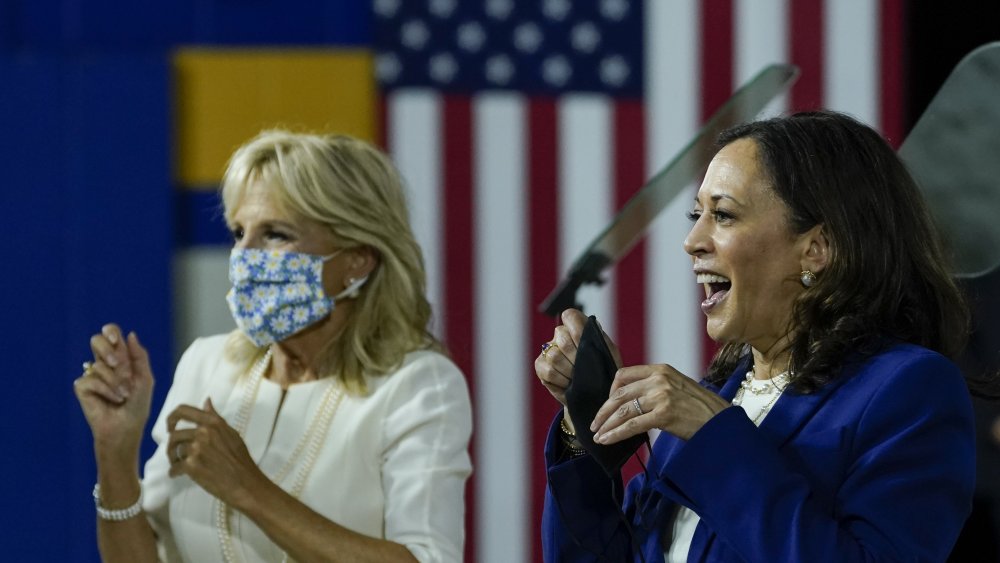 Drew Angerer/Getty Images
Jill Biden is so much more than just the wife of presidential candidate and former vice president, Joe Biden. She is also one of his closest advisers, both personally and politically. And when it came to choosing a running mate, Jill was adamant in her support of Kamala Harris (via The Daily Beast). Jill and Harris forged a bond early on, rooted in their relationships with the late Beau Biden and cemented in their similarities as hard-working women and devoted stepmothers. 
While gossip swirled before the vice presidential pick, many critics insisted that there was distrust amongst the Biden and Harris camps after their clash over race and the busing issues during the Democratic primary debate — but that wasn't the case for Jill (via The New York Times). According to a spokesperson for the Biden campaign, Jill came away from the contentious exchange between her husband and Harris with more respect for the woman who would eventually become his running mate. 
Jill Biden respects Kamala Harris' strength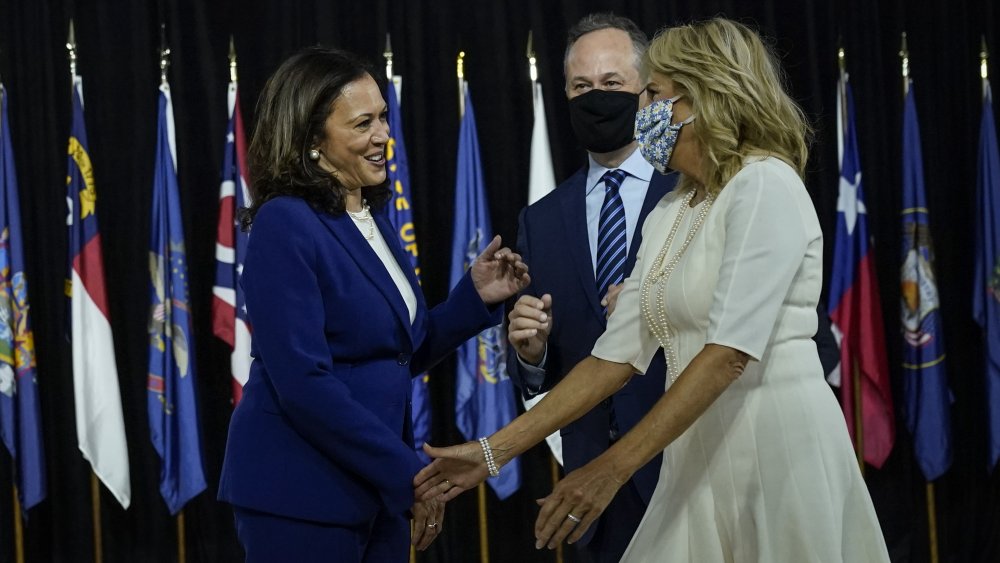 Drew Angerer/Getty Images
In an interview with The Daily Beast, Michael LaRosa, Jill's press secretary explained, "Dr. B likes strong women of conviction who can hold their own. She watched Senator Harris challenge her husband on the debate stage and hold her own."
After the second night of the Democratic National Convention, Jill confirmed her feelings about Harris during an interview with MSNBC, stating, "I admire strong women. Kamala's fierce, and she's strong and she's tough, and she'll be a good debater. More than that she'll be a good partner for Joe. And that's what he needs, a partner to help him govern" (via Mediate). The relationship between these women is certainly one of respect and admiration and will likely be a driving force politically and personally for Joe Biden.
Jill Biden and Kamala Harris are like family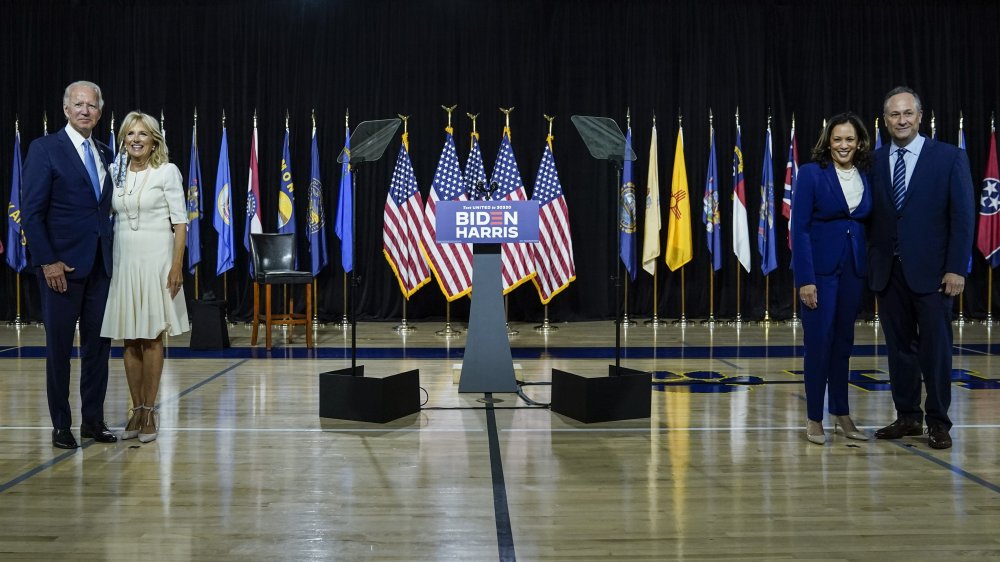 Drew Angerer/Getty Images
Kamala Harris and Jill Biden share more than just a professional respect for each other, however. They are both devoted to their blended families. Harris is "Momala" to her two stepchildren, Cole and Ella, and Jill became stepmom to Beau and Hunter when she married a widowed Joe in 1977. It's no secret that Kamala and Jill's stepson Beau shared a close friendship, which started when they both served as state attorney generals and continued until his passing in 2015 of brain cancer. Beau always spoke highly of Harris, and many people close to the Bidens have alluded that the couple values personal relationships over political and professional connections. Joe even called Harris and her husband, Douglas Emhoff, "honorary Bidens" (via Marie Claire). 
For these two families, the Biden/Harris ticket is more than just a professional relationship, they are a team. As Emhoff posted last week, "I'm just so happy and honored to be taking this journey with you @DrBiden, now let's go and help Joe and Kamala win this thing" (via Twitter). It's obvious the two spouses could have remained polite strangers, but their campaign's strength will undoubtedly be helped by their strong ties (via Mashable). For Jill, Harris is the perfect vice president for Joe, as her press secretary confirmed to The Daily Beast, "She considers Senator Harris a role model for girls and women, including her granddaughters, and the perfect governing partner for her husband."