Greg Pence: Here's How Much Mike Pence's Brother Is Really Worth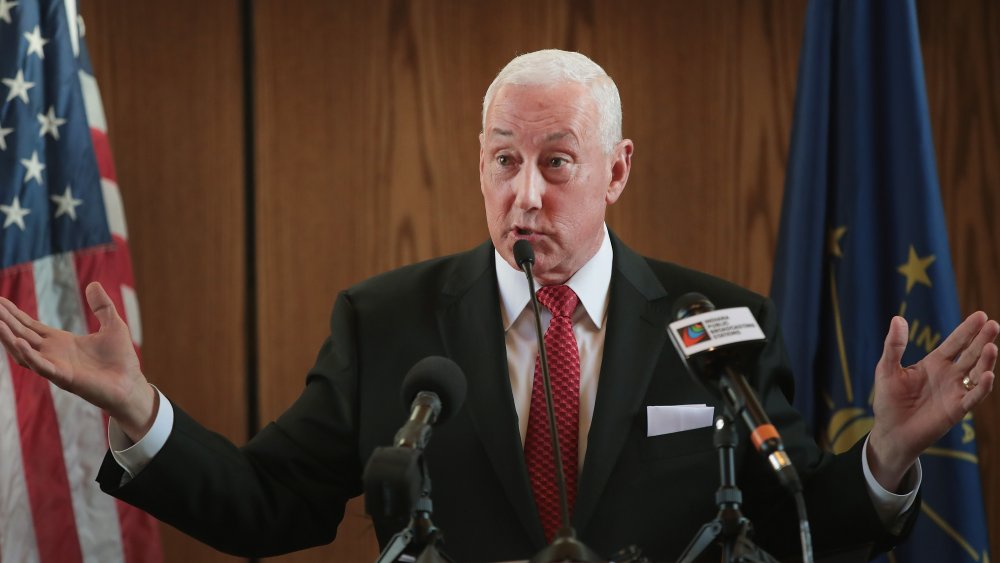 Scott Olson/Getty Images
Vice President Mike Pence and his older brother, Greg, sure have a lot in common. They are both well-regarded Hoosier Republicans, with Greg having been elected in 2018 to serve in the U.S. Congress, representing the same district of Indiana that Mike had served before he became governor and then was tapped to become President Donald Trump's second-in-command. Both Pence brothers at one point worked for the family business, Kiel Brothers Oil Co., which went bankrupt in 2004 (per Chicago Tribune). Plus, there's the obvious family resemblance; some have even called Mike and Greg "look-alikes" (via Daily Mail).
Where their similarity ends, however, is when it comes to money. While Mike Pence's net worth is estimated at a moderate $1.2 million, according to Forbes, Greg Pence's net worth is $12.6 million, reported the Center for Responsive Politics. While most of Mike Pence's portfolio comes from government pensions, Greg Pence's nest egg comes from owning two antique malls in his home state, one of which is 72,000 square feet large and is rented out by hundreds of vendors (per Roll Call). These malls are listed on Greg Pence's financial disclosure form as being worth between $5 to 25 million.
Greg Pence's antique mall has sold offensive items
While Greg Pence's wealth may come from antiques, some of the products sold at one of his malls harken back to a sad chapter in our nation's history. Pence came under fire this summer because one of his malls displayed Jim Crow-era themed items, such as "Mammy" biscuit jars (per ABC News). Jeannine Lee Lake, Pence's Democratic opponent for his House seat this November, shared photos of these products and denounced Pence for selling them. "He's allowed the sale of these types of racists, homophobic and bigoted products which promote stereotypes and hate. I'm officially calling out Greg and his wife, Denise, who co-owns the malls," Lee tweeted.
But according to Greg Pence's team, the congressman is not actively involved in choosing the inventory sold at his malls. "As you may know, Congressman Pence is not engaged in the active management of the Exit 76 Antique Mall," spokesperson Milly Lothian told The Star Press. In addition, in a statement, Pence said that the mall "does not allow items that promote or glorify hatred, violence, racial, sexual, or religious intolerance, or promote organizations with such views," and regularly audits merchandise.