Tiffany Trump's RNC Look Has People Talking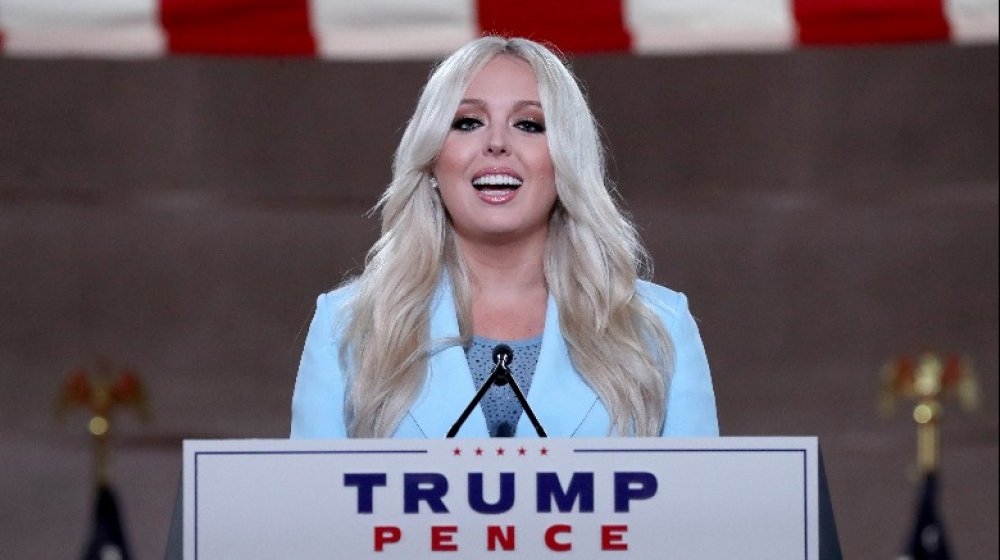 Chip Somodevilla/Getty Images
Tiffany Trump sure knows how to make an entrance. The 45th president's youngest daughter made a speech at the RNC that aimed to unite all factions of the party, as well as prospective voters watching the feed, by urging them to judge "based on results, not rhetoric" (via People). Trump is the least politically active of her siblings (aside from young Barron). Four of the commander-in-chief's children will speak at the convention total, with Don Jr. having taken the stage first.
In her speech, Tiffany Trump focused on uniting American citizens across political boundaries, arguing that, "Working together outside of our political comfort zones will accomplish so much more." Trump advised, "Some cynical politicians do not seem to believe in the miracle of America. Well, I do." In fact, according to Trump's youngest daughter, "A vote for my father ... is a vote to uphold our American ideals." Although her rousing speech was, naturally, debated at length, it was the recent law school grad's attention-grabbing outfit that had social media abuzz in the wake of her appearance.
Tiffany Trump wore Tiffany blue for the RNC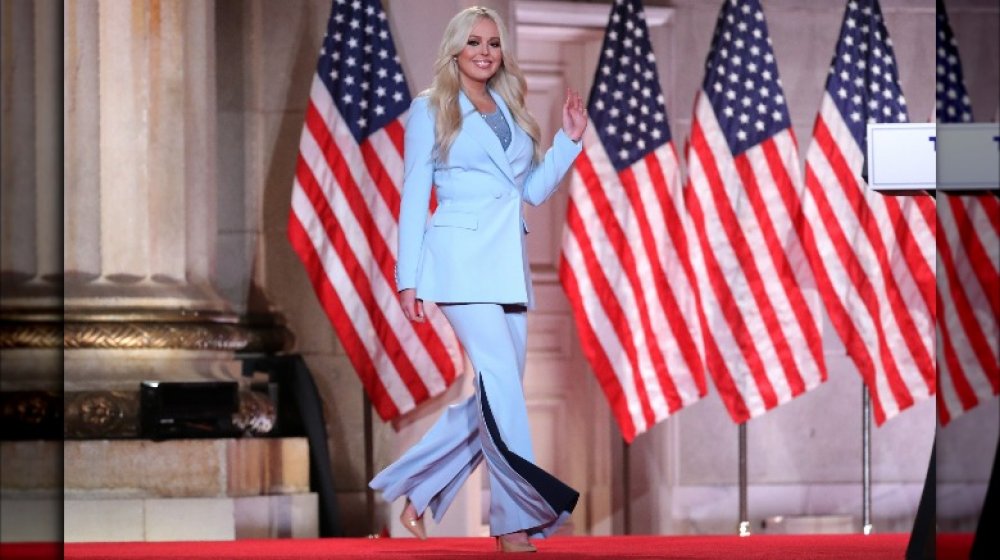 Chip Somodevilla/Getty Images
As Vanity Fair advised, Tiffany Trump's powder blue pantsuit was a major statement that she means business. It was a girly choice, with a sparkly rhinestone top underneath and bell-bottom pants signaling how fashion-forward she is, while the double-breasted jacket ensured she was taken seriously. Her makeup was glossy and glittery, while Trump's chosen hairdo echoed every other woman onstage: blonde barrel curls tumbling over her shoulders. Footwear News advises she is a huge fan of designer Aruna Seth, who previously described her client's style as, "Very young, elegant and feminine. "
Twitter was split over Trump's RNC look, with one user noting, "Tiffany Trump is wearing some sort of weird leisure suit and looks like she styled her hair with Elmers glue." Another wondered aloud, "Who told her that powder blue suit looked good?" Several commentators praised the look however, with one writing, "I am all about Tiffany Trump's light blue power suit. I'm getting some major Elsa/Frozen vibes and I don't hate it." And, while others criticized her speech, they also took time to notice the look was on point.